My Callas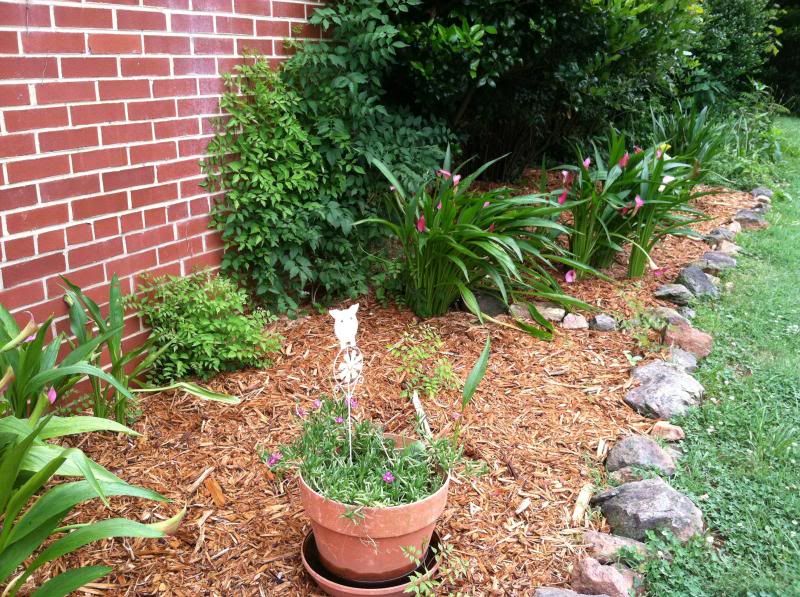 My Hydrangea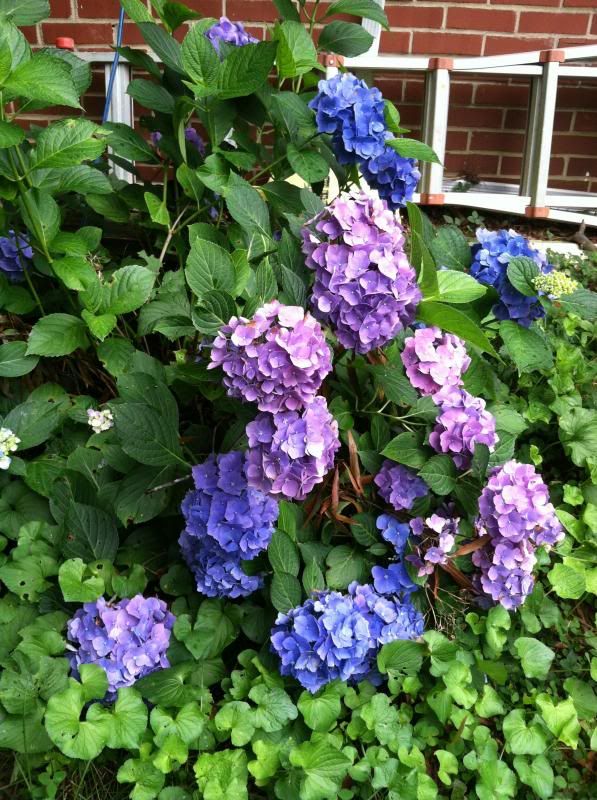 And my "garden". Pole beans, limas, okra, squash, tomatoes, peppers, catnip, lemongrass, and a Vick's plant.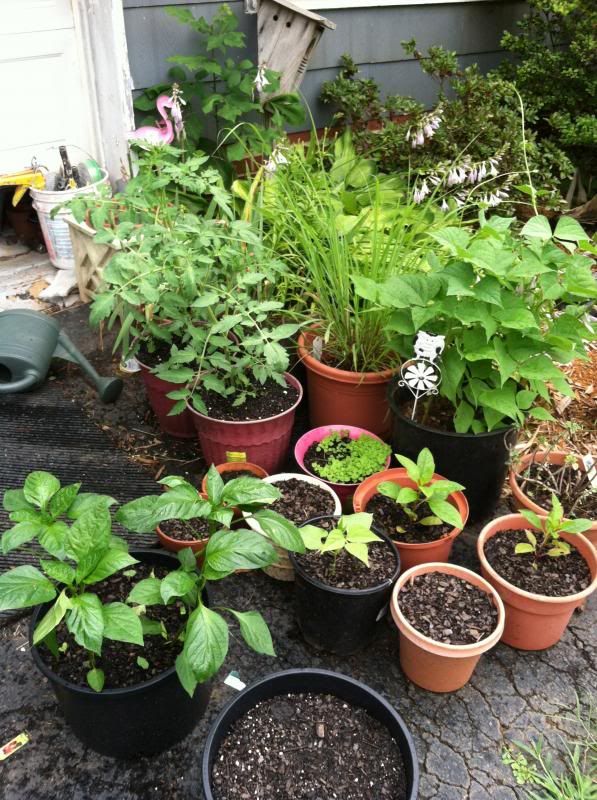 And my front yard planter full of tomatoes as well.
---
"Keep a leg on each side and your mind in the middle"
I love your hydrangea, pink and blue on the same plant, beautiful.
My tomato and cuke plants were a bit pale but what to feed them? Instead of composting I was blundering all my veggie and fruit scraps. I'd dig small holes and pour this in. A week later the plants have nice darkish green coloring. The cukes have tendrils that were feeling for something to grab so there was a good use for old binder twine.
Well since we haven't been hit by a July hail storm (yet) everything has managed to REALLY grow....
image.jpg
Man it is already time to start thinking about a fall/winter garden - well, for me it is b/c I start seeds indoors under lights. I love brussel sprouts and carrots - so I guess I will plant those and nothing else. One can never have too many carrots when you live with horses. The temps here will be in the triple digits thru August. We will still be in the 80-90's thru September, but by October, the transplants will be 6-8 weeks old and ready to be hardened off and planted. Our freeze is usually mid December but the cold plants don't even notice. Our nasty weather (ice that burns plants and actually kills things) isn't until Feburary. Then it gets hot again by March.
My garden went wild after it got hot this summer - really wild complete with rabbit families, snakes, birds and every insect that crawls. I let everything go to seed so it will be fun to see tomatoes and carrots, brocolli, parsley, lettuce - all of that will come up in random places next spring. But I think I will take a break this fall and not fill up the entire garden and take a bit of a break. Maybe ride a horse for a change?
I planted 1 yr old asparagus roots this spring - were supposed to be all male, but of course almost every one produced berries. One of the lovely things about chickens is that they LIKE the berries and picked off every one. So the female plants were retaliating by sending out more spears. haha! So the beds are nice and bushy right now and from the looks of things, I should have a really good crop of asparagus next spring. That's one I haven't tried to can yet - am looking forward to it!
---
Clippityclop is finally getting to spend some time in the saddle!
I had never noticed this guy before and saw him on the way to the mailbox. The recent monsoons made it "pop". Hedgehog.
P1030789.jpg
---
There is just as much horse sense as ever, but the horses have most of it.
Wow, tiny, those are pretty! I bought some lilly bulbs and even bought them a nice big garden planter to put them in. The blooms just shriveled and blew away before they "opened".
I had "images" in my head of what yours look like when I planted them. boo hoo.
I snapped this w my cell today in my "natural garden". Not a high def pic, but I love this particular color (as opposed to the yellow ones).
Photo212.jpg
---
There is just as much horse sense as ever, but the horses have most of it.
Missy, love the cactus blooms! They are beautiful.
I need to get a current pic of the pond area, my Hibiscus has gone crazy and the stuff I planted around the pond has grown, it is starting to look somewhat finished! Of course it is raining right now, maybe it will stop soon and I will get a couple when the sun makes an appearance.
In the veggie garden, first staggered planting of corn is very close (I will likely have 40 dozen or so to put up this weekend) have done 35 qts of green beans (and more to do), 14 qts of carrots, 21 qts of tomato juice (going to be doing marinara sauce & beef veggie soup this weekend), 28 pints of peas, froze green peppers, shredded zucchini (for bread & pie), beets and we've been eating lots of cucumbers - they are really good with vinaigrette made with the raspberry vinegar I did. I've also been drinking cucumber/lemon water, so refreshing! Melons are getting big and it's killing me waiting on them to be ready.
On the fruit front, the pear trees are still looking a bit sad, the local ag agent told me to leave them alone and see how they fare come spring. He thinks that since they are such old trees that they may come out of it on their own. There is still a ton of fruit on them and they are growing, so fingers crossed they're going to make it. Glad they have fruit, DD has just finished off the pear sauce I made last year and is whining that it's gone.
---
Life is like a camera. Focus on what's important, Capture the good times, Develop from the negatives and if things don't work out, Take another shot.
Super Moderator
Join Date: May 2012
Location: CT USA an English transplant
Posts: 24,942
• Horses:
3
Peaches have done well - just a shame that DH didn't get off his bum and support the one branch before it snapped off under the load (I do love him but I asked so many times it just made me SO ANGRY)
Pears are finally growing after two years of nothingness
I have one single solitary fruit on my 'no bog' cranberry plants. Guess the birds like them too
Lots of plums almost ready on one tree
None at all on the other tree
Deer got on the veg patch and ate all the corn and pulled up some onions - didn't think they would like onions.
Decided to move entire veg plot to the back of the summer house for next year as I think we can make a better fence there to protect it. I've started to Roundup all the grass off.
One of my lilies - and a weed that got away from me, please ignore that it shouldn't be there