Muck buckets are too much work. A wheel barrow is what you will need. You can always fill that and it's easy to move and lightweight. Is the murphy bed for you or you and someone else? Ever try sleeping in a mayan hammock without spreader bars? They take a little getting used to. Hang both ends on one hook and the space is freed up for other things. Weren't those 7x9s meant for a crib? I toured a new trailer last week, an attack of nosiness, and it too had a dinky little room.
Back online! It's been a whirlwind 3 weeks and so much has happened. It's been awesome, but still not at the point where I have time to sit down at the computer for any length of time. I just decided "to heck with it" and thought I'd log on to post an update. One of these days I'll actually read more posts - I need to!
Anyhoo, the move was pretty darn smooth. After that we had 2 weeks of cold temperatures and lots of snow. Guess what - we're in a snow belt! Little surprises all over the place
Had issues at our boarding facility, so ended up bringing the horses home early this week (was supposed to be at the end of the month) so that entailed two days of feverishly checking each and every fence post and board to make sure there were no stray nails, screws, etc. The place is in pretty good condition. One pasture is completely fine ... the other two have just a small portion where it never got boarded - just high-tensile wire that needs to be fixed. Hubby went to UFA today and got all the necessary tools and will be doing that this afternoon (after he finishes putting up cabinets in the office). He's proving to be pretty good at all this farm stuff!
Biggest challenge? Fitting "stuff" from a large house into a small house. I didn't toss nearly enough stuff!
Physical challenge? Hay! Took forever to find someone to deliver small bales (lots of round bales around here, but now square bales ... why do they call them square? they are rectangles!). Finally found someone, but had to take 160 bales. Okay, we'd need it anyway. But the driveway is going to be dug up next week so I had to move those 160 bales into the hay shed ALL BY MYSELF. Yup, pretty darn proud. And yes, I did the math - 160 bales at 65lbs each ... I am woman, hear me roar. Even got the bales stacked 5 high. Woot woot!
So we brought the horses home, and the next day went out to a friend's place to get an old retired ranch horse as a companion to my stressed-out guy. Ha! We came home with an unbroke 4-year old with the sweetest temperment I've ever seen. Crazy, I know, but the heart was loud and clear on this one.
Oldest daughter has been here a week for her post-surgery recovery (she had a hip re-surfaced) so it's been challenging fitting an extra body into an already small house ... and of course, the accompanying boyfriend - lol!
Now we're waiting for the temperatures to warm up, the wind to die down and life to get into some semblance of a routine. Youngest daughter is loving it here, and doing well with the homeschooling (didn't want to switch her for the last 3 months of school) but looking forward to next year and having contact with kids again. She's awesome with the horses.
Heaters are installed in the barn, and we're just waiting for things to dry out a little before they start tearing up our yard and driveway to get the water and gas out there. We're also waiting on a quote for an outdoor arena. We've got a long driveway that works great, but it will be nice to get an arena set up. Hopefully it'll be possible
So it's crazy. Never a moment to sit down and rest, but that will come. I'm LOVING it. It's dead quiet (aside from the howling wind at the moment) and peaceful beyond belief. Lots of deer, geese and apparently moose (but I haven't seen them yet). Even the dog is having the time of his life and isn't running away - yet. In time we'll get the chicken coop built, and a garden set out. I've managed to get out for a number of runs, and even have been able to tuck in with a running group in town. The town pool is nice, and I love having my bike trainer set up where I can watch the horses in the pasture. Heaven!
Once the world stops spinning, I'll post more. Can't wait to get active on this forum again ... I've got a tonne of questions!
Good update - don't you love it when a plan comes together? I think I speak for a number of forum members when I say photos would complete the story
.
For the record, I'm going to attempt to post some pictures. Keeping my fingers crossed ...
Hopefully there are three pictures attached. Let's see if I did it right
DSC01773.jpg
IMG_5965.jpg
DSC01781.jpg
The pictures worked! I just *had* to post a picture of all the hay I moved. It's now neatly in the shed, with the exception of about 20 bales that are tarped outside 'cause there was no way I was attempting to put a sixth level in - can you say broken back?? The snow is nearly all gone, and thus far things seem to be working out. The young horse we just got as a companion for my boy has attached himself to my daughter's horse. Yes, my horse is jealous and not handling it well. Sigh. But that's another post. Hope you enjoy the pictures - the place looks nicer (and bigger!) in the pictures than it really is.
Good pics - you've got an absolutely lovely view (both of landscape and bale stack).
I always loved seeing hay stacked in the barn-a real feeling of security. Great pictures-the horses look quite content. How do you like it?
I absolutely love it here. It's so peaceful! I managed to get out for a run this morning, and during 8k on the paved "main" road, I only saw 3 vehicles ... and two were contractors going to our farm! There's a big moat around our place right now as they run water and gas lines from the house to the barn. Water lines here have to be 8 feet deep - it's quite the massive trench!
It will be nice when the massive work is done and we can settle into a routine, but in the meantime I am enjoying each and every moment.
Lovely place!! ***hugs***
You'll get used to running hay. Here is how I do it, in short, truck to loft.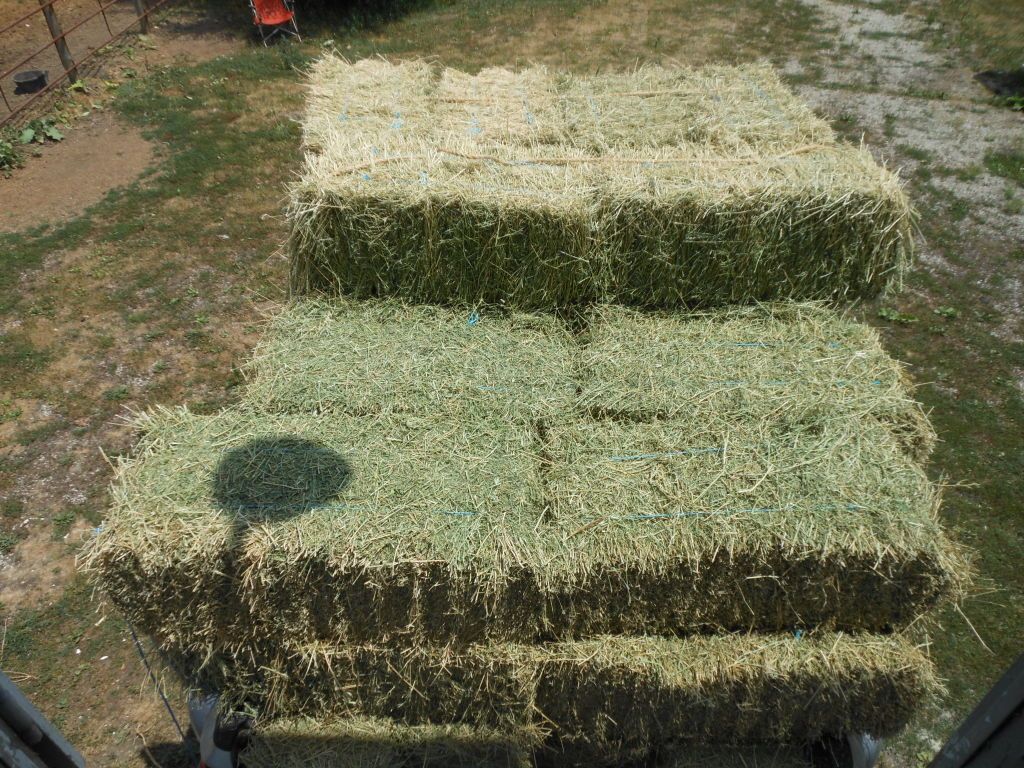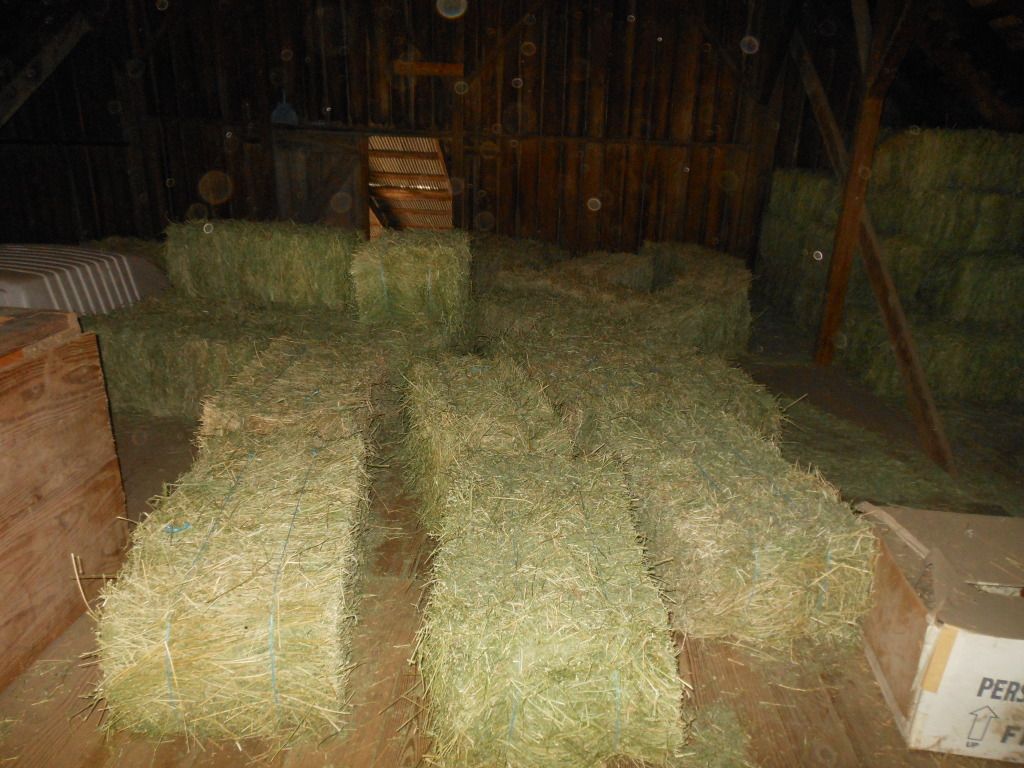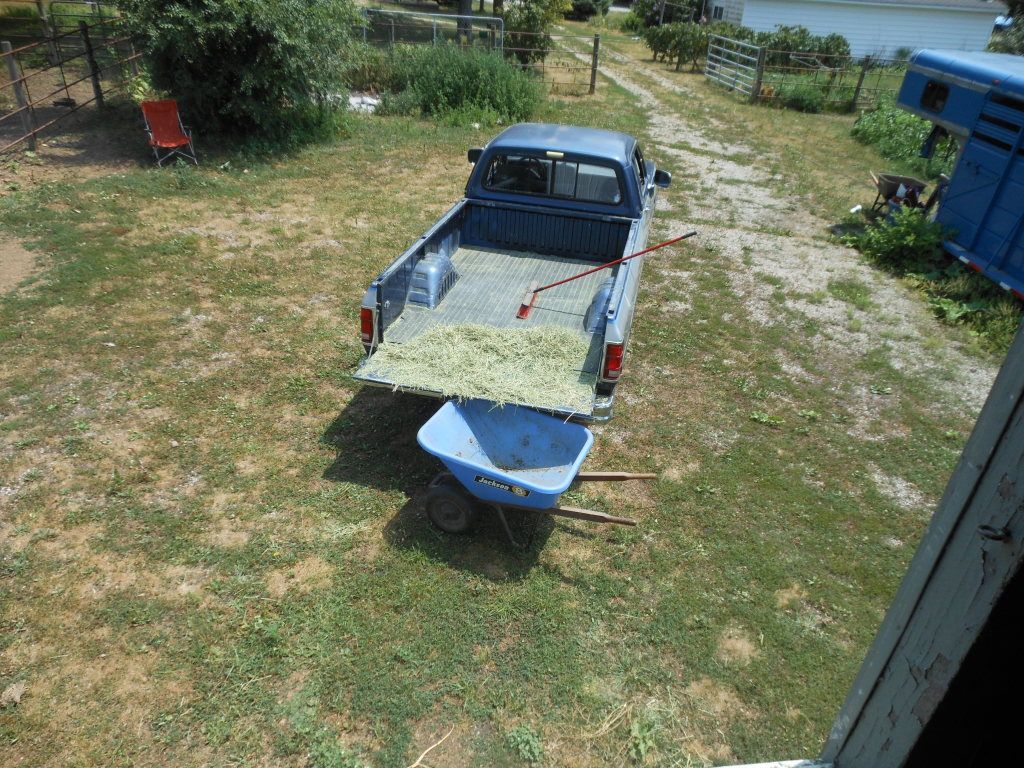 Buy a 2-wheeled wheelbarrow, like mine. It saves steps. Also, ANY farm helping vehicle like a Bobcat is VERY helpful. Dreaming of my small tractor...
Started
Join Date: Jan 2012
Location: An English Girl living in beautiful Alberta, Canada
Posts: 1,606
• Horses: 0
Congratulations Pilatesgal!

I had been wondering how you were getting on, and missed these recent posts. It brings it all back to me from when we moved in last August. Oh, I so love it here! Peace, space and horses at home :)

I have a barn for round bales which is what I fed off all winter (I used a gator to take hay out every day), and I have a hay loft with a hay elevator for getting it up there.
---
Get up, get going, seize the day. Enjoy the sunshine, the rain, cloudy days, snowstorms, and thunder. Getting on your horse is always worth the effort.