Let's see your farm dogs!
---
Of course we all love our horses, but lets hear about our smaller little herd buddies! Post pics and stories of your dog(s). (Mods, if this post shouldn't be here, sorry, and feel free to move it to where it would be more appropriate.
) I'll start!
This is Xada (pron. Zay-duh) She is a coming three year old German Shepherd and we've had her since she was a pup. She is technically my mother's dog, but she and I are in love with each other so everyone calls her mine. She's too smart for her own good somtimes, loves picking up sticks too big for her, and playing in the water. Since I board my horses and the place I board them at has their own dogs I can't take her there, but she says hi to a pair of horses that live along the road we take our walks on. She always does her puppy bark and rolls over for them. It's very cute! Now lets see all of your buddies!
---
Proud owner of ~Mana: 6yo Arabian gelding~Pearl 13yo Arabian~Danzer 14yo Arabian mare~ Tiny mini filly
Beautiful shepherd!
This is Ace, our 7-year-old German shorthaired pointer. He's the keeper of the goat, ducks and children and one heck of a pheasant hunter.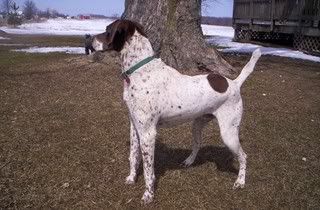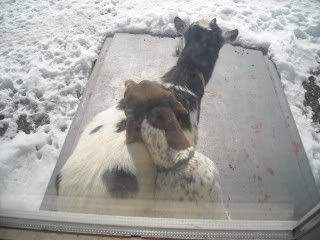 Sept. '09 008.jpg
winter '09 002.jpg
---
Stella - sweet, timid, elegant, lovely, lively, amazing
Luna - large, unattractive, naughty, adored

These dogs aren't mine, they are the ranch owners dogs, but since Buddy spends most of his time hanging out with me I call him mine. Buddy is the blue merle Australian Shepherd dog. He does my feed runs, and water cleaning with me, and stays by my trailer as long as I'm home. Abby is the Belgian Malinois mix. She loves to follow you on trail and keep all the horses goats, cows, and sheep in line.
buddy.jpg
abby.jpg
buddyabby.jpg
I have an Austrailan (I never spell that right lol) Shepherd. He is 4 years old and his name is Avalanche. He does everything from herding cattle, horses, chickens (haha) and anything else to going on trail rides with me and spending his time being an all around family/farm dog. I don't have any pics uploaded atm but I will post some pics in a second. :)
---
Blue Eyed BLY~ 2/3/03
Calico Sonny Stockman x She's On Cloud Nine
These are my two Shelties, Sophie (on the right) and Sissy (on the left). This is a cute picture from when they were puppies--thats a medium dog sized crate bed....now only one of them fits into that thing! Anyway, they LOVE to herd anything that moves--small children, other dogs, my TB (he does not like this at all) even each other! I board my horse, but we can bring dogs out as long as their well behaved. Sissy treats horses like giant monster dogs--her first instinct is to roll over for them, then she barks at them. Sophie just completely plays 'dead dog' unless you nudge her with your foot to move.
Aww, lovely babies! That sheltie picture is just too cute.
Here are a few pics of my working line collies:
And my poor Bonnie girl's massive litter last year!
OH! beautiful. I love Collies. I had to give mine away to a family as he started running cows. :(
Then theirs Chigger the red merle Aussie.
And the Ferocious guard dog Jessabel the Cocker Spaniel.
---
Last edited by Crimsonhorse01; 12-10-2009 at

06:44 PM

.
Quote:
Originally Posted by
Crimsonhorse01
View Post
OH! beautiful. I love Collies. I had to give mine away to a family as he started running cows. :(
Then theirs Chigger the red merle Aussie.
And the Ferocious guard dog Jessabel the Cocker Spaniel.
Awww...you should have tried to find a working home for him. Collies with working instinct these days are rare and precious indeed. Most people think it is common with them because they are classed as a "herding breed", but really, the honest to goodness working collies with actual, instinctual herding ability are very, very hard to come by. He is gorgeous though, I love the tri-headed whites.
I love your aussie, I have a tri male aussie as well. I always loved the red merles, they are stunning! And Jessabel is lovely, impecably groomed! (the dog groomer in me always notices)
so cute guys! I am going to have an ausie one day but for now I have no farm dogs :( Here is my beagle though
---
~Do Your Best, Prepare For The Worst, Then Trust GOD To Bring The Victory~Proverbs 21:31
*Sorry for the double post but I got a picture this time LOL*
Here is my 4 year old neutered Aussie, Avalanche. Then my brothers 6 year old Border Collie, Ivy. She was a "city" dog til last year and is just not starting to listen to commands. But she has always had the instinct.
I got Avalanche when he was 6 weeks old and have taught him everything I could. Both are working Cattle,Horse,Chickens and whatever else you would want "rounded-up" lol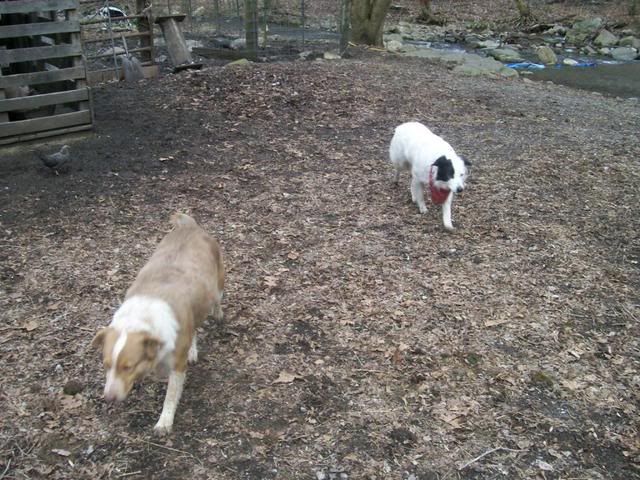 ---
Blue Eyed BLY~ 2/3/03
Calico Sonny Stockman x She's On Cloud Nine