everyone's dogs are so cute!! Hmm. I wish I could find a pic of the family dog we had when I was growing up, she was my favorite dog ever. I'll have to ask my dad if he has any pics...
---
Proud owner of ~Mana: 6yo Arabian gelding~Pearl 13yo Arabian~Danzer 14yo Arabian mare~ Tiny mini filly
Here's my non-horse dog, Annie who likes to chase them and occasionally gets nailed for it! She's learning not to chase the cats or eat the hamster but she's definitely a hunter at heart..... Very sweet with people, I always say she'd lick a robber to death......
This is Skyler, our cattle dog mix. He REALLY has a heeling instinct, used to drive us crazy, heeling us, still occasionally gets carried away and gets us (OUCH!!) but he really goes for the horses' heels, wants to herd them so badly but they just don't listen or they turn on him and send him running with his tail tucked!! He's much more obedient than the husky. I can call and point where I want him to go and he mostly does it, unless he's on the tail of a rabbit! Loves to jump, do dog agility kinds of things.
As a puppy-
All grown up now-
---
Dana
Riverside, CA
Everyone has such cute dogs! Lemme introduce... ROXY!!
Awww! Everyone as cute dogs so far. C: I ADORE Roxy's blue eye!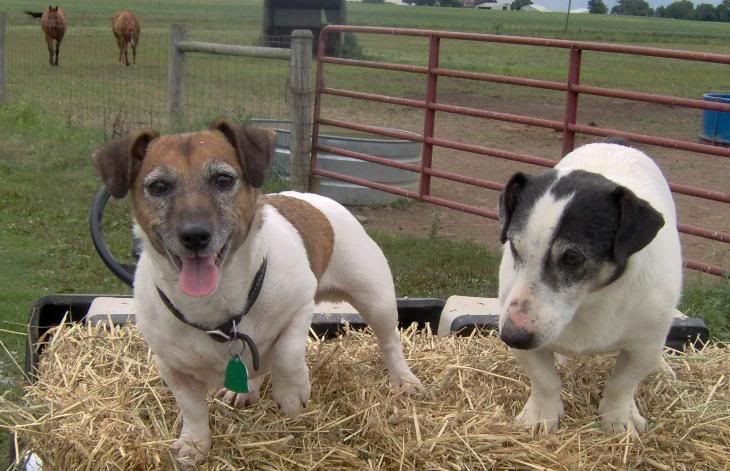 Puddin' leg Jack Russels!
My dog Jane (left) and my barn owners dog Tugs (right)
My dogs are not barn dogs, very rarely do I bring my dog to the barn. Tugs on the other hand is a outdoor dog, and a very tough one indeed. Tugs is 19 years old and is still going strong, though recently unable to hear, deaf.(usally comes back to the barn from hunting trips with bunnies or mice) xD nasty Tugs. My dog Jane is 9, and I call her ol' grey beard.
This is the love of my life, Sadie, my English Pointer....horrible guard dog, pointer, bird hunter, and goat chaser extraordinare!
My family has 6 dogs but mine is Zoe, a 5 year old border collie/ aussie/ and I think coyote mix lol!
She might look older because of the white on her face but I can assure you she is her age because I have known her since she was born :)
She is a major stinker and chases the horse up and down the fence when they run, barking her fool head off. But, she is my baby and I love her so much! She is also an awesome agility dog, she can jump so high!!! She is wayyyy too smart for her own good and can open gates and get out of our yard in unknown ways :P Anyways, here's my girl :)
---
There is something about riding down the street on a prancing horse that makes you feel like something, even when you ain't a thing. ~ Will Rogers
Janxaee, great shot of Sadie in the field!
---
Stella - sweet, timid, elegant, lovely, lively, amazing
Luna - large, unattractive, naughty, adored

I only have a non-horsey dog because she is afraid of horses..but here she is anyways..her name is Lady Jane and shes a sheltie.. She's 5 or 6 now and is slowly developing hip displagia.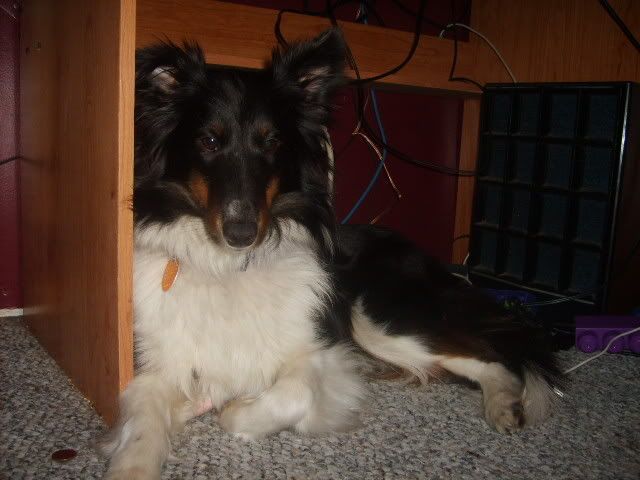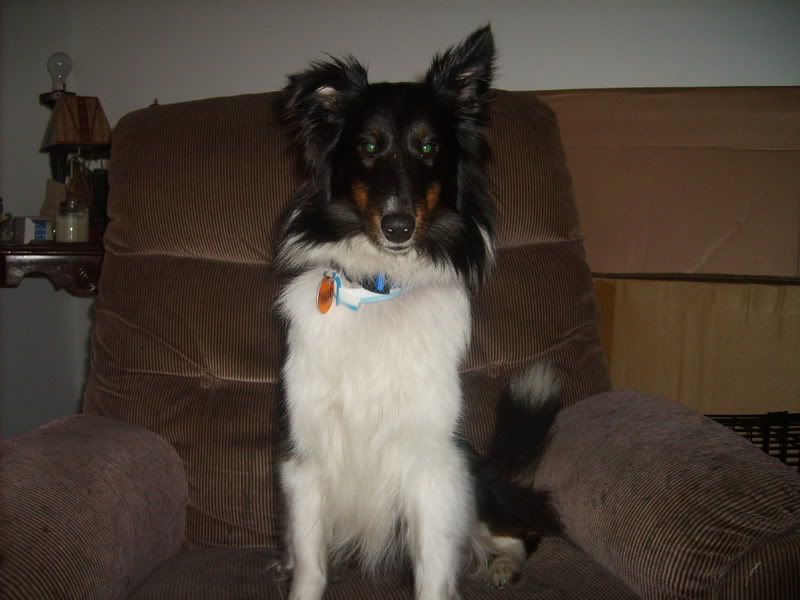 Oh my, i am in love with Lady Jane!
---
There is something about riding down the street on a prancing horse that makes you feel like something, even when you ain't a thing. ~ Will Rogers
HorseOfCourse beautiful sheltie, we also have a tri color
Our sheltie is named "April Love", she is 4 now. She herds the children, sometimes me on laundry day, the kittehs, and our horses. She is definitely naturally born to be herding things I think she lives, breaths, and dreams it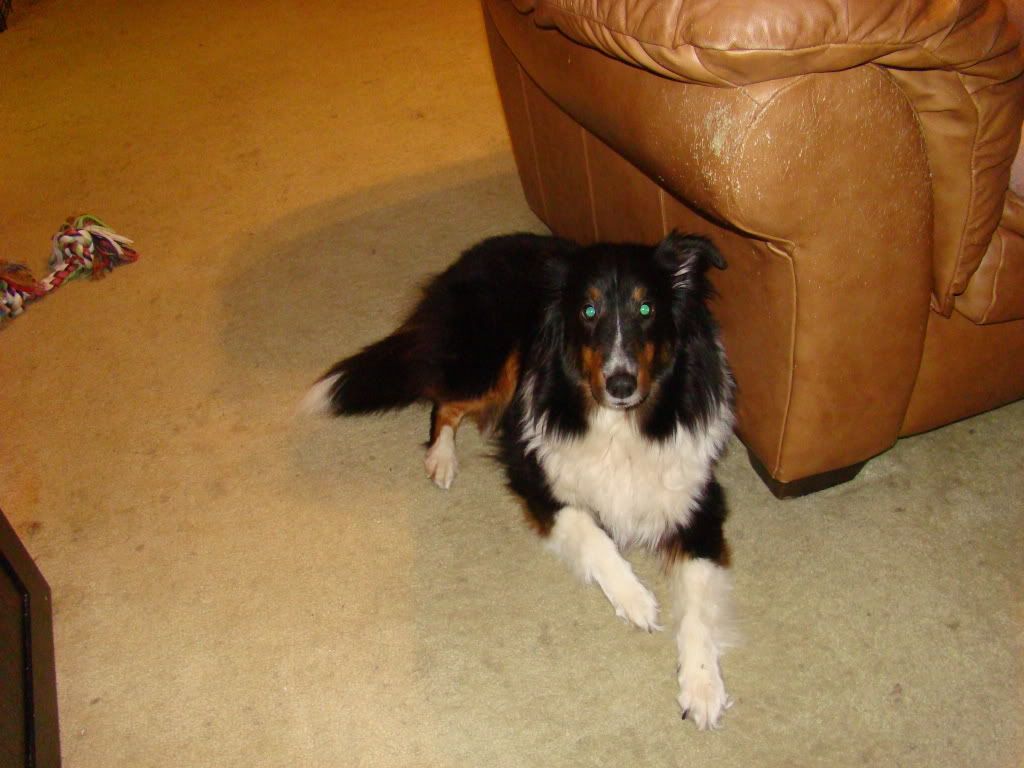 April didn't scratch the couch btw.... my brothers gave us the couch after his crazy cat tore it up.
Although she did not destroy the couch, she most DEFINITELY "Eats chair... num num"
with our bengal kitten, she was a runt and had a hard time keeping warm....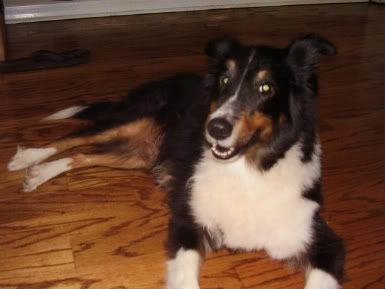 ---
Freelance Graphic / Print / Photo / Web Designer -
Designalist
Stop by and say hey :)