I wanna see more pics of Jasper! He is amazingly beautiful! You are so lucky to have a wolf!
---
RIP Minnie, 1981-January 15, 2010
RIP Maggie Mae I miss you
Quote:
I wanna see more pics of Jasper! He is amazingly beautiful! You are so lucky to have a wolf!
Me too!
---
There is something about riding down the street on a prancing horse that makes you feel like something, even when you ain't a thing. ~ Will Rogers
Quote:
Oh my, i am in love with Lady Jane!
Thanks. Haha. She has a pretty interesting story behind her. She was raised by one of my mom's dialysis patients [she works on an ambulance] and my mom was talking to him about how her pug had just recently died...then he said he was getting rid of his last pup because he didn't feel he could care for them any longer. He was a BIG man and totally blind in both eyes. She really is great though.
Alright! I need to take some anyways, I havent taken any pictures of my wolves in about a year haha. I hate taking pictures haha but I will be sure to take some for yall!
Just thought I'd introduce two special little canines!
MY wonderful non-horsie German Shepherd, Zachariah (Zac)!!
Pup pictures:
First afternoon home
I did a bad thing, Mum!
And now all grow-ed up!!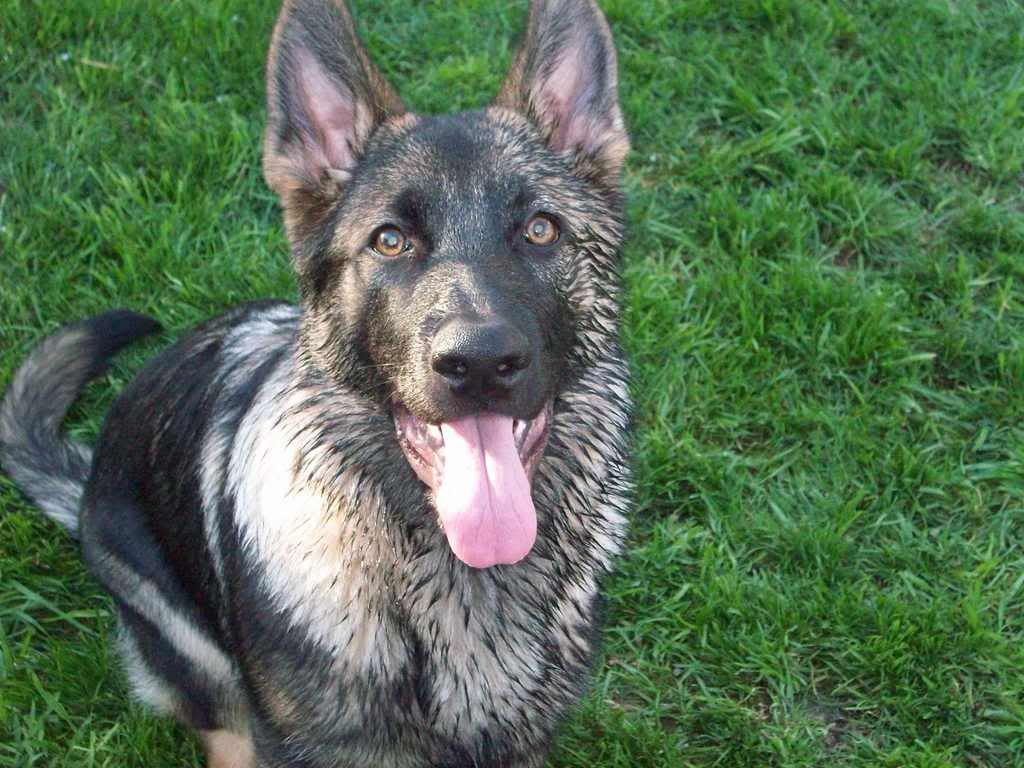 But the hose attacked ME, I promise!
...and just thought I'd an an OFFICAL farm dog, the gorgeous Kel (the Kelpie)! She belongs to my riding instructor, and she LOVES to watch horses, keep the neighbours cows from coming too close to the fence, and helping out on trail rides!!
P.S. sorry all the pics are massive!!
---
HORSE RIDING:
The art of keeping a horse between YOU and the GROUND!
My guard dog - can't spell his name but it's pronounced - boondash -
He is a Hungarian Caucasian - this dosen't mean he is white but that he comes from the caucasus
mountains where they were used to protect the herds from bears and wolves.
For size he is about 2' 6" at the shoulder
DSC02044.JPG
---
Last edited by Nutty Saddler; 01-13-2010 at

04:14 AM

.
Great looking pups everyone
I just took a non-goofy looking Miss Daisy photo-
---

"Until one has loved an animal, part of one's soul remains unawakened..."
- Anatole France
..........And Angus, he needs a haircut (the outdoor shot)
And Ivy (indoor shot) she needs a haircut too.
I still have Tater Tot to get a shot of
---

"Until one has loved an animal, part of one's soul remains unawakened..."
- Anatole France