Super Moderator
Join Date: May 2012
Location: CT USA an English transplant
Posts: 24,573
• Horses:
3
Its all in the training really no matter what you get. I know a lot of people who have had dogs that are considered 'suspect' yet they are totally wonderful around people.
These huge hairy breeds dont do well in extreme heat and tend to have joint problems, short lived, and will struggle on long trail rides if you do much trot or canter work
We have had labradors, german pointers and springer spaniels that were great yard dogs but perfect around the family and anyone who was supposed to be around the property. They also had the energy to keep up on the trails and as they are very trainable always ran 'to heel' even on roads with traffic in the UK
We currently have a german short haired pointer and a german wire haired x deerhound who are also great for deterring wildlife - coyotes etc, know how to behave around horses and really obedient on the trails. They live out all the time but have a compound to be shut into at night or if we are out - I wouldn't want to ask any family dog to take on a cougar or even a wolf, as long as they bark to alert thats enough
Have you looked into Maremmanis or Cane Corsos?
Maremmanis come from a very hot, humid area in Italy but are longhaired, so are suitable for all climates.
The Cane Corso is a mastiff, very protective and territorial, but a great big puppydog with his people. He is short haired and can easily keep up with a horse.
Yearling
Join Date: Aug 2011
Location: Central Texas, easily mistaken for a big bowl of dust!!
Posts: 1,427
• Horses:
1
Anatolian Shepherd and GP makes a really good cross. She was a perfect dog.
Posted via Mobile Device
LGs are just that. They are and have been, bred for hundreds of years, to stay with the flock and protect it. There are also, many different breeds, of LGs.

They have been bred to think for themselves and most don't take easily to formal obedience training. They have a bit of a feral streak in them. They will take on anything, which they consider invading their property. That means domestic animals, which which they have not been brought up with, wild animals and even humans. The have a big bark and use it! So if neighbours are close, most are not suitable, since they do bark at night if they hear or see something. This is one of the reasons, we see so many in rescue. People get them in the city and soon have neighbour troubles. Our local GP rescue is always full. Texas GP rescues, have so many, they often ship them out here to our California rescues.

A note on rescues.
With so many losing their farms these days, there are some excellent true working dogs available. Most of the time, the rescues know which animals they have been brought up with. Don't expect such dogs to be your friend. They will likely be aloof and except for the usual care, prefer to stay out with the flock.

They are very territorial and with that, comes the problems that they often consider everything they can see, their territory. If (for example) a coyote enters the property or comes close to fencing, they will do anything to keep on chasing it. They will climb, jump or dig under fencing, to dispatch the invader.

Many LGs have for generations, not been used for their intended purpose, so have lost some of their previous instincts. It is still there, but not quite so much as those who have been bred purely as working dogs.

Many LG breeds have some major genetic problems. Unfortunately, not all those who breed for work, test their breeding stock. People who breed for the show ring, are more likely to have their stock tested, but they might not necessarily, be the type to do the job alone and left out.

A good LG breeder, will have tested his dogs for all the genetic problem known in that particular breed. His dogs will have lived with the flock from puppyhood.

Some LGs are or can be, very aggressive to all but the owner. Most would not be suitable to guard a flock and also take out in public on a trail ride. It would likely try to attack and even kill, loose dogs accompanying other dogs, he might meet along the trail. Remember, LGs consider everything their own territory.

Certainly there are other breeds, which might be able to handle home security and also go on trail rides. Irish Wolfhounds, Scottish Deerhounds and a few others might suit. IW's however, have many genetic problems such as heart disease, so the breeder would have to be carefully chosen. Also, being bred as a sight hound, they are more likely to take off when out and about. That would involve careful training and a very solid recall.

GP's seem to be a favourite guardian breed. I would not recommend a Causasian Ovcharka to anyone, not extremely knowledgeable with LG breeds. Beautiful dogs, but most are extremely aggressive and focused. Definitely not for the novice or faint of heart.

Anatolians can be a good choice. We have owned one. Not so much coat to deal with, as a GP for example. Escape artist supreme. She didn't jump fences or dig under, but learned when the electric gates opened, she could escape. The neighbour had a very old African Lion, down the road. He was in an enclosure and had been an old movie animal. He never bothered anyone, but our Anatolian always made a beeline for his property, to try to get him. We always knew where to find her!

I suggest a whole lot of homework about all LGs, before jumping in.
GOOD AND SOLID FENCING IS A MUST FOR ALL LG BREEDS. Everything they see, they consider their territory.

They do try to escape and wander, given the chance. We constantly find them loose out here in S. Cal., wandering through the desert and mountain areas.

Lizzie
Have never owned one but been around some this is my take on them>>The ones I've met have been big friendly souls
.They are more nocturnal,like to sleep & lie around most the day but are up patrolling at night. They aren't always easy to train ,have to teach them young the yard perimeters. If not socialized well they are protective of their property & people so not always welcoming to visitors
. They are just that livestock protection dogs & most do great job,but not always the case
Do know I saw one today advertised though, that never worked out as it seemed to like the new lambs as a meal
so they recommended it go to place with larger livestock. Also had friends that had one he did good job protecting his herd so much he wouldn't accept any new stock to herd,they had to get rid of him. I have not heard of any that like being trail riding buddies or type you take camping
Yearling
Join Date: Nov 2011
Location: Beautiful Pacific Northwest
Posts: 1,275
• Horses: 0
There's a GP rescue in Portland. I've worked with them, and they're great. I decided on the old standby Lab instead, though. Is that too far from you? Rescues are great, because they take to time to really get to know the dog, and they'll usually take it back or help you if there's a problem.
National Pyr Rescue Dogs
Something one should consider when mixing a dog with a larger predator. The dog may head out in hot persuit, barking his face off but if the predator turns on him, guess where the dog runs, to it's owner or home. Generally a barking dog is enough to deter larger predators from coming in too close. The main reason children get bitten by large dogs is a child's eyes and the dog's eyes are too close in height. The child (with predator eyes) unwittingly looks the the dog (predator eyes) and the dog interprets this as a sign of aggression.
i have a GP and she keeps the chickens and rabbits alive that i raise. an excellent dog. great at her job. she has chased a bear away. brought live ooposum up to me in her mouth, and ive lost nothing inside the peremiter fence since ive owned her. she even chases large birds away that fly across the yard. shes very keen on hawk attacks. a very loving dog. and very loyal. also protective to both my wife and my self. thats the good points.
bad points. nocturnal. barks all night long. likes to roam and must be kept penned in a peremiter fence or she is all over the neighbor hood. you must not baby her or treat her as a pet or she gets so attached to humans that she will want to be with you and will neglect her duties. has such a high prey drive, and underground fence will not keep her in. takes the shock and keeps going
to solve these issues. i have the past couple yrs. got her debarked. keep her inside the perimeter fence, do not pet and make over her like a normal family pet. she was spoiled by my wife when she was young but ive not given into her near as much and she does a better job at the work at hand.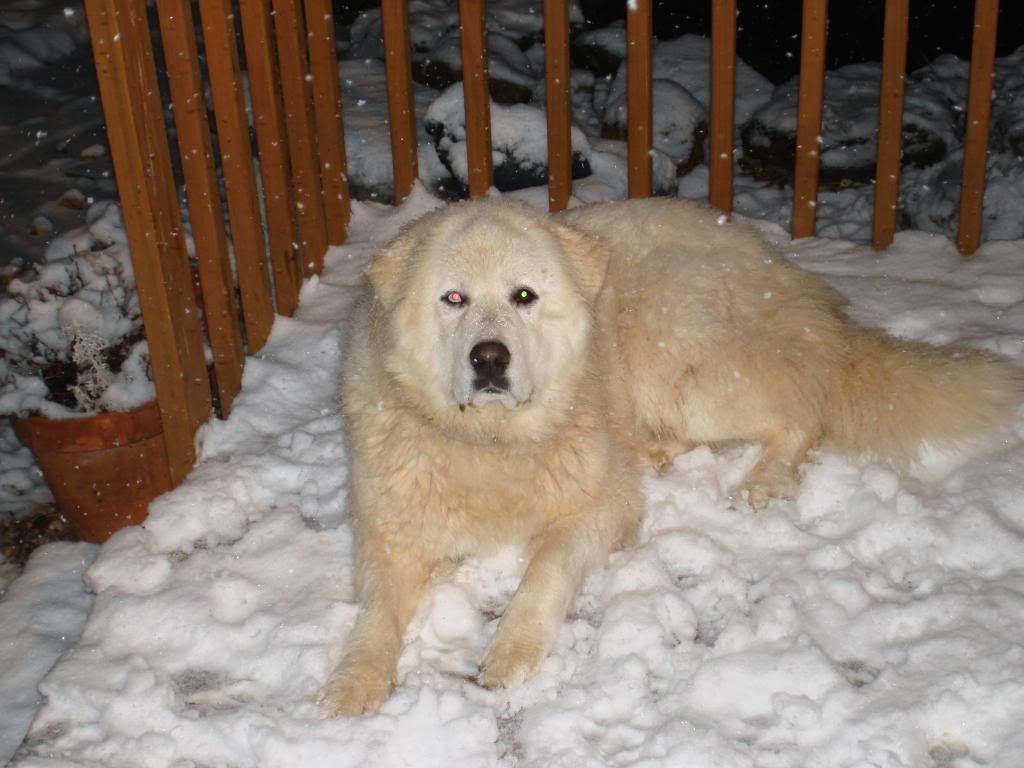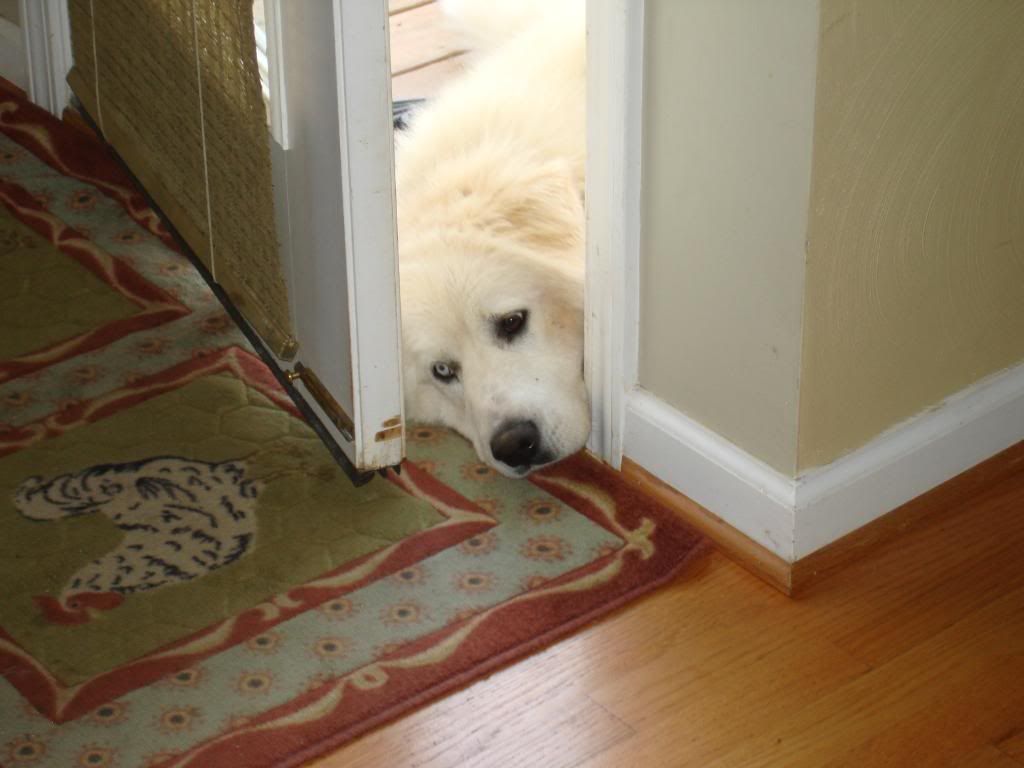 English Mastiffs. They are the awesome. I have one and he's fantastic, and fits all of your qualifications. They are huge though, I'm not sure what your limits are.
---
Phillippians 4:13


Another thought-Rhodesian Ridgeback. A good dog for a hot area.