Lost dogs --Warning Graphic Pictures
---
Couple days ago a fellow boarder went out to the barn and found two german short hair pointers. I got to see them yesterday and am in shock.
They are terrified of people. The female is alot better she really likes attention, but the male shakes and shivers when you try to touch him. i have started calling the female Maggie but I don't have a name for the male. The male is Black and roan and the Female is Brown and roan
Pics: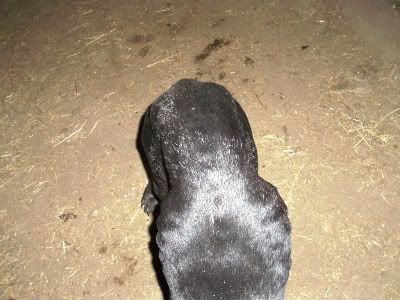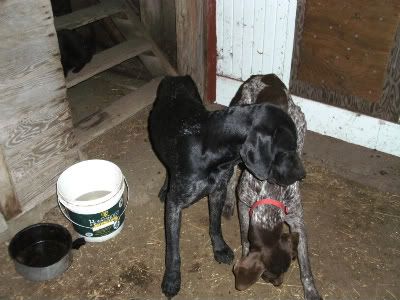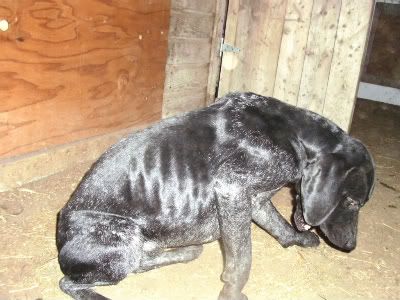 not that graphic, but poor puppies!
Awww sweet babies!! I'm so glad you and your BO took them in! They are going to be beautiful dogs when they fill out and get healthy again! God Bless!
---
John 14:6 - Jesus said unto him, "I am the way, the truth, and the life: no man cometh unto the Father, but by Me."
The female is a purebred German Short Hair Pointer (excellent dogs) The male might be as well.
How very sad. Are you guys still trying to find the owners, or are you guys just going to keep them, or find them a new home? Poor babies.
---
I don't know about where you live, but around here, hunters will buy up a few hounds and turn them loose in the woods to chase whatever they find. The hunters will have a shooting fest, then drive off, leaving whatever they shot... and the dogs behind.
The dogs wind up in the same condition that the ones you have pix of - but being hounds rather than bird dogs, they start running cattle and horses and eventually come to a very bad end - lead poisoning - if you know what I mean.
It got so bad that a couple of the local auctions where the dogs were being puchased for a couple of bucks each, refused to allow the sale of dogs anymore. They won't even let someone bring dogs/puppies to the sale barn for giveaway.
Even though my husband got his beloved "Blue" - a blue heeler at the sale barn - we have to agree that banning dogs and puppies was necessary. No one cared what was going to happen to the dogs...
---
Plain Old Dee, horses Dancer and Rain
I believe in dragons, unicorns, good men and other mythical creatures!
Bird dogs like that are generally built a little on the thin side anyways. Around here we call opening day of pheasant hunt National trade-your-dog day because so many dags don't have a good recall and end up running off and getting lost. That's probably what happened to these dogs and that's why they are so skinny. You might want to try to find the owner. They look like good dogs and they are probably missed.
---
There's nothing like the Rockies in the springtime... Nothing like the freedom in the air... And there ain't nothing better than draggin calves to the fire and there's nothing like the smell of burning hair. -Brenn Hill
I agree with Kevin, I'd look for the owner. That kind of thing happens alot around here too. The dogs are sent out and just never return to their owners, and since they are raised being fed unliving food from a bowl, they don't have the skills to feed themselves and end up looking like the ones that turned up at your place. I'd put up some flyers and maybe ask around a bit and chances are you will find their owner.
Just be sure to give the owner a good "stink eye" for not training the dogs better before you give 'em back hehe.
---
Ω Horses are a projection of peoples dreams Ω
He looks like a Moe : ). Even though they are a bit skinny they look like grand dogs. Not too beaten up. Do you know what you plan to do? or the uh place you board?
Around here bird dogs are kept thin like that on purpose. I personally don't agree with it and I certainly don't keep mine that way but the hunters do. There was a big article about it in the paper. I hate seeing ribs on animals. Sometimes hunters will turn them loose for hunting purposes and then they'll run for DAYS so sometimes they aren't neglected, they've just run all their weight off before the owners could get them back. My dog will do that if he gets loose and finds a sent. I'll hear him baying in the woods for days and then he'll come home filthy and stinking with his ribs showing. But for the most part, since I have an underground fence he's fat and sassy... and spoiled....
---
"Be a best friend, tell the truth, and overuse I love you
Go to work, do your best, don't outsmart your common sense
Never let your prayin knees get lazy
And love like crazy"