Aww, he is smiling! So cute!
---
Ω Horses are a projection of peoples dreams Ω
no, i'd keep them, bird dogs are sometimes kept thinner than other types, but the fact that they are afraid tells me something about the owners!
I agree that bird dogs are kept thin but not that thin. Looks like they have been running for awhile, and need worming. Hunting dogs usually don't get the huggy lovey attention that our house/cow dogs get, alot live in a pen out back, get fed and used during hunting season and thats it.
Quote:
no, i'd keep them, bird dogs are sometimes kept thinner than other types, but the fact that they are afraid tells me something about the owners!
not necccessarily. Mine is very wary of strangers, he shakes when people he doesn't know pet him. He is harmless and will not hurt someone without due cause however he is not trusting of strange adults. Children he is fine with. But he shakes and backs from strange adults. He's never had a rough hand laid on him. I don't think it's fair to assume that an animal was abused without more evidence.
---
"Be a best friend, tell the truth, and overuse I love you
Go to work, do your best, don't outsmart your common sense
Never let your prayin knees get lazy
And love like crazy"
I wish 2 German Short Hair Pointers would just happen to appear in my barn. Poor dogs, glad you guys are on top of it though with them. Hunters or not they are AWESOME dogs and can make great companions.
Oo. Might want to take them in to see a vet. I'm not sure if it's the angle of the pictures, or the lighting, or something, but the black one (and in some of the pics, the brown one too) looks like it might have worms. :( Even if they don't, it'll be good to get them checked out.
Kudos for taking them in, keep us updated!
This thread was started a month ago and I hope the OP lets us know what happened with the dogs. We have a GSP (Ace) who has been a wonderful family dog. He's an excellent hunter and very obedient except when he'd get loose with a dog we used to have. We always had to let them run separately or they'd be gone in a matter of seconds, but sometimes they'd get together and once they were gone for 9 days. We put up flyers, called the humane society, called the pet rescue on the local radio station, but no luck. We thought they were gone for sure when one day they just showed back up. I really can't believe they hadn't been shot or run over. The one we don't have anymore was still of a good weight, but Ace was deathly thin. We were just very glad to have them back and I hope these dogs found their home. This is Ace.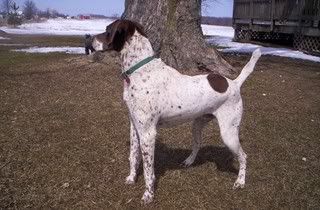 ---
Stella - sweet, timid, elegant, lovely, lively, amazing
Luna - large, unattractive, naughty, adored

---
Last edited by 3neighs; 11-25-2009 at

08:36 PM

.
I'm not sure I would just blindly hand them back to any owner. I would very carefully document their present condition. I would advertise them and demand to deliver them to the owners. Then I would ask a deputy to go with me to return them. If there is anything hinky about their living conditions, like other maltreated dogs on the property, a case for abuse could be made. Simply returning these dogs to what MAY be an abusive situation may not be a good answer.

Yes, hunting dogs often get lost, but their fear and condition leave some doubt
I would have to agree with Allison. Although they may be kept thin due to being hunting dogs and they may be weary just because your a stranger, there is also the chance that the owners didn't feed them and abused them.
I would be cautious.
Quote:
I'm not sure I would just blindly hand them back to any owner. I would very carefully document their present condition. I would advertise them and demand to deliver them to the owners. Then I would ask a deputy to go with me to return them. If there is anything hinky about their living conditions, like other maltreated dogs on the property, a case for abuse could be made. Simply returning these dogs to what MAY be an abusive situation may not be a good answer.

Yes, hunting dogs often get lost, but their fear and condition leave some doubt
would agree with this 100 per cent - I would want to know absolutely how those dogs came to be in that condition and what sort of home they came from before I would even consider handing them back