Registered name, goat
---
So I'm not having much luck coming up w/ a registered name for this goat. His barn name is Gulliver so something that includes that would be good. I wasn't sure if I'd be the one picking it, or the breeder, but I got the application today, so looks like it is up to me!
His sire's name is Caesar's Villa STS Sharpie and his dam is NC PromisedLand SIA Zena, if that helps at all. His name will start NC PromisedLand _______
So does anyone have any ideas? Here is the kid in question,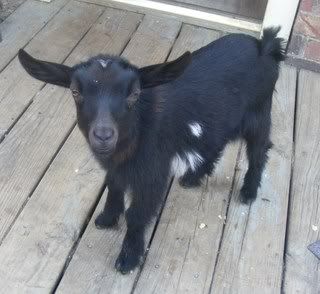 Sorry, I don't :(. Make it fun but formal ;)
How about "Gulliver's Travels"? You know those old books (and a movie) about this man who visits a land of tiny people then later I think he visits a land of huge people or something? Just an idea!! :)
---
Journey, Spirit and Goldie...
Love is when reality is better than your dreams!
Zena's sharp Gulliver?
He is a cutie!
---
RIP Minnie, 1981-January 15, 2010
RIP Maggie Mae I miss you