Trained
Join Date: Sep 2011
Location: Hour and a Half from Town!
Posts: 6,324
• Horses:
2
Awwww! Poor girl!

For sure a RIR rhode island red hen. Tough birds, not the friendliest or the best mothers JMHO.
Will do ok in cold climates but if I were looking for friends for her I'd look for a more cold hardy breed with a smaller comb, they can get frost bit.

I would place an ad in CL looking to adopt older hens first. Many people would be willing to give up an older non laying hen for a pet. If you want egg layers get a few more RIRs or another cold hardy breed and raise some chicks. Raise them separate then perch them together at night.

Remember that laying pellets are poisonous to horses, don't let the horses get into her dish. I bet your lovely "lost girl" is a no longer laying hen turned loose or just got lost/run off. Kitchen scraps are good but like said onions are yucky and bananas and their peels are poisonous.

Birds are pretty low maintenance when left to their own devices, it's when people coop them up too much in dirty pens that they get parasites and diseases. So no worries on the vet if you let her roam!

Thanks for taking her in!! What a sweet girl!!

ETA: does "she" have many black tail feathers? "Her" comb looks a tad large... You'll know soon enough when it gets older/comfortable and starts crowing! Could be a very young rooster that got ran off by an older one... In that case I might be trying to find it a home.
Posted via Mobile Device
---
Last edited by FlyGap; 05-11-2013 at

01:29 AM

.
If you keep a heat lamp in the coop, most of the breeds will lay right through Winter.

For laying, my Black Australorp was amazing until the neighbor's dog got her. Rhode Island Reds are good, so are the Ameracauna's. I have a couple Buff Brahmas that lay spotted eggs very regularly.

I have a motley crew of chickens.. we buy them because they're interesting and hope for eggs!
Lol, you can get other adult chickens.. my hens would go run off with the neighbors chickens and they didnt fight--The game hens will but RIR aint game its a meat bird.
oh if its a RIR and not a production red shes gonna be huge! Big enough to beat up a small dog-- i seen one of our roosters beat up a cat once.. bad mistake on the cats part!
If your chickens aint game and are fighting- you have too many confined in too small a space.. or one too many roosters, lol.
Lol, im sorry if i made you think chickens eat big ol rocks!
If people can clicker train a house bird i think you can train a chicken. YouTube some chicken tricks- or even house bird tricks.. mine would hop on my shoulder if i let them- and when i would cluck at them (yes like a horse, lol.) Theyd run to me because they knew i found em somethin good like a big jucy worm, or some kinda treats. :)
Punk, you got a lot of good advice here. I have to say that the Forum was amazing for me back in January, when my neighbor dropped off four chickens at my house in the middle of a snowstorm
You can read all the great advice I got
here
(and a lot of the same people who were so generous with their time on my thread have already posted advice for you here).
I've learned so much since the girls first arrived, but I am sad to say the original 4 are now just 2- one was killed by a hawk during a particularly tough patch of winter, and one was hit by a car- I know you asked about letting your new girl out near the road, and I guess I am the unfortunate person who lives in a really rural place yet still lost a chicken to a hit-and-run. It can happen. They don't seem to have much of a self-preservation instinct, unfortunately.
I have a RIR as well, and they are hardy through the winter (I live in New Hampshire). There were originally 2 RIRs, and I did notice a little frostbite before I figured out how to really keep the drafts out of the coop (I never did heat lamps though). I also have a Barred Plymouth Rock, and am getting some Golden Laced Wyandottes and Golden Comet chicks next week- all are supposed to do pretty well in the cold weather, if you're looking for the names of other potential breeds. I am a little nervous about integrating the new little sisters into the remainder of the flock, because the two girls that are left are super bonded since they've spent so much time as a pair at this point. It will be a few weeks before the chicks are big enough for the introduction, but I do plan to try it over night when everyone is roosting, as has been suggested here.
I think Chevaux is the one who said chicken math will get you- she's definitely right about that! I never thought that I'd take to the chickens as I have- in fact, I convinced my poor husband to take a day off from work on Friday so we could have a three day weekend to build a new run for the chickens.
Here are my two girls out on the hunt for juicy after-rain worms: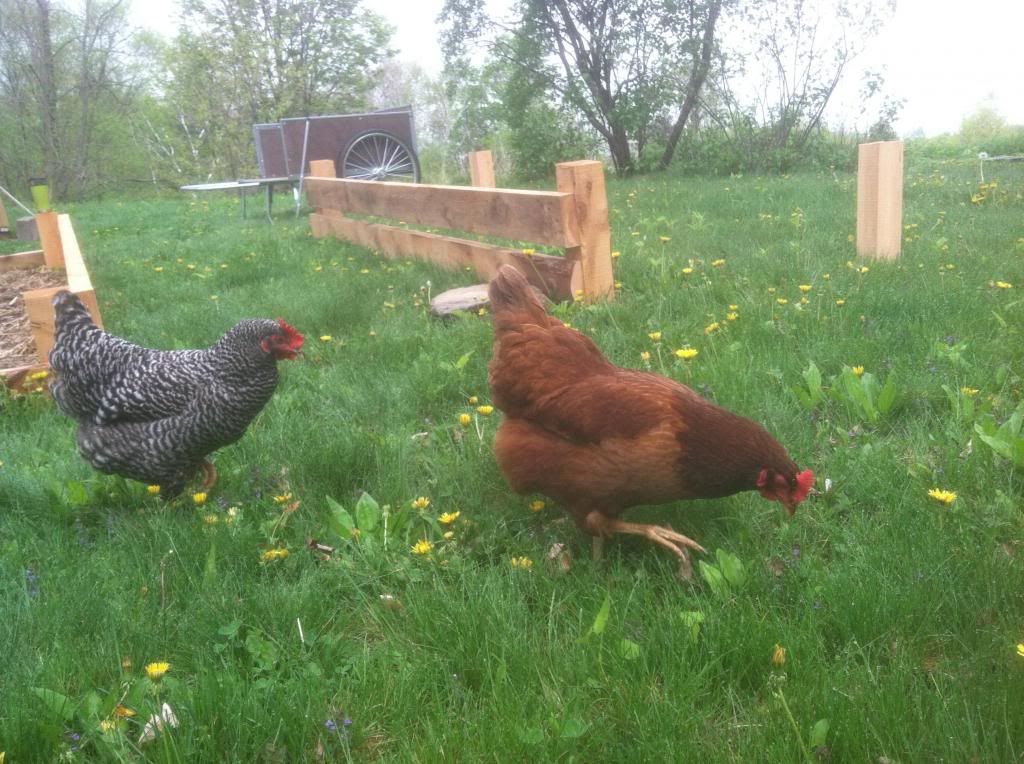 This has to be the best thread I've ever read :P
---
"Strength is the ability to use a muscle without tension"

Teen Forum Moderator
Join Date: Dec 2010
Location: South East Texas
Posts: 7,157
• Horses:
2
I LOVE those chicken videos! No advice from me but I love this thread. We have 5 frizzle ladies, 2 saramas, a RIR, and a gigantic yellow hen (not sure about her breed) named Mrs. Hennikens. They're the sweetest things and Hennikens will even ride your shoulder like a parrot while you're doing chores around the barn xD best thing ever, but you get tired pretty quick. She's got to be a good 7-8 pounds o.o
---
Everyone in your life is meant to
be in your journey, but not all of
them are meant to stay till the end.
Thank you all so much for your help and guidance!! I am falling head over heels for this chicken. There are still no eggs so I'm beginning to get concerned that "she" may be a "he" but she just clucks and coos, no crowing yet. Maybe she stopped laying and ran away before getting turned into dinner.
I wish I could do chicken math!! But my fiance is paranoid because were renting and animals are limited, 3 horses and 4 ferrets were all that was agreed on. So I dont think I'll be able to get more. :(
She doesnt seem to mind I made her a little nest box filled with hay that she nuzzles in at night. During the day she scratches around the poopy horse bedding I put in with her and in the evening I pet her out inside the barn. She likes to explore and has learned not to jump into the naughty pony's stall. I think I'll try putting her out in the dog kennel tomorrow. She likes to perch on the door of her coop, where she could easily let herself out around the barn, but she just watches the horses and relaxes.

I only have one question left I think... should I only feed her at a specific time of day or should she have food available 24/7? Water is always available obviously.
Oh and what would make a good "treat" high value food she'll always be hungry for?
I got her layer pellets is that enough? She needs oyster shells too? How much and how often is that? Ok so it was more than one question :P
I've got food available 24/7 for my flock - they eat their fill and then leave it (they also free range); they don't eat at night, by the way, unless the heat lamp is on to give them some light. My chickens seem to like bread and buns as a 'treat' - they get the stale stuff. I carry it out in a plastic bread bag and as soon as they hear the rustling sound of the bag they come up.

I use oyster shells when they are laying as it's supposed to help with shell strength. I just sprinkle some in with their regular feed (wheat and layer hen ration) once in awhile.

If your hen has had a traumatic experience she may be off the lay for a little while longer or, on the other hand, she may have found a secret spot and has laid eggs already (they excel at that).
Quote:

I only have one question left I think... should I only feed her at a specific time of day or should she have food available 24/7? Water is always available obviously.
Oh and what would make a good "treat" high value food she'll always be hungry for?
I got her layer pellets is that enough? She needs oyster shells too? How much and how often is that? Ok so it was more than one question :P
I put out feed 24/7 and they eat what they need. I leave a small rubber bowl of oyster shell out in the run, if they need it they eat it. Every afternoon around 4 pm I go out and feed "Chicken Candy" aka Scratch. I open the front door and all you can see is chickens running toward me, it's hysterical. I get the scratch in the scoop and aks, "Who wants Chicken Candy?" and they all come around my feet. I start tossing handfuls and they cluck and scold one another and start eating. When I've cleaned the coop and put fresh bedding in, I like to go in and sit down on the floor at dusk and wait for them to come in. They'll crawl up in my lap and sit on my legs and shoulders and "purr" while I pet and cuddle them. During the day, of course, they're much too dignified for such a display of affection but once it's mostly dark.....
---
So everything is going well with Ms. Starlight Von Clucky (yup, everyone got in on naming the chicken :P). She's settled into her little roost pretty well and is eating and drinking. I still haven't found any eggs but now I'm beginning to think she's hiding them...
She can easily hop onto and out of her coop area and she does, every night, I'm not sure if she knows how to get back in without having the door opened though. Because every morning I find tons of giant piles of poop allllll over my barn. During the day I open up the back door, while I'm working, and she has still not ventured out. I'm nervous about letting her out anyway, but I'd rather she be outside during the day (the little poop machine!). Will she really come back? I have to leave for work at all different hours, how can I get her to come in sooner than she's ready? Or should I just leave the door open so she can when she's ready. I tried two mornings in a row to bring her out to the kennel, but she just doesn't let me touch her in the morning, only when she's perched at night. So I can't carry her out there (yes I felt like a lunatic chasing a chicken around her coop xD).

She also prefers to drink out of puddles on the floor rather than her two water bowls (one is the red upside down one designed for chickens from the grain store the other is just a black ground feeder for horses filled with water). She'll drink out of the black one sometimes but normally she prefers when I spill water, she runs over to it like she's desperate.