Super Moderator
Join Date: May 2012
Location: CT USA an English transplant
Posts: 24,907
• Horses:
3
Carrots - How long to blanch?
Last years all had a sort of 'woolly' texture
I store them in sacks in dry sand but they don't last really well
Last batch I cut into disks, cooked until BARELY cooked, still very crunchy, cool in ice water, then freeze. Tasted good for months.
Super Moderator
Join Date: May 2012
Location: CT USA an English transplant
Posts: 24,907
• Horses:
3
Thanks - I'll give it a try with a small batch and cook them in a few weeks time to see if I get it right before doing the rest
OH my Goodness, I am covered in tomatoes, I have two roasters full of tomatoes and am going out looking to find another.

I am making up for last year.... nothing, not one tomato last year.

....Now where to borrow a roaster?

Sorry Jaydee.
I didn't read through all the responses but if anyone on the planet is canning green beans or making apple butter and canning that..I'll take a few uhm, cases....of each :).
Lol, tlkng1, I've done both but you'd be hard pressed to get my kiddo to share. Pears will be ready soon & I will be making more sauce & butter. Yum! I like pear better than apple. Have cantaloupe fruit leather going in the dehydrator, not one I've tried before and hope it turns out ok.
Posted via Mobile Device
I got absolutely no fruit this year, between the squirrels and the chipmunks and the birds. Wanted to make some apple butter and peach preserves, so I guess I'm going to have to buy apples. I am getting ready to have cherry tomatoes to my eyeballs though, any suggestions on what to do with them?
---
"Keep a leg on each side and your mind in the middle"
Yay! A canning thread!
This year, so far, I've put up 21 pints of green beans, 25 pints of wild blackberry jam, and 27 pints of salsa.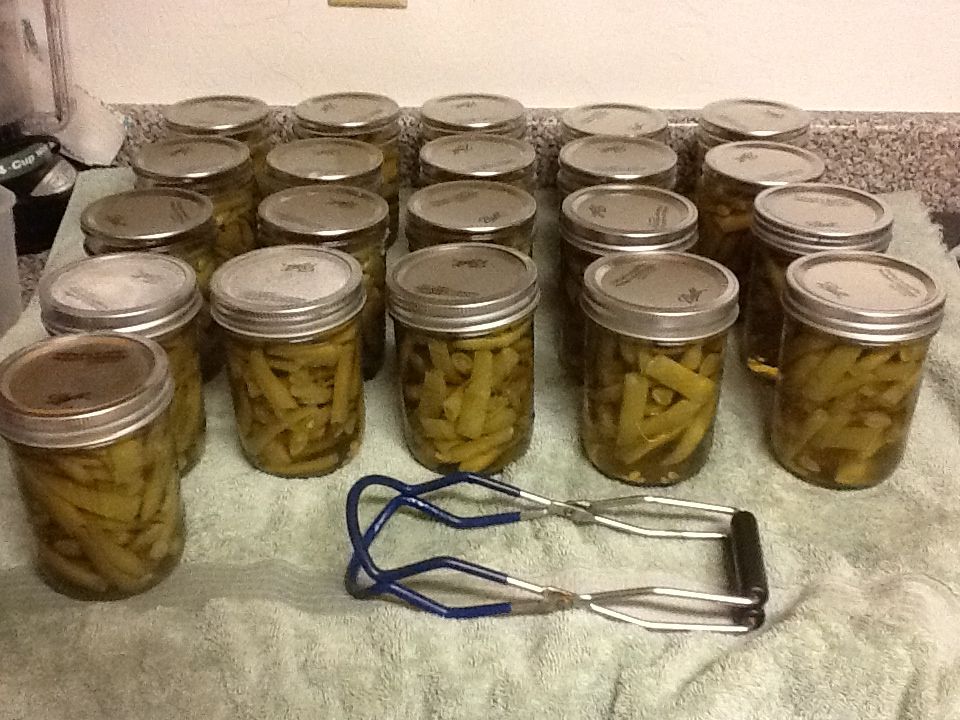 I discovered this year that you can buy canning jars at thrift stores! They were only $.25 cents a jar! Yeeeeee!
We're going out to pick apples tomorrow for applesauce. Yay!
Making apple butter right now, my house smells so good! Pears are starting to ripen so will be making pear sauce & butter this week too. I love fall!
---
Life is like a camera. Focus on what's important, Capture the good times, Develop from the negatives and if things don't work out, Take another shot.
Made peach wine, blackberry wine, beet wine and a batch of apple cider. Should be set for a while.

Got into making some savoury jams. I have a roasted garlic and onion jam made with beer, a green tomato garam masala jam made with mead and a bacon chilli jam.

Also did some crab apple jelly, sour kraut, pumpkin butter a and last night a crab apple butter. I HIGHLY recommend the latter, it is awesome, and bright red!
Posted via Mobile Device