another note: just was rereading...if he wants to swerve into the middle, perhaps you are leaning...or he knows the middle means resting (my show horses all think the middle of the arena is the best place to be because after a class thats where they go stand and get pats for a good job lol), or do you often work him in circles? Sometimes sable wants to cut in and sometimes you just have to react the same as you would if you were runwalking. Forget the canter to some degree and make your first focus training on steering...use the inside leg, tighten outside rein and make them go the way you are asking...ask tell demand. I had this issue with Sable, sometimes it was because I was leaning, other times it was because I often worked her in circles at the canter to get her under herself and she was trying to think for herself and she needed reminding that my body tells herwhere to go -other times it was because she was being evasive about going in the 'spooky' end lol... Work out the kink, and continue on. :) It is a whole new mindset for the horses every time you kick the speed up a bit and you almost have to go through the simple training all over again.
I just got in from riding Memphis. I took my camera out, but it was not working right, dang it! I did get him to canter a few strides, it was towards the gate. I let him rest a few minutes and gave lots of praise. I tried again and he took off like a rocket to the gate! Had to use that to stop him! So that time I didn't let him rest by the gate took him around in some circles until he settled down. Then I took him on a trail ride behind my house. The first time I asked him to canter up a hill he went really fast and I pulled back lightly on one rein to slow him down some, he did listen. Then we went up another bigger hill, asked for a canter, that one was much better! All I had to do was squeeze a little and say canter. It was like he knew exactly what I wanted. And when I said "easy" he slowed down quite a bit. Then there was one more spot that was more of a straight stretch, with a small incline part way up. That time it felt even better!! So he is improving out on the trail at least!!
Thanks again for all the help, I really appreciate it!! I will try to let him figure it out it just scares me a little when he feels like he takes off at a gallop, yikes!!!!
Here are a few pics of Memphis. They are not ideal confo shots, but do you see anything conformationaly wrong with him not wanting to?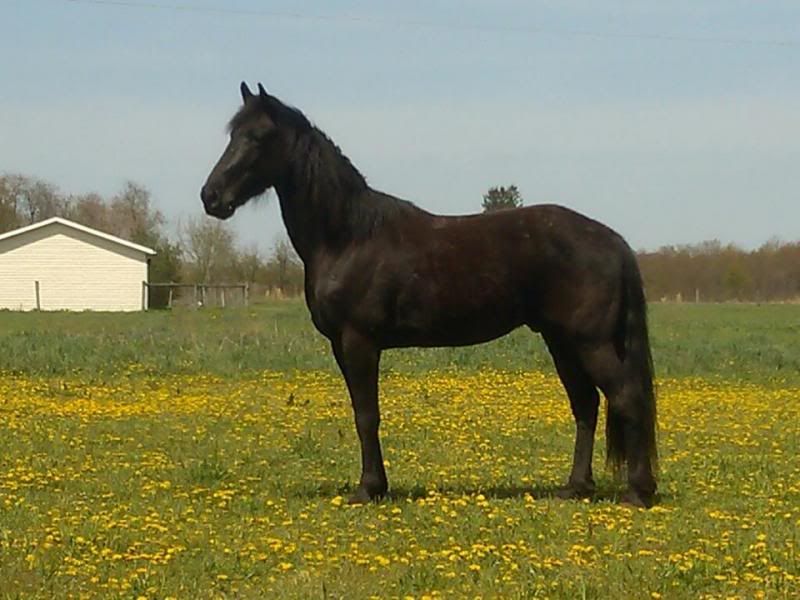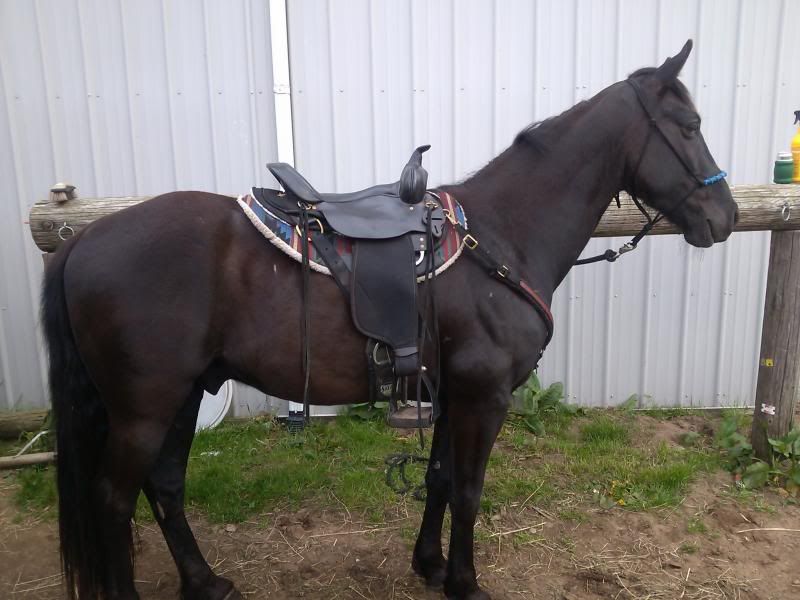 he's nicely balanced, good slop to his hip and a nice shoulder. Do you have any pictures of him moving? Honestly, there shouldnt be any conformational issue with him for not cantering from those shots.
Ok good thank you!! I don't have any of him moving, I don't think...
He probably isn't strong enough to carry you at the canter. Believe me, ALL gaited horses will both trot and canter at liberty. My two KMH's do it all of the time in my back yard, but prefer to amble when on the trail. Why do you need him to canter?
I had a farrier who called TWH's "rubber legged." Often you will see them cross one back leg over the hock of the other leg. You don't see other breeds do this. They often get their legs tangled up and can have a fear of cantering when carrying weight. A running walk is really a very fast shuffling walk, and easy for them to perform, having done it their first day of life. Still, all of the TWH's and TWH crosses I've owned would willingly canter when their herd members were passing them. Gaited horses are never really the fastest out of the block.
Build his musculature up, then try again.
I agree with those who stated: Check equipment, riders balance, proper cues, keeping loose throughout your back and shoulders.

Ask for the canter in a straight line. Turn the horse to a 45* angle, close outside rein, cue with inside rein, use outside leg back behind and swipe to cue the canter. If you achieve a few strides that are good, stop and reward.
If your horse takes off like a rocket, stop and start over until you have a nice relaxed departure. Remember to shift your weight off the departing leg.

Be careful using hills to get your horse to canter all the time. He will get into the habit that he needs to canter up ALL hills. So with that said, canter up once, then change it up by walking up the hill the next time.

Also wanted to add is; use the round pen to canter the horse without a rider. Use verbal cues. this will help in the saddle :)
It sounds like you already have made improvements by working outside of the arena. If you keep working with him in a straight line, he should catch on.
---
Celeste
Carpe Diem!
It's been nearly 2 full years since I've had my walker. She shares nearly 20 fenced in acres with my other 2. I have yet to see her canter or trot at liberty.

If the other 2 take off she sticks with them at a pace.

I see lots of long low hills in my future.
I don't have any advice for you (I've only ridden gaited horses a few times, and certainly am not qualified to offer training advice for them! xD), but wanted to say how lovely he is! I'll be keep'n an eye on this thread~