Foal
Join Date: Jun 2009
Location: Iceland. In town and in the country
Posts: 148
• Horses:
1
Any Icelandic riders around? :D
---
I ride Icelandic horses and I want to know if there are anyone else who ride them here cause these are such adorable horses! :)
---
If they don't have horses in haven, I'm not going.
I don't own an Icelandic but I rode one once. (OK I guess that's pathetic lol). Anyway he's the bay in the middle.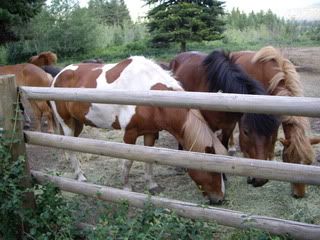 Icelandic
---
Not yet.....but will be in October. I am of Icelandic decent so have a keen interest in these horses. They are pretty amazing and I can;t wait to experience TOLT. I am looking to buy an Icelandic horse. Am currently looking around. There are not alot of Icelandics here in Canada although I feel they need more exposure here.

Cheers,

John
I rode an Icelandic mare a few times, I was supposed to lease her but then she sold.
She was awesome though! Love the tolt!
Foal
Join Date: Jun 2009
Location: Iceland. In town and in the country
Posts: 148
• Horses:
1
Yeah the tölt is so comfortable! I live here at Iceland and they are the only one that exist on Iceland. :( I would really like to try those biggies and the ones you can really jump!
---
If they don't have horses in haven, I'm not going.
Does no one import other breeds? That's actually really cool, though, that your country can keep their own breed so popular within the country.

There's an Icelandic gelding for sale near my house, that I keep seeing ads for. If I had my own property, I would have bought him by now!
There is a law in Iceland against importing horses. Also any horse that leaves the island can never return.


Thelma, Icelandic horses can jump pretty well... But you would need a different saddle and someone to teach you!
That's really neat to know, I had no idea. Thanks!
Yup, own two, although one's only a 2-year-old so no riding him yet :)
I currently have 9 horses and a foal in my pasture. I also have 2 other horses that some people are leasing for their kids.