Getting a horse in gait *in hand*
---
Hi, I have a 22-yr old Paso Fino gelding. He does a walk, a fast walk (maybe flat-footed, I've never really looked into it), a fox trot, Paso Fino, canter, and gallop. Well, he only performs the walk if he's being lazy and doesn't want to go faster, the fast walk is his usual walk, the fox trot is the gait he uses in place of a trot, and the Paso Fino he only does when I'm a.) going over poles and I ask for something more than a walk, or b.) when he really wants to canter and I hold him back.
Well, from the ground, he PACES. It is sooo annoying. Whenever I'm leading him and ask for a fox trot, he paces. I've tried adjusting his pace to be faster or slower, but apparently the pace has a wide range of speed
. I've tried trotting poles (in hand) and he still does a pace. But he NEVER has paced under saddle--just in the pasture and in hand! And it's terrible because his gaits are Soooo smooth. That awful pace is annoying, though. Any help? Thanks!
I'm not sure what to tell you about in hand gaiting. I only ride mine
To keep my girl in a good gait, I keep her collected up with her hind quarters up under her.
To do this, work on getting a good head set and make sure your pelvis is tilted under you. When you shift your weight in the pelvis tilt, it forces more of your weight to the rear and your horse will draw up under himself to compensate. Does that make any sense at all? Here is a good example of what I mean. See how she has her pelvis tilted? It may be the lack of weigh on his back that is causing the difference in hand.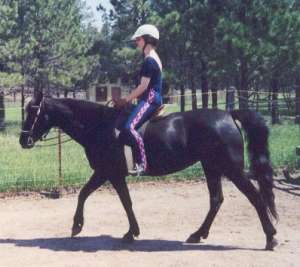 Here is the web site that it comes from. Its a good read if you have time.
Lee Ziegler, Gaited Horses, Gaits, Training, Biomechanics
Thanks for the link. I read a few paragraphs and it's pretty good at explaining. The reason I need him in gait on the flat is because I'm not allowed to ride right now because of a collarbone injury, and we're practicing for trail class so I have to practice with him in hand, including trotting poles....and he's trying to pace over the poles lol.
When we went to State Fair a few years ago we did Bella Forma with Cha Cha which is basically where you have two people with long lines behind the horse with the horse gaiting. Does he have regular cues that you use when you are riding? If so I would use those as that is what always got Cha Cha to gait.
---
June 14, 2012
I would spend some more time on the poles. Mess around with the distance, or just let him keep hitting them until he decides to pick up his feet and trot. I've never actually heard of a horse pacing over trot poles, haha - even really strong pacers.
Lol he does it! And without hitting the poles
Posted via Mobile Device
No he's barefoot. It's funny because I've tried him at a ton of distances ranging from 2 ft to 3 1/2 ft!
Posted via Mobile Device
Hmm... Have you tried raising them a few inches?


I don't know how you feel about barefoot vs. shoeing, but sometimes plain old keg shoes on the front can help break up the lateral tendency.
No, I only have one jump standard. I suppose I could put firewood underneath the poles.......and he's always gona barefoot; I don't think my mom would jump on spending the extra money for shoes just so he doesn't pace in hand lol
Posted via Mobile Device