Help Me With A Breed?
---
Ranger Theory, or Rango for short, is the only stallion on my property. Some of his breed alludes me though.. I know he is a Thoroughbred.. But anything else is a mystery to us.
I purchased his mother as a Hunter mare, and as I went to try her out for a ride I noticed she was pregnant. They said she was "just fat from winter." I took her because they seemed a bit uneducated with horses.. And not even a month later she had Rango.
I got in touch with the people to possibly find what other breed he could be and they had no idea. They had purchased her pregnant from some breeding farm in Alabama.. So there I am, searching for some breeding farm in Alabama for days when they called me back and tell me they bought her from Ohio instead.
Annoyed, I start my search in Ohio. Countless calls later I finally found the farm. She had a hip tattoo that they never registered, but she was all TB. So I told them what had happened and they had no idea she took to a breeding before they sold her. Ugh. So they finally got to telling me the stallions they had on their farm.. Thoroughbred, Holsteiner, Clydesdale, Shire, Percheron, a Friesian x Morgan, Morgan, Quarter Horses and a few ponies.. Awesome. :p
He is incredibly gaited, gorgeous form and an awesome jumper. Rango is pretty bold. He knows what he's doing. I figured I'd get a 50th opinion. :p He isn't extremely tall, he is 15.2hh, his mother is 16hh. Please bare with me, these were photos taken during his training at 2.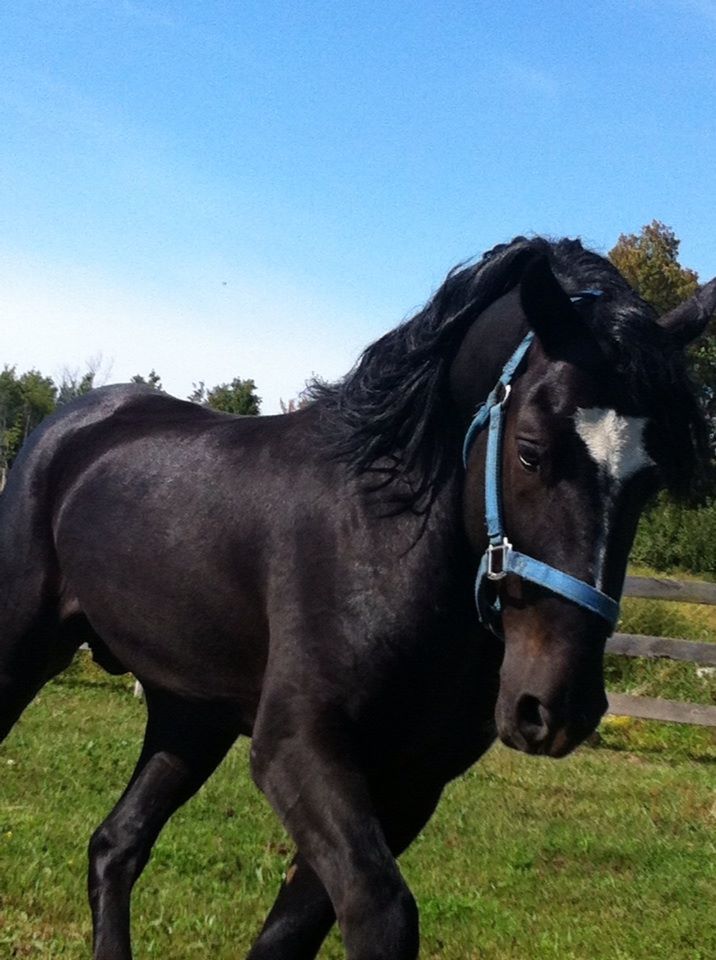 It's hard to tell from just looking at him, although he does look like a nice horse. May I ask why you haven't had him gelded?
---
I'm not a complete idiot--there are parts missing!

What you have become is the price you paid to get what you used to want.
I'd guess his sire was the friesian/Morgan. He's too light to be half draft (IMPO), but too heavy to just be a light horse. In that past pic he strikes me as VERY friesian and/or Morgan.
Posted via Mobile Device
I'm pretty sure that none of the full drafts was the father.

Anyway, those are not good pictures to see his conformation.
the first couple of pics i was going to say percheron, but that last one says friesian to me also
it would have possibly helped narrow it down if you knew the heights of the stallions. I wouldn't say anything tall, particularly if he is smaller than the dam, I would assume that the sire was not particularly tall, in which case my guess would be to Morgan as the other breeds mentioned are typically 16hh and up. I definitely don't see draft in there at all and if he truly gaits, then you can also rule out the breeds other than the Morgan and Friesian cross (possibly the Holsteiner, as some can have very nice movement)
---
"If a horse fails to do something that is because he was not trained to do it. If a horse fails to do something properly that is because he was not trained properly."
www.wildestheartart.com
I googled pictured of TB crossed with each of the aforementioned breeds and these are the pictures that popped up that looked most like Rango:
Basic Black TB
TB/Friesian/Morgan
TB/Holsteiner
TB/Clydesdale
TB/Shire,
TB/Percheron
TB/Morgan
TB/QH (Appendix)
\
I hope I somehow made it more clear for you guys to try to figure out! I tried to attach all black, or mostly black horses so we could compare the best. Oh, I also tried to get them facing the same way too. :)