Holy unpleasent looking TWH shoes!!
---
We got in a 7y/o TWH for sale this week and I went to give him a proper welcome with a nice grooming. Everyone at my barn owns their own horse so sale horses tend to not get hendled...and I tend to take them under my wing.
Super sweet guy. Super not so sweet shoes that the barn owner refuses to remove. I talked to my farrier and he said they are uncomfortable and can cause tissue damage :( why do people use these?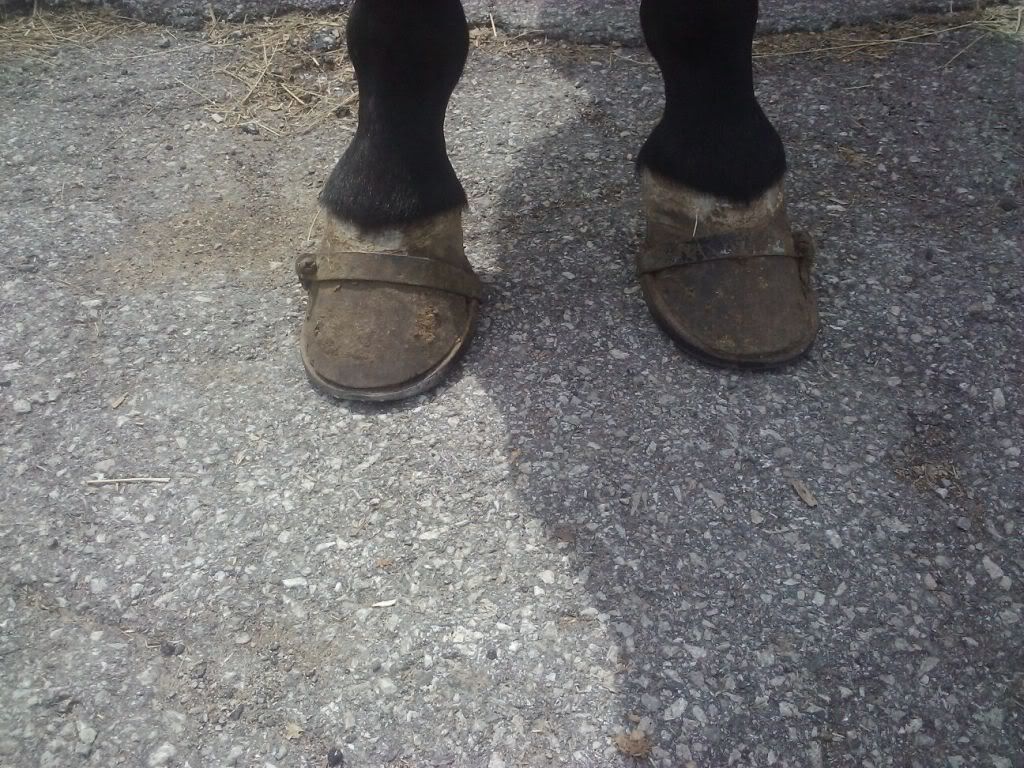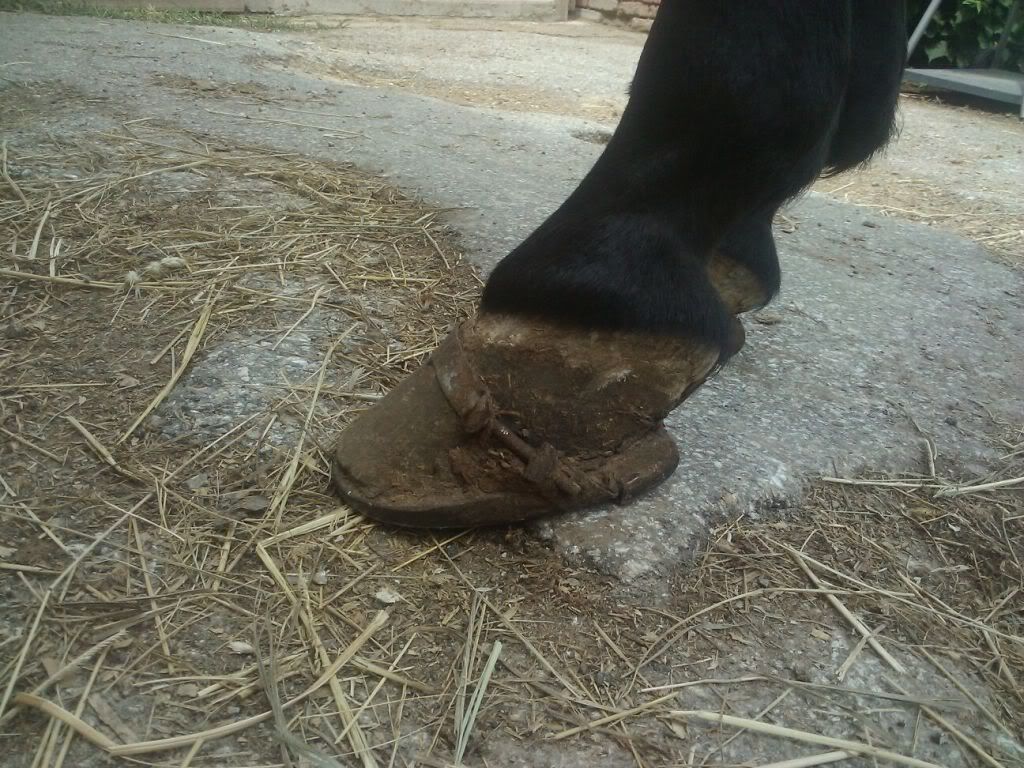 There's a 4 on the underside of the toe..I wouldn't at all be surprised if that stood for 4lbs..
If anyone uses these and wants to try and justify them I have an open mind.
Posted via Mobile Device
Showing
Join Date: Jun 2011
Location: Cariboo, British Columbia
Posts: 11,930
• Horses:
3
Must be a Big Lick horse. How nice, NOT! & Stop working around horses with flipflops on, you're gonna lose a pretty toe!
What is a big lick horse?
And I know :( I only went out to mix my geldings feed for the evening. But I wanted to see the guy. He hadn't been loved in a while....you don't want to see the big crusty that covered the entire head of his boypart..:( poor guy. I ust don't see how that's seen as good by anyone..
Posted via Mobile Device
ick, beside that horrid shoe, I can tell you that horse has some nice underslung heels and a toe at least two inches too long, their gonna have to come off!
They are probably weighted shoes to help the horse gait, but still i don't see why someone would put something like that on there horse.
---
Extreme Trail Rider and Barrel Racer.
King - 11 year old Tennessee Walker Gelding
Sassie- 7 Year old Appaloosa Mare
Jeez us! That is simply sick! I know it's used to make the horse gait, bring their legs up higher or whatever, but I find it repulsive. The shoes look rusted on his hooves!
---
100% Anti-Slaughter and PROUD of it!

Oh my God...I just googled big lick horse...I want to cry. I wish I could help him :( I can't afford two horses and I can't have my farrier help him he's not my horse. :( I'm going to get his complete information and put him on the for sale area. Hopefully someone has the heart and spare money to take him. I don't know what the asking price is.. I've heard anywhere from 750 to 1500 :/ ill get a number and see what I can do to rehome him. He is such a sweet horse :( my farrier is frustrated and wants to help but again...I'm not his owner :(
Posted via Mobile Device
Showing
Join Date: Jun 2011
Location: Cariboo, British Columbia
Posts: 11,930
• Horses:
3
This Big Lick horse is wearing what that poor guy is wearing, called stack shoes.
ouch! those look horrible!!! i know there used to make them raise there legs higher but there are MUCH better ways of doing it. or at least better shoes!! or take them off when the horses isnt working. or SOMETHING. hopefully he finds a home soon and gets those off quick!
---
Beauty is not diminished by those who refuse to see, hear,feel or in any way sense it. If you refuse to see beauty its you who is weakened.
He doesn't really qualify for big lick. Those horses tend to have pads on as well that add several inches to the height on their front end. I don't know if he would be considered flat shod or lite shod or whatever but I agree, those are completely jacked up shoes. It's no wonder so many TWH show horses are completely crippled up before their age reaches double digits.