[QUOTE=Guilherme;1203595]The word "gaited" is an adjective that modifies the noun "horse." So ride the noun not the adjective.
HA, ha, YOU obvious English Major!! AARRRGGHHH, I am surrounded by them--2 of my DD's are English Majors and correct me ALL of the time!!! LOL
BTW, DH and I are retired from 26 years of CW Reenacting--we're just doing living history programs, now. We never did competitions, just fought with sabre and (black powder) pistol--never got around to purchasing CW carbines, though we own 2 Indian War models. Every horse was trained to gunfire and every horse would stand next to cannons exploding. My favorite events were 3 outstanding ones:
1)1994, Red River Campaign, Nagatouches, LA to Pleasant Hill, LA
Marched 12-15 miles/day, camped where we stopped, up at 5:30AM, broke each camp an hour later--WHAT A BLAST of hardcore!!
2)1997, National Perryville, KY
It's held on the original battlegrounds, so you really could track the battles.
3)1998, National Gettysburg.
23,000 Reenactors attended. We had a full-sized (>15,000) Pickett's Charge. It was so big and so much fun.
Yes, the 1990's were good times...good times...
This was the PEAK of the hobby. It's dropped off since then, partly bc WWII Reenacting lured many away.
Bought my great mare at the 2008, National Gettysburg Event.
Two of my Walkers wear very low port curbs with swivel shanks (I prefer swivel shanks), the third has always worn a hackamore.


As does mine.


Everyone has a different opinion but the way I was taught years ago, was to keep my hands low, the reins a little loose and sit back on my pockets when I wanted my horse to gait.

Keeping them in their gait is a little like power braking your car; pulling back on the reins slightly while lightly nudging them ahead with your lower legs at the same time. Hope that made sense.

Yes, same here, I gently squeeze my legs while holding back on the reins.
WOW! Thanks to everyone who replied with such detailed advice! :-D I knew I could count on y'all for helping me out.
I have decided NOT to get the saddle fitting done even before I read the replies here but only due to the fact that they are pushing buying a custom saddle made by them rather than emphasizing the importance of a good fitting saddle no matter what kind... I don't want to deal with a sales person when it comes to my horse's comfort!
I do have some photos of Sahara from the side showing her back but I don't know if you can see what you're wanting to in the photos. If you want better photos or want me to focus on a certain area then just let me know and I'll do my best to get the pics you need to see.
As you can see in these photos she is turned out in a small paddock and neither momma nor filly has been in a pasture since the day Sandy was born. We are going to look at a pasture for rent tomorrow afternoon though so hopefully we'll finally get them out on some grass before the snow flies!
I've never seen her trot actually, only gait. But because of my inexperience in recognizing the gaits I couldn't tell you what they are just from watching her.
The lady we bought her from told us she used a plantation saddle and an "Imus gaited bit".
I did notice that in that video she seemed to be favoring her left front as well and actually she has always favored that leg when turned out even. We have her on a joint supplement and she is no longer favoring that leg so hopefully the supplement has taken care of the issue. Since we don't know her history, medical or otherwise, we don't know if she had an injury in the past that might cause her some residual pain but I figure it can't hurt to give her the joint supplements anyways. I will be paying close attention to that leg for any lameness that shows during or after us working her as well.
Anyways, I want to apologize to anyone who feels I didn't address their reply but please know that all the replies and advice are read and I do take in everything that was said, so thanks!
ttfn
MD
---
Show me your horse and I will tell you what you are. - English Proverb
She REALLY is pretty and at a good weight going into winter
She looks like she has just enough withers to be fairly easy to fit a saddle to her.
She does look short-backed so I would be careful of the length of the saddle.
If you have ridden English at all, borrowing a dressage saddle might work for now. Dressage saddles have deeper seats and would be more secure for trail riding.
Endurance saddles are very light. Most endurance saddles are built with an Arab in mind so they can work well for any short-backed horse.
This is my TWH that was really short-backed. The saddle that's on him is 23" from end-to-end to give you an idea of what I am talking about. I don't think your mare could wear a "full size" saddle and still have the freedom of shoulder and hip movement she needs. That is also a Dr. Cook's Bitless bridle, which Sultan loved. Reins don't match because I wasn't spending an extra $80 for reins for trail riding - lol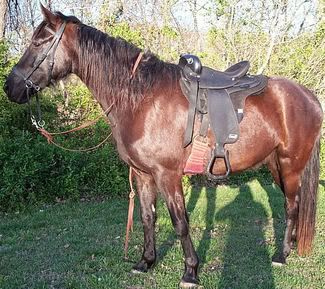 Also, when it comes to trimming her, don't let anyone tell you she needs longer toes to gait. That a big crock full of B.S. When my Walkers wore shoes they were trimmed according to their needs, just like any other horse - no keg shoes either.
If you keep her barefoot, short toes and low heels will also help any lameness issues she might have on the left side.
Have you checked her hoof really well for any signs of thrush or fungal issues? Sometimes the frogs can look dry, not have a smell to them and still have fungal issues deep in the sulci.
If the frog isn't completely closed back at the heel, she may have some infection way down deep. If that's ok, I might spend the money the saddle maker wanted you to give them on some X-rays for that leg to be sure of what you are or are not dealing with. The joint meds are a great idea at any rate
Watch her on spring grass. Tennessee Walkers (which the modern day Spotted Saddles Horses have in their gene pool) are on the predisposed list for metabolic issues. My 12 yo is insulin resistant and my 24 yo has Equine Metabolic Syndrome. They have worn grazing muzzles all but a few days since last spring -- even in that awful heat when the "feels like" hit 112 degrees but it paid off because they still got to be horses and roam around 22 acres without any ill effects.
If she starts to blow up on grass next spring, you will have to muzzle her.
Ok, I'm done
Concur that "endurance" saddles are an option for the short backed horse.
So are military saddles (like the British UP, the German Armeesattel, and the U.S. McClellan or Phillips Officer's Saddle). A fellow I know has a lovely Whitman Park Saddle (built circa 1916) for sale. Military saddles tend to have "hard seats" and some riders don't like that.
There are several makers of "trooper" saddles. These are modern versions of the UP. There are several good makers out there (Tucker springs to mind).
You can also look at the Buena Vista saddle or Plantation Saddle. Check out Steele Saddle.
I'd be
very careful
with "dressage" saddles. They come from a wide variety of design philosophies, even within the same company. The Stubben Tristan is a moderately deep saddle but the Stubben Maestro has a
very
deep seat. I rode a three hour trail ride in a Tristan once and had very unkind thoughts about the Stubben company afterwards!!!! It was not fun. I've sat in a Maestro and that saddle will put you into what the designer thought was the perfect dressage position. If you disagree with the designer then get a different saddle because you won't be able to change your seat. IMO neither will provide the overall support you want in a "trail" saddle.
The Stubben Scout (their police/military saddle) will give you a deep, secure, comfortable seat without inhibing your ability to move if you need to move. My wife rides a Stubben Siegfried VSD/DL and it does the same thing. There may be other "general purpose designs" that would also work.
I don't get paid by Stubben but I do like the products.
There are several very good quality English-style "all pupose" saddles that would do as trail saddles.
Concur that you should wait until the horse stabilizes in weight and condition to think about a "permanant" saddle solution. In the interim (for work in the arena and on easy trails) shop around for a good quality, "mature" saddle. As long as the billets are in good shape and tree is sound you should be able to buy it for a reasonable price and sell it for about the same money (assuming no condition change).
Good luck in your project.
G.
I have posted a couple of pics of Sahara when she was still in foal and had a better topline. You can see her back better and just how wide her back is. Although I'm sure her being in foal would affect her width LOL
I don't have any photos of her back itself without her head and butt being in the way LOL
ttfn
MD
---
Show me your horse and I will tell you what you are. - English Proverb