Let's see you Gaited horses
---
I have owned roughly 6 or so gaited horses in the past 12 years. We bred a couple mares and now I donít ride gaited horses as much, even know Iím debating on getting out of barrel horses and going backed to gaited.
The one Tennessee Walker we still own. He is 11 years old, registered with champion show bred lines. We donít show him as he isnít show ready. He is 15.2 hands tall and is a gentle men. He only likes going fast and is a blast to ride. We got him in 2004, as a trouble maker and crazy horse. He has turned around a lot. Still has some work to go on him. He is my dadís main trail horse. Hopefully I can start showing him in local shows to. He has a great show gait, and he is kept bare footed or has regular trail shoes on. He is also amished trained to the buggy. These two pictures are of him out in the pasture. I will find some good riding ones. I will also find some photos of the other gaited horses we have owned.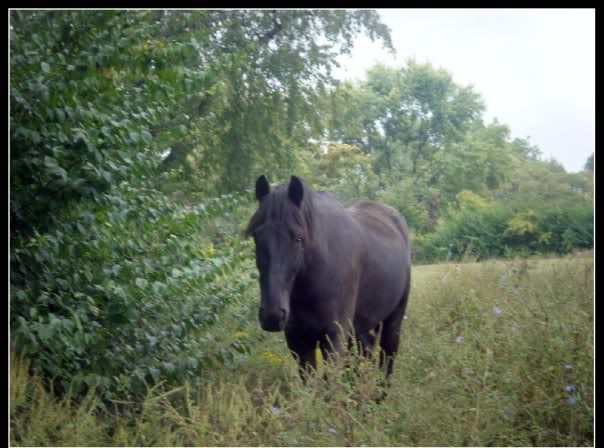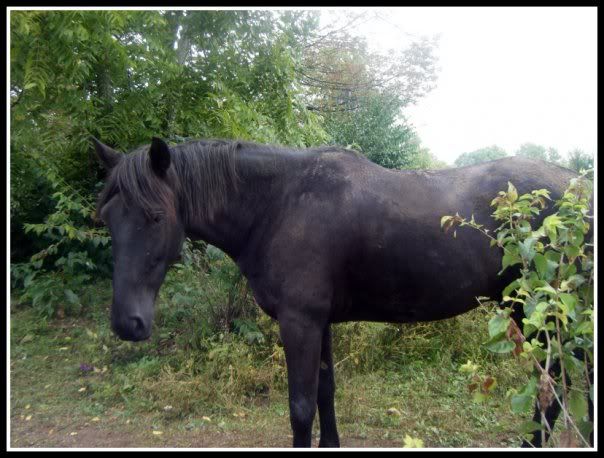 ---
Extreme Trail Rider and Barrel Racer.
King - 11 year old Tennessee Walker Gelding
Sassie- 7 Year old Appaloosa Mare
Here's Arthur, my Paso Fino. He's 14.3hh and 24 years old, and has done everything from bridleless to gymkhana to jumping. He is the best trail horse I have ever had, and has earned me 3 reserve grand champion titles and a grand Champion award in gaited classes the past two years.
Here's Lola, my 6 year old daughter's horse. She's a 7 year old blue-papered Missouri Foxtrotter.
This is Baby Girl, my five-year-old SSH. I got her about 10 months ago. Our purpose in life is to do trails -- CTRs, endurance, show, and pleasure. Baby Girl is also fond of jumping, dressage, and obstacle courses. Baby Girl is a very honest sweet heart of a horse. She is made of sugar and love.

More pictures in my "barn". I'm lazy with the uploads tonight.
Here's my girl Portia. She's my heart horse. She's an 8 year old blue-papered Missouri Foxtrotter.
This is my gaited 3 year old Diablo. He is a mixture. His daddy is a saddlebred/Foxtrotter mix an his mother is Quarter horse/and Tennessee Walker. He is such a beautifully gaited horse I can't wait to start riding him this fall! And such a sweet natured horse as well. I wish I knew how to jump horses cause he would be amazing at it. When he jumps my fence which is every once in awhile he trots up to it stops rears up on his back legs and hops over like a bunny. My friend didn't believe me till one day my appy was being mean to him and she came to me saying your horse just jumped your fence from a dead stop.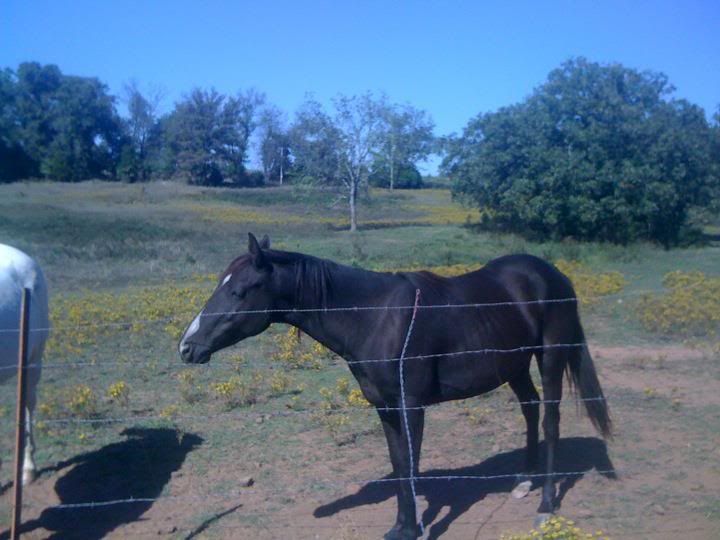 ---
Noey's Herd
Ill play. This is Cole, my 4 year old saddlebred gelding. He is the 5 gaited variety, not all saddlebreds are gaited. I absolutly adore this guy. He is very fun and had incredibly smooth gaits, even his transitions are very smooth.
Here is a pic that shows our silly side, he is quite the playfull one.
This is my 5 year old RMH/Morgan Legend's Captain Jack. I was the second person to see him after birth, he was still in the sack and hadn't even stood up yet. He's just a touch over 15hh and a bit of a Houdini,lol. He's extremely smart and has an overabundance of personality, cleans up in halter classes and has a lovely gait. He's not a daisy clipper but not so much animation it takes away from the smoothness. I don't show much anymore, we mostly just trail ride and he looooves it. He's my mountain goat,lol. My computer is fussing with me about the pics, this is all I could get loaded,lol (His ears are laid back because there was a mare trying to steal his nummies just out of the shot,lol)
---
Last edited by Jacksmama; 08-22-2011 at

08:43 AM

.
The black one is Michael a 15.3hand Tennuvian and the Chestnut is Chummy a Peruvian
This is my first TWH -Ragtimes Sand 'n'Sable. She is a 15.3hh 3 yr old mare and I have trained her start to present. We did out first show in July and won a ribbon in ever class, she is naturally gaited and goes either barefoot or regular shod.