Looking for Paso Fino owners
---
I have a 6 month old Paso Fino colt. Im looking for friends that have one or several! This is my first horse, and has been a great experience!
I have a Paso Fino mare that is about 13 and I love her to death.
you have some pic's? lol.
Our family acquired a 17 year old Paso Fino mare this summer, and have fallen in love with her. She has ended up becoming my sister's horse, and she used her for 4-H classes this year as well as on Equestrian Team where she showed her in speed and saddleseat classes.
---
Shaneequah, 1998 gaited Bashkir CurlyxArab mare
Treyue, 1999 3-gaited Icelandic gelding
Loki, 2001-2015 Icelandic gelding
I don't own one, but my friend works at this barn that has a gorgoues palomino Paso Fino! I will have to get pictures form her, he has long blonde wavy mane and tail. He is the bosses horse and she keeps him in shape, and says he is such a gentle and smooth ride and he is only four.
---
Lettin' the cat outta the bag is a whole lot easier than puttin' it back. -- Unkown

We have 13 paso finos and they are truly a delightful breed. Our youngest is 4 months and our oldest is nearly 28. We have two stallions who are also riding horses and we ride all but three of our mares - a two year old that is pretty short, the old mare and one we took on as a project. We have done LD endurance rides, speed events like barrel racing, pole bending, parades, demos, shows, trail rides and just riding around for fun.
the great thing about the breed besides the wonderful gait which they do from birht is the variety you can find. So many different colors, sizes, dispositions from very laid back to very goey, different appearances from chunky baroque to tall and slim and everything else between.
AND you can keep on riding them even if you have back problems or arthritis or hip replacement or are just plain too old for a trotting horse.
Yes they can trot and pace and canter and gallop as well as gait. What training does is tell the horse which of the many gaits they can do that you want them to do at that moment. We've come upon several paso finos that were western trained to walk trot and canter and the owner had no idea they would gait until an experience paso fino owner and rider got on and they gaited immediately. Using a snaffle with low headset and loose rein is just asking the paso fino to trot and in many cases they will do just that. Lift the head a bit and they immediately gait and will gait on loose rein also. They just have to know what you want them to do since they can do it all.
cantering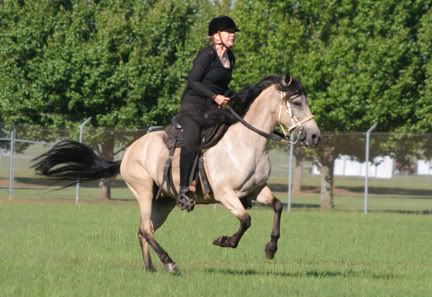 gaiting at a hunter pace ride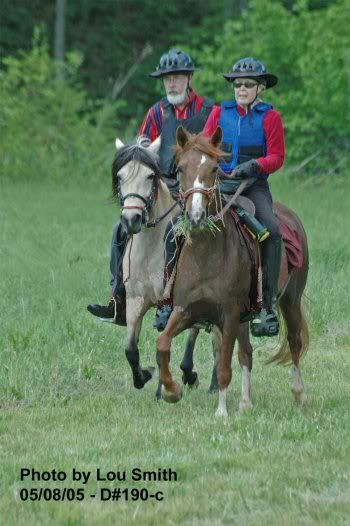 new baby colt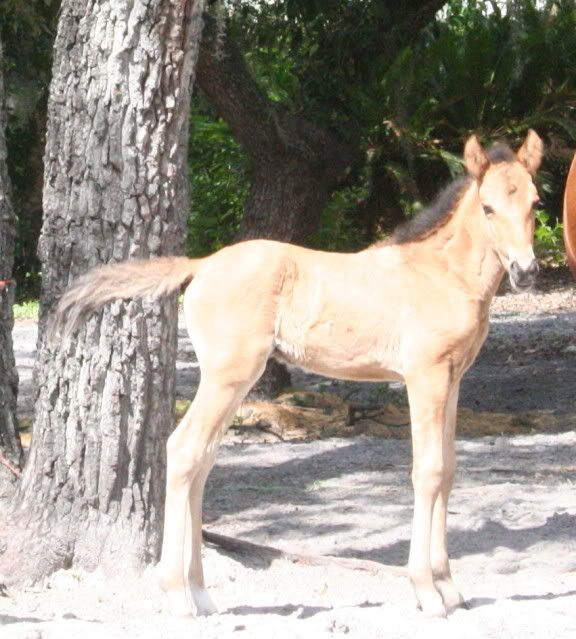 Enjoy!
Forgot to mention NC has the greatest number of paso finos in the US second only to Florida so lots of paso fino riders up there.
Ive Paso finos too
---
Quote:
I have a 6 month old Paso Fino colt. Im looking for friends that have one or several! This is my first horse, and has been a great experience!
Hi Jeff,
Im Marina, I have PFs since 15 jears. 4mares and 1 stallion. I love them all.
If you want more infos, you can vist us on
Welcome at Paso Finos del Baltico
Enjoy your fino and pamper yourself,
Marina
I have a paso fino
she is 10 and the center of my world
see my avitar for pic
I have a 3 year old paso fino. she's a chestnut