My 2 horses are registered the same, BUT...
---
They are both KMHSA's but they sure don't look the same.
WITHOUT raising the ire of the Mountain horse people who (I believe) are going through the same type of argument that the Appalousa people were in the 1990's (about what a REAL MH or Appalousa is,) I
can
tell you that the numbers of Mountain horses were low and breeders were outcrossing with other stock. I DO know that TWH's were bred from many breeds including Mountain Horses, and the gaits are very similar, hence it makes sense to introduce TWH genetics into MH's. I'm getting closer and closer to my gelding, after a "rocky" (pun) start, but my mare typifies the breed standard, Despite that fact that she has two "unknown" parents listed in her paperwork.
"Warren's Cindy" Her Back side and long tail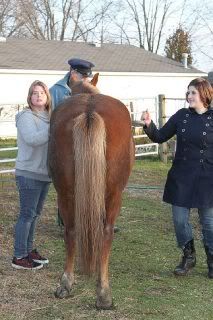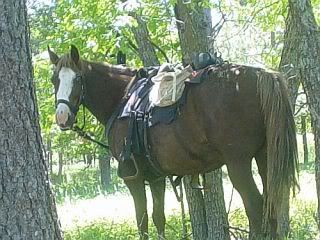 Cindy's paperwork~
Her Granddam, "Jason's Lady Ann" has unregistered parentage. BUT, I can tell you that she NEVER trots under saddle and is extremely smooth, much more so than my gelding, "Long Arm of the Law,"
and much smoother than any TWH or TWH cross I've ever owned or ridden, so, it kinda makes you wonder.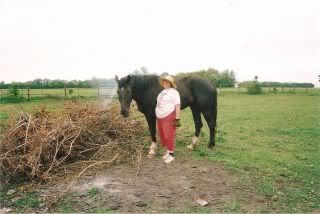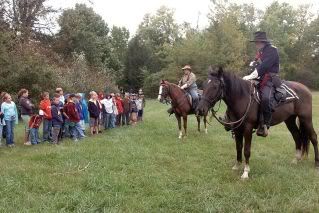 See, he looks like a TWH in EVERY picture we take of him.
(I'm brave posting this picture, but I've lost 35 lbs since this was taken.)
The Mountain Horses gait with smaller steps and move a little more like a Peruvian Paso, imo. Whereas TWH's eat up the ground and move a little more like a show GS, with a dropped hind end.
Now, "Merry Boy's Hart, (1984-2008, RIP), was a TWH and looked, rode and acted like one.~
...and, or TWH/QH cross, "Tyke (1970-2998, RIP) might as well have been a full-blooded TWH, too.~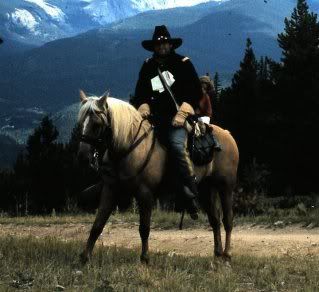 Just thought I'd share. =D
I don't get this entire post? What do KMSHA have to do with Spotted Saddle. You ramble about a Kentucky Mountain and post papers for a Spotted saddle. The Spotted saddle horse registry is not related to the mountain horse. Spotted saddle is more a color registry for walkers. The mountain horse registry is the Spotted Mountain Horse which is linked to the Kentucky Mountain Horse Saddle registry.

You show a long tail, my QH has a long tail. That has nothing to do with breed standard. The old mountain horses were short and squat with large necks, solid feet. They now are breeding for a more refined look. My guy has a very refined face with plenty of expression, shoulders not so wide where our mare is more of the old stock style with a wider back and shoulders and thick neck.

I don't feel there would be any ire from the mountain horse people. Most of the mountain horse people I know are a very gracious group of people who get along very well with each other, and I am talking some big name farms who are more than willing to help each other out. They have that sweet southern hospitality that is so sorely lacking in the north.

Many mountain horses are triple registered and more and shown in KMSHA, RMH, UMG and American Gaited shows. Where is the problem in that. Not only that but take 5 walkers and you will get 5 different rides, the same with fox trotters, pasos and stock horses.

Breed standard is based on height and ability to gait.

More TWH were bred into mountain horses for more stock.
---
A woman can NEVER have too many horses.....
My post was just my thoughts, and I thought that's what we do on this forum.
If you like, I'll PM you the post where somebody HERE ragged me out over commenting about the history of the breed(s) despite a single source that MH owner used to back it up. (Try to turn in a report in an undergraduate or graduate class with only one source, btw.) So, NO, I don't think that ALL Mountain Horse people are all that nice. In fact, over the last three years I've read and heard more comments about "grade mares that shouldn't be registered" and complaints about "bad bloodlines that produce bad temperments" ever since I bought my mare in 2008. I had never even heard of either breeds or registries prior to July, 2008.
Personally I have a problem with any kind of animal breeding that inbreeds, line-breeds, or breeds too close. There is A LOT of that going on today. The dog industry has crippled many breeds doing this. Even Chris Cox commented on how breeders are crippling cutting horse bloodlines through inbreeding. I applaud ANY outbreeding bc I think it creates a healthier animal.
I have a done a little research on breed "type" and my gelding doesn't seem to fit the Kentucky Mountain Horse breed types--he's just too tall, at 16'3hh.
HE is the KMH, and I just wanted to point out that you can clearly see TWH in his body, yet he looks to me like a KMH/TWH cross. My mare, who is registered as "Spotted Horse" DOES fit the MH specs, at 15"2hh, heavy body, big feet, shorter legs.
I could post pictures of every QH I've owned over the years and there isn't as much of a difference in body type as I have in my backyard at the moment.
And, YES it makes a difference in how to train him. I'm sorry that you didn't see that I was simply showing you my two horses, but I guess that now that I've expressed my opinions, the same person on this forum is going to bxtch me out YET again and tell me that I don't realize how important their knowledge of the breed is. I think I'll ask the administrators to remove this post. =(
Now I am getting some clarification. Sorry, if you had stated the height on your KMH as compared to a TWH in just one sentence I would have understood it better. See my light of understanding can turn on.
Actually the whole thing with the spotted saddle papers is what threw me off.
Yes, and your horse probably has some TWH bred into his lines farther back. The Kentucky Mountain lines are pretty heavily bred with the walkers. Infact the registry is still open as far as I know for grade mares to be registered with them if dna is provided. This is kind of why the Kentucky Mountain Association was started, as I understand the Rocky Mountain people wanted to stay below a certain size and were heavily into the chocolate lines. Kind of like a signature for the breed. Certain people disagreed on this and that is how Kentucky Mountain came to be. So definitely horses with TWH lines may very well look more like a walker than a mountain horse. I had a 21 year old grade Rocky mare for a while that was definitely more walker looking than mountain horse, but she was allowed to register with the Rocky's when she was 4 as a grade mare and produced quite a few babies. Shortly after they no longer took grade mares to increase the gene pool. She looked so much like a walker especially in the face and her stance. She was fully registered in the Kentucky Mountain Horse registry.
In fact the reason I sold her was because she had a huge overreach and was very uncomfortable for me to ride at a walk.
---
A woman can NEVER have too many horses.....
Personally, I put little faith in the pedigree records of most gaited horses before the dawn of the modern registries. Even after registries were formed there were significant errors in parentage (some on purpose, some not). That's why blood typing, and later DNA, were introduced. That dramatically reduced both error and fraud.
Given the history of the South after the ACW I'm not at all surprised at the "comingling" of various horse types. During the Age of Horsepower a mare owner didn't send the mare to a stud, the stud came to the mare. Stallion owners would regularly ride a "circuit" that could be small or could be large. They might have one or more stallions to offer. Limited geographic areas, like a mountain valley in Appalacia, could develop a local type due to the predominance of one or two stallions. The entire affair was rather informal and locals knew which stallions produced the best and which ones didn't. They were also not above "bragging" on sire (and not everyone was honest about the brag). Stud fees, by the way, reflected the market demand for a stallion's services.
Against this background long term claims of pedigree accuracy should be view with great caution.
Also, consider, that it's not unusual for gaited horses to have multiple registration (TWH/RH/SSH is a pretty common example). Any registry that allows demonstrated performance to qualify can almost exponentially increase the numbers of registrations one horse may hold.
Again, take historical claims from the Southern Mountains with a grain of salt. And maybe a shot of 'shine.
G.
All I can add to that Guilherme is I am very glad they commingled.
---
A woman can NEVER have too many horses.....
Quote:
All I can add to that Guilherme is I am very glad they commingled.
The comingling was not necessarily bad at all. Claims that it never happend are!
G.
Tobe was sttb Old Tobe who was out of a mare named Lucy, his dam was Honey who was by Old Bob (Saddlebred stud, aka Chester Dare Peavine)...
I own 2 Grade Mares...
one is by Nick and out of a saddlebred mare, the other by Johnson's Toby and out of a Walking Horse mare...both throw excellent foals...but when they were bred the amount of "rocky mountain mares" to bred these studs to was very low, so other WELL gaited mares were used to up the numbers of the Rocky Mountain Horse...
I also own this mare:
RMHA Pedigree Database Search - Pedigree Information Page
there's not many mares still alive that are more true blue Rocky Mountain then this mare, notice she doesn't have 100% reg RMHA parents, well she couldnt because the association wasnt even a twinkle in anyones eye when she was foaled...she's in foal this year too...
to this stud:
RMHA Pedigree Database Search - Pedigree Information Page
find a rocky mountain horse on his pedigree...
what I guess I'm trying to say is, EVERYONE knows saddlebreds, walking horses, and any other gaited horse was used to breed with rocky mountain horses to up the numbers...when you start with less then 75 you have to find alternitives to up the number of horses, or else you are going to risk problems and be forced to line/in breed...
so what I would be interested to know is this, what is your point? why do you have a problem with? I own over 30 RMHs and very few look the same, most of mine tend to be a leaner athletic build, but others have the stocky build...very seldom are two just alike...
Do you REALLY want me to respond?
-
-
-
-
-
I didn't think I needed a point to post what I thought was visually interesting. I should probably have posted this thread under, "Horse Pictures."
My neighbors probably think I own 3 breeds of horses. After I acquired my mare I thought it might be interesting to find out more about a breed of horse I wasn't familiar with. The only problem I have is I'd like to discuss the breed without anyone here on the forum or MH owners in a horse camp beating me up about the lineage of their animals and criticism of mine. (Not all MH horse owners are nice.) So, I guess that's not gonna happen. =/
Kinda lost my appetite for continuing my research. =/
I had an old herd, had just recovered from a bad fall and I'm still recovering my confidence--I thought perhaps I might find some horses with good temperments and a good ride. I see that there are a lot of MH owners caught up in bloodlines and showing, very much like all of the other breeds.
Though I love my mare to pieces I bought her in 2008 bc she was the thoroughly broken younger horse I needed at the time to start replacing my older herd in their late 20's. I didn't care about her gaits, but I've owned several TWH's and TWH crosses and I am familiar with them. She's already contributed 4 foals to the cause and I won't risk her health by breeding her a 5th time. She is the result of very good training, not breeding.
I bought my tall gelding for my 6'5", short-waisted (that means, "long legged") DH bc his height justifies a tall horse and he prefers gaited--I DON'T. Give me a horse that trots and I'll train for transitions between gaits and Dressage any day of the week. THAT is why I also own a QH and my next horse will probably be another Arabian--I miss "Corporal", an Arab, quite a bit.
'nuff said.
FYI I don't breed nor do I show..I just trail ride and I wouldn't have a RMH if it wasn't for the sweet deal I got on my gelding. Your original post was confusing. If you would have lined up the 2 horses and left the registration papers out it would have caused no confusion. All you would have had to say is "Look, they are both KMH but they look like different breeds."

You come in here with what seems to be a chip on your shoulder instead of listening to what people who own and raise these horses can tell you about them, and it's not all about the show stock. I knew nothing about them and came on and have found a wealth of info from many people. I guess a lot of it is how you react to the info you receive.

And yes weren't you just told by two different people that other breeds commingled with the original mountain horse stock to create the two breeds which is what you were trying to state in the first place?

And I am familiar with both the horses your gelding came out of. They are both wonderful gaited horses, bred for what they do best and that's trail riding.

We also have a QH and a QHPaint which we still ride that trot and lo and behold neither of them trot the same, nor do they look the same in build.

I guess I am just trying to understand what you're so ticked about.
---
A woman can NEVER have too many horses.....
---
Last edited by Macslady; 12-13-2011 at

08:25 PM

.