My baby Peruvian!!
---
I just had to share our new baby. His mom is our mare, a 10 year old registered Peruvian we bought when she was just weaned at 6 mo. old. Her dad was on lease from Peru. My husband is disabled and Peruvians are the only ones he can ride due to his back. He got really sick the last few years and since he loves his horses so much, I gifted him with a breeding to a wonderful stud called Anabal at Pecan Valley ranch near Dallas. The stud was born and bred in Peru before being imported here.
Our boy was born 10 days early last month and he is growing so fast. I'm not sure what color he will be but we hope he will be black like his dad. His baby fur is shedding out and it looks black underneath but who knows. Anyway, just wanted to share.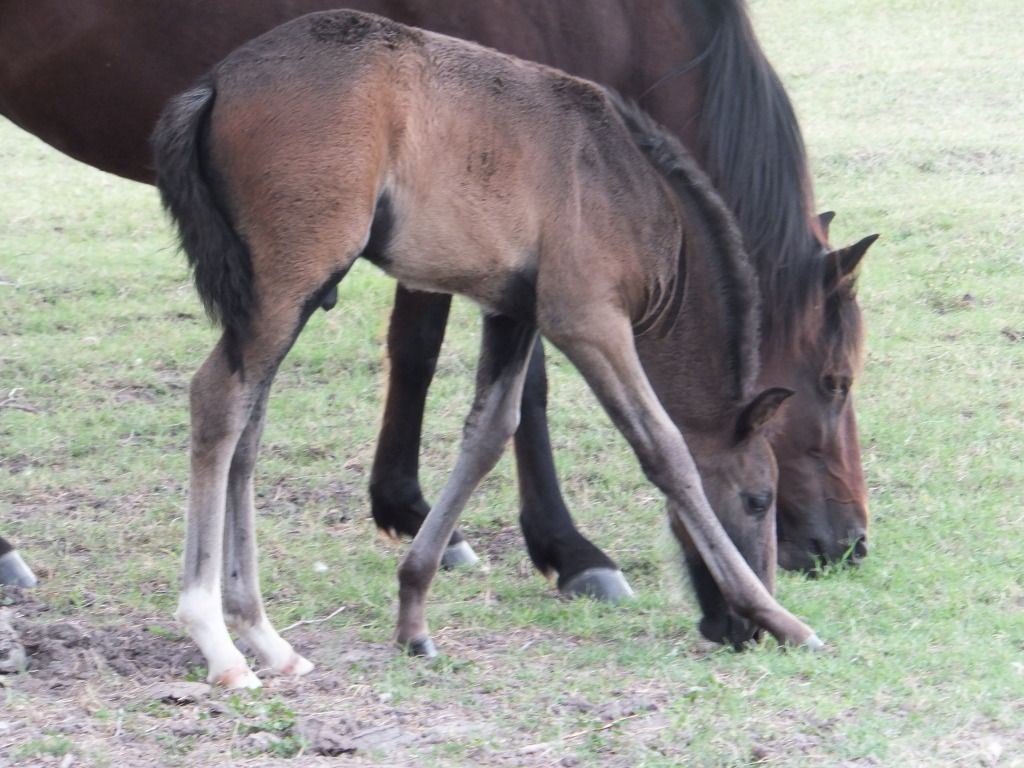 Congrats! Looks like he will be a handsome fellow when he's all grown up ;)
---
"If a horse fails to do something that is because he was not trained to do it. If a horse fails to do something properly that is because he was not trained properly."
www.wildestheartart.com
Handsome little fellow!!!
OOOHHHhhhhh what CUTE little hooky ears! He's beautiful!!!
---
I'm not a complete idiot--there are parts missing!

What you have become is the price you paid to get what you used to want.
Love those ears, such a cute boy, congratulations
he looks very correct in confor. should be a nice gaited horse for hubby (or you)
Peruvians are wonderful and I bet he gaits along side his mom from day one. I have never had to train a Peruvian to gait. After over 4 centuries of being bred to gait, they don't do anything else.
What a little sweet boy! The others exclaimed what I thought right away about his beautiful ears :)
What a cute little boy! Congrats and good luck :)
---
~the hardest part of riding is the ground~
~if you think I'm shy, it's because we're not talking about horses~
He's beautiful! I love those Peruvians.