[QUOTE=Corporal;1260068]Congratulations--he looks like a great horse! BTW, I'm gonna put a picture of my 5yo KMHSA next to Your TWH. I really think my gelding is a throwback to TWH--what do you think? Compare them both to my 13yo KMHSA mare, who looks more representative of the breed.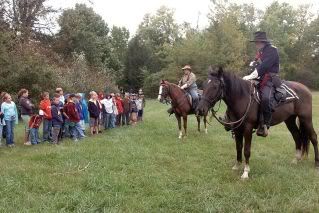 Not at all. TWH's were bred with Percheron blood. This is where they get their big bones and many get their height.[/
QUOTE]
Do you have any references about this? I have never read anywhere that percherons were bred with Walkers, and if they indeed were, would be very interested in reading this.
I only went by word of mouth from several unrelated sources, to tell the truth, although I always thought that they looked as if they were a little bit like a warmblood. Look at the oversized head--TRY and fit a halter on one sometime!!!--the big neck and stout limbs.
Then I did a web search and found that the Canadian Pacer had Percheron blood (French draught) in the 17th century.
www.cherrycreekcanadians.ca/history.htm
And, of course, TWH's have Canadian Pacer in their lineage. So..they'll all mixed up, I guess. BUT, it's a fine mix, IMHO!!!
He is a pretty boy and under your good care he will be back to his peak soon.

I got Biscuit out to where we board the 3rd week of October and bought him the following week. He was underweight and has since gained around 200+ lbs.

I had him tube wormed and his teeth floated. He wasn't used to 24/7 hay and he stood knee deep in a round bale ALL winter long eating. He was fed twice a day with Safe Choice and I also gave him a supplement to help put weight on him.

I rode him every weekend out on the trails and in the arena some during the week. Mostly at a walk with some trotting - rarely a canter as he just galloped.

Slow and steady riding and good nutrition but this horse in good shape in a few months. He gained weigh quickly but it took months for that good shine to come out in his hair and a full year for his entire body to shine with good health. His hooves are now pretty darn terrific.

Your boy will come along quickly too with regular feed/hay and slow steady riding. Can't wait to see him returned to his former glory!
---
QOS, thank you so much for the encouragement! I worry about him so much since I board and can't be out there with him every day. I appreciate the words of affirmation. I will definitely post pics to show his progress.
Beautiful horse! Just wanted to add (from experience) that when you're bringing a horse back up to weight, don't forget about supplementing with vitamins and minerals. When a horse loses muscle mass from weight loss (like yours did on the top line), the vitamins and minerals stored there can be depleted (like magnesium). What we feed daily has the content to maintain vitamins and minerals, but not replenish if that makes sense.

I've found that Red cell is a good supplement that is high in magnesium and other essentials. I don't add it forever...maybe use 2-3 containers worth. They're about $25 per container and a container lasts 4-6 weeks. You might want to ask your vet about that and see what he recommends.