new saddlebred Slamantha
---
This is Sammi I got her almost 3 weeks ago and she is a sweet girl. I love her dearly. She is a big girl 16.2 and a little over weight but we are fixing that. She has been a brood mare all her life but with her movement I am going to try to train her and ride her. I would love to show her down the line. She is 10 years old and we have alredy bonded I think.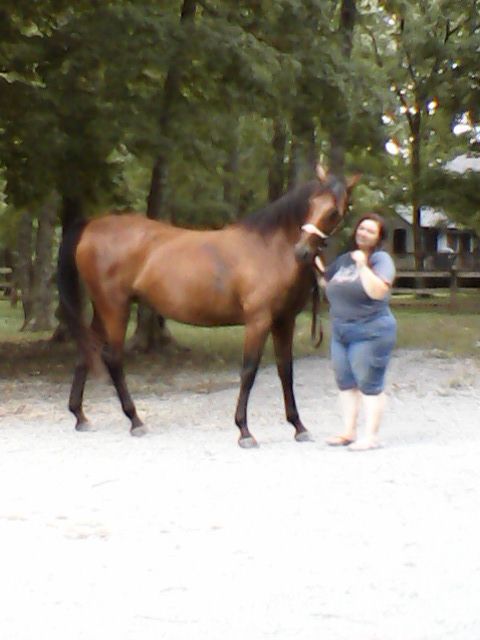 Pretty mare. Good luck w/her. Has she ever been ridden?
Beautiful color! Good luck with her.
---
MUSTANGS...AMERICAS REAL HORSE
RUGGED...EARTHY...AUTHENTIC...LEGENDARY
I WILL FOREVER BE A STUDENT OF THE HORSE.
nope never been broke. I am doing ground work with her and she seems to know that she is smart and I know she can do it.
Very very pretty! Some older horses that have never been broken are hard to train. I have one that is 13 and was never broken before I got her. She now has over 90 days professional on top of all the ground work I did with her before she went to the trainer. She is still not anything I enjoy riding. She will tolerate people but doesn't enjoy being around them. I hope your horse is different.
I have found, that given the chance, Saddlebreds bond with their owners very quickly, even after being sold. You girl is wonderful. Do you know her breeding?

Lizzie
very pretty mare! She has a soft look about her, like she loves you up :) Goodluck!
FeatheredFeet, I am going to put my bet on her being by Phi Slamma Jamma. Just a guess, I haven't looked her up.
Let's see what her new, lucky owner.
Posted via Mobile Device
Wow shes gorgeous!
---
Cross Country- The act of hurling yourself and your equine partner at a stationary object with poise and grace while attempting to survive...

What a stunning girl!
I wish you the best of luck in her training. Keep us updated on her progress!