Noble Kalarama ASB...The good ones go light.
---
Foaled in 1931, Noble Kalarama was shown successfully in Fine Harness, and was a notable sire in the American Saddlebred world.

The good ones go light, is a saying among ASB folk that means the best horses don't need much in the way of shoeing.

That can be seen here in Noble Kalarama.

And love the old body style of Saddlebreds.

He was a grand horse.
---
Horses make me a better person.
Ahhhh, why I loved loved loved my Arab/Saddlebred cross that was foaled in 1960 and spent all of his glorious 29 years with me, until cancer the best of him---------------------
He did not have papers and I was only 15 when someone tried to get my step-dad to sell him for $1,500 cash money. That was big amount of money in 1962 but my step-dad was not interested in selling my horse out from under me ---- especially to some beer-drinking-cigar-smoking horse dealer
Yes, those stereo-typical people you see in movies really did exist - probably still do.
Sonny was, indeed, light on his feet.
He was really athletic. If he felt like it, he could really get animated when I asked him to side pass.
I taught him to do the rocking chair canter better than I have seen some TWH's perform it in the ring. He was a traffic stopper and loved putting on a show
This was 1965. Sonny was five and still not broke to a saddle because I didn't use saddles. I had just graduated H.S. <sigh>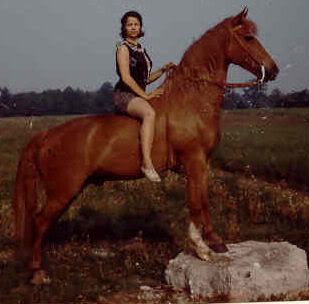 Yes, all that natural animation -- if it isn't broke don't fix it------------------------------
---
A Good Horseman Doesn't Have To Tell Anyone; The Horse Already Knows.
---
Last edited by walkinthewalk; 04-17-2013 at

06:06 PM

.
Nice pics...both of them.
A real shame that isn't the type image that comes out of ASHA much these days. Lovely looking horse with nice bone, nice feet... And still quite obviously a flashy mover.

Not trying to be snarky, but it seems you pretty much need to pull old archive photos to show ASB Saddleseat horses with a correct amount of foot and light shoes. (I mean, there have been modern examples, but really not very many by comparison)

If there were more images of modern ASB's shod like this, I bet, a lot fewer people would be quite so "upset" over Saddleseat....
That is how most of my horses were shod over the years. Keg shoe and thin leather pad if needed. A few had toe weight which is very small difference. I once had a horse in training. When I went to see him, he had been re-shod with heavier shoes and more pads. I was pissed to say the least. The horse moved much much better prior to the new shoes. I have never been a fan of a horse that appears to be laboring. I think if people went to the shows they would see quite a few more horses that are not heavy shod.
And again, I shall ask then... Show me the MODERN horses that are well trimmed, without the pads and weighted shoes...

I keep asking, and few turn up. I won't deny there might be a few out there, some of those may even be winning... But not very many ever seem to make it into ASHA publications. That's a shame, because it strongly colors how other riders view what happens to be an amazing breed of horse.