okay everyone... I need pleasure/trail gaited horse 101
---
Here's the situation. A friend who is green to horses but can ride decently enough. Has bought a twh. Big brute of a horse I posted his picture before. He's sweet as can be.
Now he's barefoot kinda spooky but sweet in his temperament. With him being green he's got everyone and their monkey uncle giving him "advice" ....problem? Its the wrong kind of advice. The farrier(not mine) said oh sturdy solid feet he would wear plantation shoes great I'd say a 2 or 3. It would really help his action and bring his legs up, or chains too..... the owner looked at me I shook my head. He's a TRAIL horse. They have no intentions of ever doing a show.
Then there's the issue of a bit. He was using a "gaited horse bit".....aka a double twisted wire shank bit with a curb chain. 0_0 I was horrified to find that because I had him going round beautifully in a Mullen mouth pelham and in fact I knotted the curb rein because he didn't need it except outside!
The rider keeps a light hand but not light enough for that bit and the horse doesn't need it anyway! He said he bucked on him. I said probably the bit in combination with rider. He never offered to buck when I rode him.
Also it was a 5" bit... he needs 5 1/4
so we've ordered him a jointed kimberwick for the sake of deleting the shank altogether while still having a curb action if necessary.
Lastly. This part I'm lost on because when I took lessons it was on saddleseat horses who were show horses and held their head up high.
Must you always ride with elbows bent so hand are at navel area? He's a trail horse, rides like a trail horse. His head is low when he rides not high. One time I lifted my hands and he didn't lift his head. So from what I've assumed(but I could be wrong) is that you basically treat him like any other horse. Hands low and relaxed no "gaited" bits or shoes because he's not a show horse just a pleasure/trail horse and also its a OK to walk gait trot canter gallop. He's essentially any other horse just has a special gait. I know there will be mixed reviews and some will say no trot but I'm sorry, its a natural gait for him he wants to trot so be it. It helps his topline anyway. Now he is a horse who prefers to gait rather than trot. So there's no real issue there.
Posted via Mobile Device
This is him. I called him Duke, they named him moonshine :)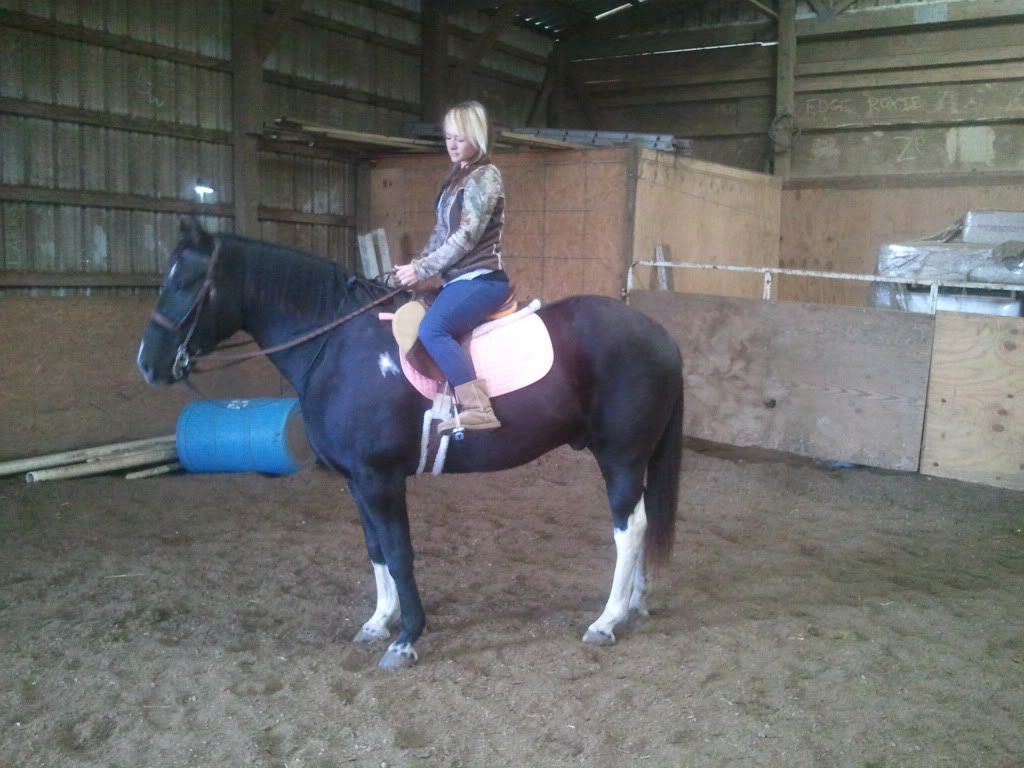 Posted via Mobile Device
First, when you said the Big Brute that you posted a pic of before, I thought it was the horse you posted in this thread
Ok, here we go: Opinions from an old lady that has no credentials except I started breaking horses to ride and drive when I was 12 (52 years ago) and I've been trail riding Tennessee Walkers for the last 21 years.
Quote:
Lastly. This part I'm lost on because when I took lessons it was on saddleseat horses who were show horses and held their head up high.
Must you always ride with elbows bent so hand are at navel area?
Nupe
He's a trail horse, rides like a trail horse. His head is low when he rides not high. One time I lifted my hands and he didn't lift his head. So from what I've assumed(but I could be wrong) is that you basically treat him like any other horse.
Yep
Hands low and relaxed no "gaited" bits or shoes because he's not a show horse just a pleasure/trail horse
Correct, except bits can vary. One of my TWH's wears a mechanical hackamore (GASP!!!) the other two wear the lowest port curbs I can find with swivel shanks; I've used swivel shanks for years, even on trotting horses. Don't need keg shoes. I wore St. Croix Rim shoes on two of my horses and the third one could stay barefoot, even when we did some fairly rough riding. The barefoot guy did get shoes if I knew we would be weekending in and amongs nothing but rocks.
and also its a OK to walk gait trot canter gallop. He's essentially any other horse just has a special gait. I know there will be mixed reviews and some will say no trot but I'm sorry, its a natural gait for him he wants to trot so be it. It helps his topline anyway. Now he is a horse who prefers to gait rather than trot. So there's no real issue there.
I am the "no trotting allowed under saddle" person. At liberty is fine. Sometimes gaiting horses won't optimize their gait (preferring to trot) because they have something wrong structurally. Like when one of mine had his Atlas bone and sacrum both out and just could not hold his gait under saddle. The chiropractor fixed that
Posted via Mobile Device
I feel for you in that there's so many knowledgeable (NOT!) people trying to give the new owner advice.
When you first got the show horse in to work with, I THINK I may have given you the link to Liz Graves. Here it is again because you might want to pass it along to Duke's new owner. Liz Graves:Gaited Horse--Gathering of Gaits
Lee Ziegler's (who passed away) book "Easy Gaited Horses" is still available to buy.
Finally, if you really want to see how to improperly ride but enjoy smelling the roses, here are my three guys on Post #13.
These pictures were Labor Day, 2010 when I was 63+ so it isn't likely that I'm going to learn "right and proper" anytime soon. I ride my horses according to each one's needs and abilities and I enjoy smelling the roses a whole lot more than I worry about Walking Horse Riding Protocol
Let's see you Gaited horses
All my horses have been barefoot the last four years because my riding has slowed down considerably. They gait every bit as good barefoot, down the road, as they do with those Quarter Horse style rim shoes they wore when we really were doing some riding
ride him like a trail horse, dont torture him with soring or special shoes. Let him do his thing, I wouldnt let him trot, tuck his chin back in sorta like you would do to get a slow smooth trot out of a trotting horse,
I heard all the same crap with my TWH, had some big giant TWH bit that weighed a ton, told I had to stay in his mouth all the time and be all stiff and perfect, and he wouldnt neck rein. yadd yadda, bull cocky,
I ride him in a short swivel shank, low port curb bit, and within a couple months he was neck reining, or just turning when I twist my body, SOmetimes I have to hold him back to get him into his smooth faster than a walk, slower than a trot trail gait but he settles down and moves out. Hes a horse, let him be a horse.

Oh and never say, "He's just a trail horse" Id take a level headed, confident, miles eating, creek wading, mud slogging log jumping horse that ignores traffic, deer, baby carriages, bikes and gunfire over all your fancy pants show horses with there perfect head position and perfect body positon, that arnt fit to do a dang thing outside an arena without freaking out.

Do your own thing treat him like you would anyother horse, go trail ride and have fun with him let him and his rider learn eachother.
Thanks so much everyone this has been really helpful. He's "just a trail horse" in the sense he's not doing shows they only want a pleasure horse to trail ride around. He IS spooky...working on that's. But I agree 100%. I could care less about pedigree or colors. I care about a level headed not scared of anything horse that I can rely on and trust 100%
Posted via Mobile Device
Lets see if I can answer a few questions:

-Shoes: doesn't need them at all but if you decide to shoe don't use any of those fancy walker shoes. Those shoes are used by show people to accentuate a gait to get more "flash" and "snappy" moves. Not something any walker needs but it sure does look great in the show ring and wins ribbons. If you do want to shoe just get a normal shoe with clips. Why clips? Walkers will slide their feet into a landing (mostly on the rear but front also) and those clips will let them keep shoes on longer. I had one that when he still wore shoes could knock a non-clipped shoe off in 4 weeks and it would be paper thin. Clipped shoes would stay on 6 weeks.

-Bit: Use what works with your horse. Gaited bits will work with most but heck, he may just need a halter and lead rope to gait proberly. Experiment and see what works for him and stick with it.

-Bit pressure: I love riding with a loose rein and that's all they need. My current boy was show trained and would throw a fit if I didn't put some pressure on his bit. Took a while but now I ride him as loose as all my other horses have been.

-Trotting: To be honest a trot is an easier gait (for most) then a flat walk or running walk. Therefore, if you let them trot then they'll trot all the time instead of gait. Congratulations! You now have a horse that can trot just like every other horse (except their trots generally are pretty darn rough)! Muscle them up gaiting and you'll end up with a horse that can gait all day long, giving you a nice smooth ride.

The most important things for a walker is a saddle that does not interfere with their shoulder action and where your center of gravity is while sitting in that saddle. Shifting your center of gravity changes the arc of their back. In general, if they trot shift it forward and back for pacey walkers. Play with it and find where their gait is the smoothest.
Quote:
He IS spooky...working on that's.
My only caution on the spooks, is to be sure his eyes are ok. Any horse can develop eye problems.
It seems horses that spook "just because" have a bit of a different spook pattern than those who are dealing with eye issues; at least that's my take away when I read about it from owners
Duke's a chunk -- Tennessee Walkers ARE on the predisposed list for insulin resistance and other metabolic issues. If you can, please caution his new owners not to love him to literal death by over-graining him.
He's built like two of mine that are dealing with metabolic issues; one of whom was formally diagnosed when he was only 11.
For sure he does not need sweet feed and, in reality, a good quality Ration Balancer, with good quality hay is all he needs. He adorable self also looks like he might need a grazing muzzle when spring grass starts growing
Ditto on the long-reaching slides that Darrin mentioned. The Fella in my avatar has a tremendous reach, front & rear, and would slide right out from under himself if I didn't keep borium on his shoes.
I never used toe clips - that's personal preference and what works for each horse. I don't like slick shoes and was ecstatic when I learned about St. Croix rim shoes the Quarter Horse folks use. They have a fair amount of grip. If the horse is doing some hard trail riding in the rocks, borium head nails can be added in every other nail hole.
The only angles this horse's hooves need to be set at, are the one's he was born with. His new owner needs to know that because there will be a lot of hoof "experts" trying to tell her something different.
Duke looks like he's got really great hooves. It's kinda hard to tell but the fronts appear to be a bit long; that's a stereo-typical "thing" that many farriers want to do with Walking Horses. He doesn't need his toes long to gait; that all comes from the rider knowing how to move him out correctly.
TWH's will sometimes cork themselves if their back hooves get too long; that's how the owner knows it's time for a trim.
They will also cork themselves if the back hooves are fine but they are short-striding on the front. It stands to reason if the front end is not reaching/stretching out in its normal manner but the back end is, the hooves are going to clash
The short-stride is generally caused by some sort of discomfort that can range from pain in the legs/shoulders to THRUSH of all things.
I have seen the thrush issue with one of my horses so I know that to be a fact. Soon as his thrush cleared up he quit short-striding which, in turn, allowed him to stop corking himself.
I know this is probably TMI but, when dealing with Walking Horses, the first thing a farrier wants to do when there's corking/forging/gaiting problems is change angles, put heavy shoes on them, and who knows what else, when the fix is really simple if everyone will just look a little harder
good luck... i have no info to shed light on except when i bought my first twh i was getting that same ridiculous advice your new owner friend was getting. the best thing i did was not listen and learn as we went along by reading books and talking to other pleasure/trailriders.
Thank you everyone for the info! I'll try to answer a few things...
He's barefoot and will stay that way. He was trimmed and then my farrier had a second look and trimmed toe. He has nice feet just flared out. But he is getting a natural balance trim with no excess toe so with regular trimmings those flares will dissapear.
he's currently on no grain but will be started in gro n win which is indeed a ration balancer. I dont support any sweet feed to any horse LOL. The vet comes Saturday to do a biopsy on a cluster of tumors on his right booty side. I'll bring up insulin resistsnce and other metabolic issues.. I never knew that about TWH's. There are tests right? To determine weather he has those?
I will also be sure to bring up saddle fitting with the vet. When I rode him it was my English saddle that fit him well but his owners will be riding western.
This has been really helpful. I'm going to print this and give to the owners.
Posted via Mobile Device
Quote:
The vet comes Saturday to do a biopsy on a cluster of tumors on his right booty side. I'll bring up insulin resistsnce and other metabolic issues.. I never knew that about TWH's. There are tests right? To determine weather he has those?
I hope the vetting is a positive outcome
Regarding metabolic issues, yes, the vet can draw blood to have the insulin level read.
If the new owners have the extra money to just do a simple blood test instead an entire CBC workup, it will be a lot cheaper. They could easily have it done while the vet is there today.
It would at least give them a baseline for future reference.
Visual indicators can be many things. Because the metabolism is involved, the indicators for my two didn't begin to resemble each other.
A horse does not have to have all of these but having a few of them together is cause for concern:
Hard cresty neck.
Excess fat around the shoulders.
Fat deposits in the "ham" area of the butt.
Dish at the top of the tail dock that won't go away.
The horse is heavy enough that the topline becomes a water vessel.
Extremely puffy sheath (many times looks swollen enough that someone might think the horse has an infection).
Puffiness over and under the eyes.
Mood swings (indicating insulin spikes). They can be anything from wanting to sleep all the time, to very anxious, to becoming nippy.
Laying down way more than is normal.
Losing energy really fast when being ridden.
While most horses will explode with weight gain, others will drop weight rapidly. My senior guy lost 80 lbs in less than six weeks
He's gone from an air fern to me really having to monitor him. He isn't a hard keeper just will lose weight fast if I don't keep an eye on how much rice bran he eats.
Last but far from least - founder
. My 11 yr old had sub-clinical laminitis in all four hooves yet my senior horse never has had a laminitic event.
Since insulin resistance and equine metabolic syndrome are considered Type II diabetes in horses, they need to remember he should not be filled up with sugary treats, that include apples and carrots. Carrots are loaded with sugar.
Unless his insulin level comes back really high, he can have the proverbial "apple a day" but he certainly doesn't need to be fed half the bag of anything
You are getting them off to a wonderful start with Duke, both in terms of riding and caregiving --- I hope they stick to it.
Please let us know what the vet says about the lumps.