Rocky Mountain Horses
---
Does anyone here have or ride a Rocky? I reconnected with my best friend from high school after 15 years this October and she's the barn manager of a Rocky Mountain Horse Farm here in Maryland. I now make the 45 min. drive 1-2 times every week and ride with her. I had never been around the breed before since they are so uncommon and I must say, i'm in love! I've been riding a very large mare with two blue eyes which is VERY rare in the breed. I'd love to see pictures and hear about your Rockies!

(Avatar is me and Nikki, a green broke Spotted Saddle Horse i'm working with at the same farm.)
Currently we have 3 with one on the way.
Mac, 5 year old black RMH gelding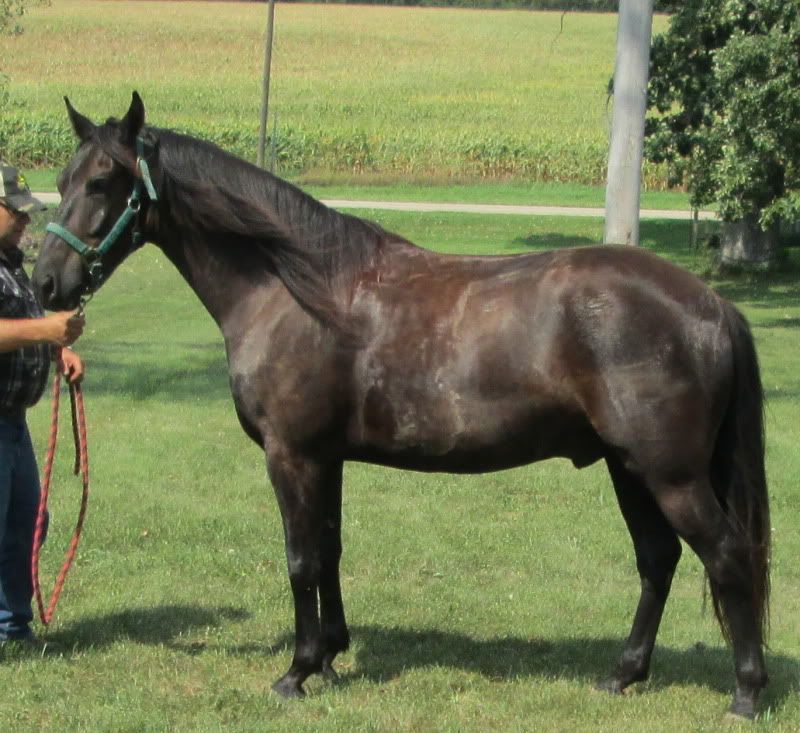 Pearl 6 year old Black RMH mare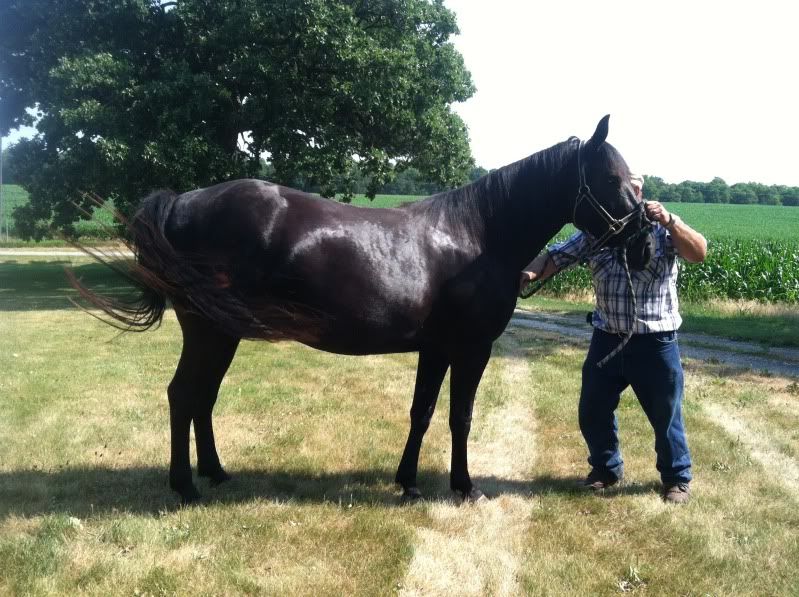 Patty 13 year old chocolate RMH mare in foal
Each has their own personality. All are great people horses, especially Pearl, she is always in everyone's business. We also have one KMH which is pretty much the same horse, just a different type registry.
The young chocolate gelding in my avatar is a RMH, we recently sold him. All of them came from a Kentucky breeder.
---
A woman can NEVER have too many horses.....
---
Last edited by Macslady; 12-03-2012 at

08:20 PM

.
They're so pretty! I love how much personality they each get. This is the one i've been riding since October...
Meet Digby Rolliker
He's an 8 year old RMH from KY.
He's a very quirky horse with a personality that is all his own. His eyes are very unique too, one is green and amber, and the other is blue and amber.
I love my goober boy to bits and I really appreciate how different they are from other horses, both in movement and thinking style.
Jazz - my Rocky Mountain gelding
---
This is our red chocolate Rocky - Jazz. We've had him about 3 years now. We found out just after buying him that he has ASD. In the last three years he went from showing signs of it during a vet check, to losing sight in his left eye and affected vision in his right. He is still a great trail horse. Very brave with obstacles. He listens to voice commands to step over things or go down embankments, etc. I now ride him with a fly mask made to attach to his bridle to keep the sun from bothering his eyes and he wears a fly mask all the time in the pasture.

We have rode on 5 to 6 hour rides climbing hills in the Missouri Ozarks and cantered in pastures, taking good care of his rider. He's an awesome horse!

FYI, chocolate and red chocolate horses have a decent probability of having ASD or carrying (passing on the gene if bred) the marker for this genetic disease, be careful and have a vet check done when buying a Rocky or Kentucky Mountain horse of these colors.
fine looking horses, people. kudos to all ya'll.

not my style of horse, but i do appreciate any type of gaited horse.

there is a breeder just a few mins. from here. they have alot of the chocolates with the flaxen manes. beautiful horses.
I do think they are becoming more common, my trainer had one in for a few months over the summer to break and that young mare was super sweet and would do anything you asked her to do, apparantly the first time under saddle and she acted like she had been broke for years and just needed a tune up (owner must have done lots of work with her)

then while camping in september there were probably 3 different groups in the campground with some of the Rocky's in their group.

their colors are very neat
The Rocky gelding in my picture was broke in 2 weeks, with nothing done by me but a small amount of ground work, just a trip to the trainer who put him under saddle, acts like he was broke for years.
---
A woman can NEVER have too many horses.....
Lovely pictures!! They have so much personality and are a pleasure to be around. I love how quickly they learn things!
I own a stunning brown one, that in the summer, gets gold highlights in his coat in summer along with dapples! And his mane is black and blonde! I will definetly post a picture later.