This is a pic of one of the horses I ride named Whiskey. He's the first rocky Ive worked with and man is he a bundle of energy!
---
"Sorry don't get it done, Dude."
John T. Chance (Rio Bravo):
Very pretty boy. He looks like a Whiskey.
---
A woman can NEVER have too many horses.....
This is my reg. Ky Mountain. She is 11 years old.
WOW WEE!! Love seeing all the Rockies! I would love to have one - I am getting a MFT in the morning - I am sitting in a hotel in Lafayette, La. I will be hauling home a little mare on lease for a month to see if we gel. I hope it works out. I couldn't find a Rocky close by that met the age, training and price for now. Maybe one day I will luck out and get one!!
30 days, 1st day in a new bit

Nate
I have a bay Rocky and I am 500% bonkers over her! I didn't look for color when I was searching.....I was looking for a really calm, smooth horse and I found exactly that with the help of a 4th generation horse trainer who is also a friend. Had my girl hauled from Kentucky to Kansas. Love her, love her, love her!!!
I lost my rocky back in April. Had him almost 2 years. Spent a ton of money to save him. Would have done anything but it was not meant to be. Anyway, I'm going to try to post a pix of him. He was a beauty.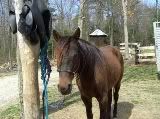 well the MFT mare didn't work out! But I did see a gorgeous Rocky 4 year old mare this weekend when we were riding up in Jasper, Tx. The little mare came from Kentucky and was a stunning looking horse. Gorgeous chocolate dapple with silvery flaxen mane and tail. She was a looker and very sweet. Her owner said she could be a handful but was still very young.

We did have Dan on the trail ride with us and Dan is a 13 year old Rocky that is a dark chocolate. He is as broad as they come and a real sweetheart. A little 13 year old girl rides him...I am willing to adopt her, her mom and dad to get Dan.
We have two rocky mares. Can't beat their temperaments. Friendly, willing, curious and sweet. Hubby's mare, Mesa, will stride right on out and can hang with my big TWH mare on the trails. My little mare, Gidget, is so fun to ride but she is on the slow side. Not in any hurry, not fast at all. I've let beginners ride her on trails and she really takes care of them. Not intimidating at all. As much as I love her I don't ride her as often as hubby's horses have very forward flatwalks. Poor lil Gidget has to rack to keep up with them. I may try and find her a great home with a new rider or one with kids. She's a great all around family horse.

Here is Gidget on the trails in VA yesterday. And one of hubby and Mesa.
---
Lindsey
"Do not go where the path may lead, go instead where there is no path and leave a trail." Emerson
When I was 7, we got our first Kentucky Mountain pony. He was a 13 hand bay fellow and after riding an old QH/Welch cross and a haflinger, Spirit scared me when we got to the end of the driveway and he took off at a fast paced gait. When I was finally brave enough to ride him again, I did EVERYTHING with him. I would have shown him in 4-H except my club and county had/has NO use for gaited horses and they all said I would not place. I was very unhappy and it was several years before I finally got to go into 4-H with a POA mare. Spirit taught me Sooooo much and he was a truly awesome horse. After about 10 years, my mom found a beautiful black gelding. He is about 15 hands tall and is exactly what I remember from back when I had Spirit. Rockys and KMHs are a very amazing breed and I hope to have one for my own kids to learn on should I get blessed enough to have a family.