Saddlebred owners or lovers :)
---
This is a forum for the Saddlebred owners/lovers. Just a topic about anything regarding to this breed! Training tips, new ideas, show experience, etc... Something fun to discuss!
For that I go to Trot.org . There isn't a great wealth of Saddlebred information to be found here, I'm afraid.

But I am game. Let's talk Saddlebreds. I own three out of the thirty on the farm. A broodmare, show prospect and an all around/trail prospect.

How about you?
I own 3... soon to be four.
Don't show ASHA though.... mine are used as all around great horses.
Got a 4 yr old stud colt - was planning to use him as a sporthorse sire, but he's not maturing quite the way I was hoping (or maybe it's just a really odd phase to his growth), so he's likely getting snipped. He gets another year to show me he's worth his nuts - then he'll be a great gelding. This horse has an incredible jump on him, and would do very well in dressage... he's just been started this spring undersaddle.
(taken this spring)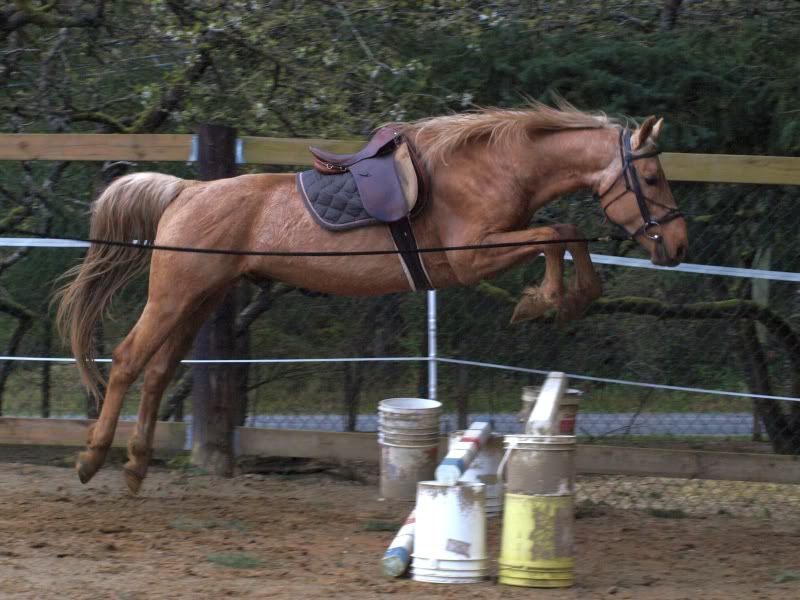 A 6yr old mare. Was used once as a broodmare (by the people I bought her from) and has produced a STUNNING half WB colt. Plan to polish up her training, and probably aim her mostly for dressage - but we'll see once we get past the "ghosts" in her head. Tends to be a tense horse, but very kind, willing and gentle.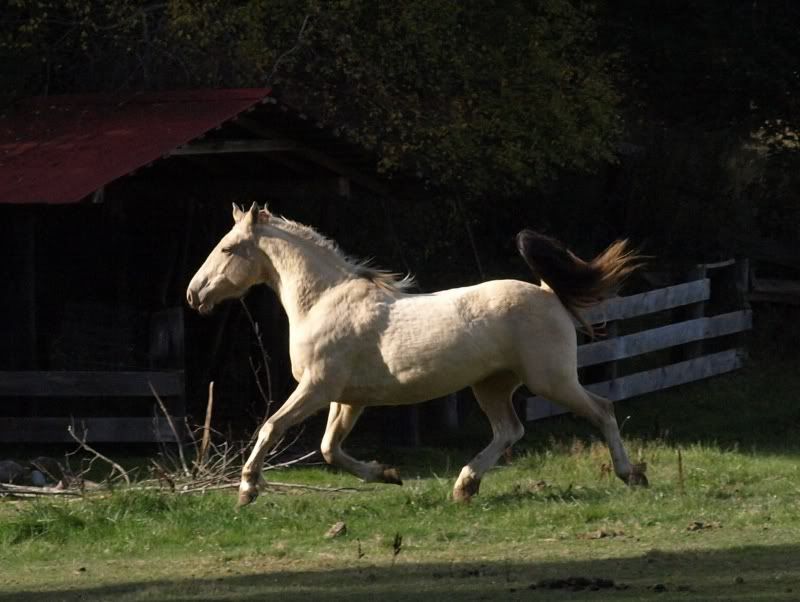 A 13yr old, has been broodmare, now being used as a lesson horse. May breed her again, but at this point we just want to get her fit and going again. She's gaited - but I don't think was ever trained to gait. Right now she's being used as a PC mount... and proving to everyone Saddlebreds can do more than just trot.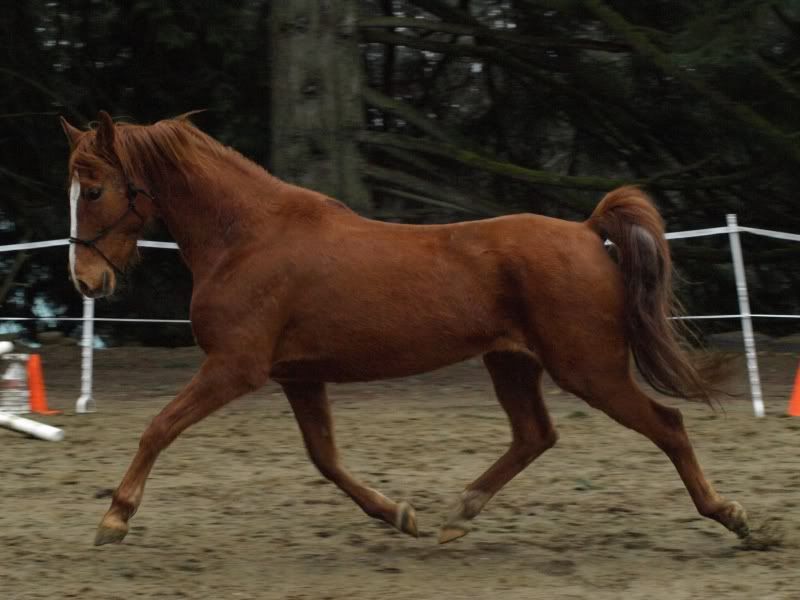 ... and then we'll be bringing home a weanling stud colt in September/October (when he weans). Stunning, typey colt - will hopefully be a breeding prospect. I may do some breed shows along with other events with him - but we don't have many in our area, so we'll have to see how it goes.
[img]
http://www.formosussporthorses.ca/Ivory/Echo13.jpg
[/IMG]
There isn't much I don't like about the breed - other than perhaps their lack of "substance" (used to be a QH/stockhorse person.... was a time when nobody could convince me there was any other kind of horse LOL)
Our overall "game plan" is to use these amazing horses to outcross to drafts/Friesians - for Georgian Grande foals. This cross has been really consistent and popular in my area (where Saddlebreds aren't "common", nor are there many opportunities to show the purebreds in breed shows), they are incredible athletes with loads of scope and boldness for eventing, jumpers, and dressage... and have that substance I'd like to improve on in the Saddlebred. The idea is to produce a very small number of foals, train them, promote them and then sell them.
While we're getting our ducks in a row though they'll be trained, ridden and shown.
Quote:
For that I go to Trot.org . There isn't a great wealth of Saddlebred information to be found here, I'm afraid.

But I am game. Let's talk Saddlebreds. I own three out of the thirty on the farm. A broodmare, show prospect and an all around/trail prospect.

How about you?
Very nice!! do you train them yourself??
I own a very tall eight year-old mare. When she was three, her old owners put her in a lesson program and it ruined her. When she turned six, they decided to take her out and train her as a western pleasure horse and sell her off. She was only in western for a month before I bought her and took over the training.
After that I just use her as a western backyard horse. But this past week I've been getting offers because she has motion. So I'm debating to see if I can get her competitive enough to compete in ASHA shows! That's my goals.
Yesterday I tried registering on Trot.org but they said that they will send me an confirming email post things on the forums. Haven't got that email yet... So in the meantime I'm on here.
TheLastUnicorn,

That's very cool! I love your mare! She has a very pretty coat!

We have this one horse named Pumpkin at our barn that looks just like her!

The very first picture, the horse in huntseat. Did you train him how to jump? I've always wanted to jump Saddlebreds. But all the Saddlebreds I work with are very spooky.
abby - The 6yr mare, Aurora is an Amber Cream Champagne Tobiano... she's a very cool mare in general - but yes, her color really makes her a standout. I have a suspicion that once she relaxes a little more undersaddle she may make a terrific little hunter/jumper - but we'll have to wait a bit to see.

Finlay, the Pally, is 4yrs old... he hasn't been "taught" to jump so much as he just plain loves to (free) jump (Just point him at something and let him go). Thus far I haven't done any jumping work under saddle with him, since the breed is so slow growing I want to make sure his back and legs are done before I add more stress to them, but I can totally see him as a hunter/jumper - he also has the boldness and courage for Cross Country. I've done all the work with him myself - so far (been considering sending him to a trainer to have him polished up a bit) and owned him since he was 10 months old.

He's probably the first ASB I've worked with with a really strong, natural canter (natural as in I haven't had to school him at it, he just does it). He's also always getting into mischief - almost as if he has a really sharp sense of humour.

I've found all of my ASB's are very sensitive horses, who can be skittish or spooky if their handler isn't confident enough for them - but in the hands of someone who is confident of themselves they are all terrifically bold. They are all extremely intelligent horses who will "question" a handler if they are unsure - but also very kind and willing. There's no faulting any of their work ethics.
I have a Standardbred x Saddlebred gelding, hes lame :'( and mom wants to ship him to auction. He was abused before he was pawned off on us. I'll see if I can get some pics up...
---
Last edited by GreyRay; 07-13-2010 at

06:55 PM

.
TheLastUnicorn-
Very nice! I've found that out with Saddlebred. I don't know. I work at a Saddlebred barn where they do all the Saddleseat and five gated stuff. Which I think is really cool. They are an extremely beautiful and strong breed of horses.

I'm actually thinking about training my Saddlebred to jump... Or was at one point. I don't know where to start right now. :/

GreyRay-
awwww :( How old is your gelding?
If you're going to be taking a horse trained to Saddleseat to jump you're going to have to work on changing their frame and musclature to some extent - in order to get balance for jumping. (if you want to get them so they can do more than just hop over a jump every now and again anyhow)

If you just want to hop over a few things once in awhile, but not actually retrain for it - just remember to keep things realistic for your horse. Make sure you always use a groundline, and set up the jump where they're going to have plenty of opportunity to see it and balance for it.

They sure have the scope to jump the moon!
If you're looking for a starting point - start with long and low work. You really want the horse rounding through it's back, and pushing off it's hinds - while keeping the headset low.

Then we add trot poles... canter poles... little jumps or cavaletti's in a grid. Try to keep the focus on staying relaxed, forward but not rushing.