Couldn't find a pic of that horse w/o a ribbon that was at a good angle so here: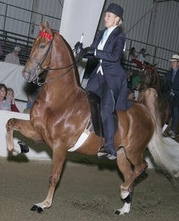 photo by Shiflet
Quote:
Originally Posted by
CloudsMystique
View Post

The author talks about how Saddlebreds were always bred to be "high and flashy" and Walkers were always bred to be "long and low." That's what makes them so smooth. Now suddenly BOTH breeds are "high and flashy."

Yes, thats because I don't know who figured out that pads and yes, soring, made the horse step bigger. I think its ridiculous and cruel. I like flat shod horses more than I'll ever like padded horses.
---
To keep up with myself and my horses, the ups, downs, training, and shows, click the picture of me and Atty!
BLOG
The reason the walker pads are so high is to give the impression that the horse is travelling higher than he can. Those nice older pictures of the TWHs, imagine if those horses were put on 10" stacks. That would give the horse 10" "more" height to his movements.

Pads on Saddlebreds NEVER get to the degree TWH show horse packages get. Saddlebreds use pads to add slight length, support, and shock absorption.
I know of Tennessee Walking Horses but I dont know of any Saddlebreds personally...I recently did a soring report for our 4-H group and although I knew something about it, I didnt know the real "depth" of it until I did some deeper research. The "Big Lick" Tennessee Walking Horses are disgusting to look at as well as watch. A friend of mine purchased a Walker gelding that had recently been cut and was once a top stallion and show horse. He was a Performance horse and they had pictures of him in the showring. I have no idea if he was sored or not, but I dont THINK so. The lite shod and plantation shod Walkers look much more natural and not so "mechanical." It was also deeply disturbing to read a quote from Bob Cherry, TWHBEA Board of Directors: "Horses dont feel pain."
What these horses have are natural gaits, but they have been enhanced for the more showy look that people want to look at. These gaits that are shown in the Big Lick classes are not used for comfort in the show ring prodominantly but more for to show how far these horse's can go in a stressed out gait. You wouldnt see a horse like that going down a dirt road a hundred years ago.
ALL BREEDS, like some other people have stated thru and thru again have had problems similar to this. Its not just Saddlebreds and Tennessee Walkers. Its going to be the people that show good examples in every show ring that will hopefully breed those "other" show people out that want to do harm to any breed of horse. Just my two cents
---
Shaneequah, 1998 gaited Bashkir CurlyxArab mare
Treyue, 1999 3-gaited Icelandic gelding
Loki, 2001-2015 Icelandic gelding
Wow, I have never really seen ASB show horses in action before, they are amazing. The gait looks so much more natural than the disgusting, crippling "big lick" TWH gait, it makes me want to vomit when I see those poor animals.

I think I might get into ASBs someday not for the big deal shows, but they look like delightful, sensitive animals.

Though I must remark on one thing. the snaffle bit I see in almost every ASBs mouth looks way too tight, that cannot be humane to have it that tight even without any rein pressure and to have that port bit in there as well... Overkill a bit much? No wonder that mouth is open on almost every ASB show horse pic I have seen...

Other than that I totally with the "if it looks and smells like poo, it must be poo" thing about the padded and sored (and even just padded)TWHs. The horses look and move as if they are in pain, pretty clear that that is what is going on.

I am by no means saying anything bad about TWHs as a breed, but sored or not, padding and heeling, elongating the toes, and applying chains to aggravate the horse to make it want to step out of them is abuse. It is psychological abuse to trick the horse into thinking it is in danger if tripping over something because it is on their ankle and they cannot get away from it.

And the ginger thing is rather prevalent around here... If you thin it is just warming, stick some fresh ginger in your rectum and then get back to me! I think not! They also use vicks, cinnamon, anise, icy hot, clove oil... It all burns like hell. I was at a show the other day and I actually witnessed a trainer put an entire stick of cinnamon in the rectum of his arab for that "gentle warming effect" poor thing, I confronted him and he gave me the same lame excuse, "it doesnt hurt him", gotta call bullcrap on that one.

I love TWHs and it is terrible what is done to them, there is no excuse. As I said in another thread, I think the whole Big Lick thing should be banned permanently, boo hoo to whoeve makes their living soring and pading(torturing) the animals for a living, make some honest money whay don't you? I think a horse left padded in a stall or paddock should be removed form the hands of the ignorant individual who owns it, and they be banned form owning an animal ever.

I love hearing the people defending the Padded TWHs, saying it isn't cruel, yet look at those inflamed grapefruit sized joints.... that is what we call a negative side effect kiddies, aka it is a bad thing...

Anyhoo they are both lovely breeds of horse that should be treated as the sensitive delicate animals they are, and reated with the respect and care they deserve.

*whew, I am too good at ranting for my own good.*
---
Ω Horses are a projection of peoples dreams Ω
---
Last edited by Honeysuga; 12-10-2009 at

06:58 PM

.
In ANY breed, gaited and non-gaited, you have to consider that people who have grown up in that environment see many of the "abusive methods" as a perfectly normal part of horse management.
I have read other forum conversations in which people openly defended every aspect of the padded/Big Lick TWH. To them, the 4" pads were as much a part of showing as a saddle and a bridle. Their grandpa trained horses, their daddy trained horses, and they grew up going to all of the shows. . .they insisted that the horses "loved it" and they truly believed that the horses were a good representation of the TWH breed.
Along similar lines, I used to work for a family who owned several WP Quarter Horses and showed them with great success. Well, the teenage daughter's horse wasn't placing well at shows. Apparently she was expressing herself a little too much with her tail during her class.
So, the owner (on advice from her trainer) had the mare's tail blocked. *Presto!* the mare stopped moving her tail in class and the daughter was back in the ribbons. The mother actually knew it was illegal, though I'm not sure the daughter realized
what
was done to her horse. She just knew that the problem was solved and she was winning again. One of many reasons I could not stomach working for those people anymore.
A lot of these abuses (or even the legal-but-silly cosmetic alterations)would
not
be happening if the results were not being rewarded in the show ring. Some breeds and show associations claim to be cleaning themselves up, but I have yet to really see it happen. The WP classes at this year's QH Congress
still
looked like a bunch of crippled, roach-backed, peanut-rollin' thoroughbred crosses.
As someone else already posted, the 2009 TWH Celebration had a record number of disqualifications because of soring/scar rule issues. While I'm glad they were caught, the fact that they were still there expecting to compete doesn't say much for the Walking Horse industry's claims of trying to clean up its act.
The Big Lick horses have evolved into almost a separate breed that is incapable of performing the Walking gaits
without
the pads, chains, and other action devices. And really, the Big Lick horse has no practical purpose outside of a flat show arena. . .fine if you're just a show person, but if I was looking for a horse that could swiftly and comfortably carry me over a variety of terrain on an all-day ride, the horses competing in the Big Lick division would
not
fit the bill.
And I find that sad. . .because it basically means that the Big Lick horse, which has come to symbolize the TWH to most of the world, has been so far removed from its roots that it can no longer do what the breed was originally created for.
I wish I could find a picture of my grandparents last saddlebred. She never wore shoes, a bridle, chains, or a saddle. she wore a halter for worming and nothing else. But get her excited and her head tucked in and her knees came up to her chin in the same way as show saddlebreds.

But who has ever seen an untouched TWH do "big lick" naturally? I think 'natural' TWH are adorable and look super comfy, but the Big Lick ones just look sickening.
Ok so first I must say that Walkers owe their everything mostly to the SADDLEBRED, however each is their own breed, so each cannot be compared as "Better" they can only be compared to other horses of that breed. I must say though that after years of owning and showing both I have found saddlebreds have much much gentler training methods. As well as they tend to show when they are in pain or distress, if any of you walker people deny that put your motor oil on my stallion and see if pain makes his feet go higher, he will just dig in his feet and move like a quarter horse, no point achieved there. As for the walkers well I've seen everything from drugging, latex, oils, heavy chains, and thick whips to make them do the big lick. In comparison the saddlebred uses light chains to make them try to lift from them and the stretchies as said before break if there is to much strain and do not force the horse to move. Also the walkers have a higher % of back/leg deaths that saddlebreds showing a large amount of strain damaging the bones and tendons and etc.

Again I am not trying to critasize walkers (trust me I do think they are splended) but their training tends to be harder and more abusive. Just wanted to add this
This is a really old thread from 2009.

But from what you've stated, it doesn't sound like Saddlebred show people have clean hands either. It's kind of like "we only use light chains, an no actual soring substances." :roll:

I dunno. I used to like to fantasize about showing sometimes. But I really think when there is money and ribbons and glory involved, the good of the horse is put by the wayside.

Doesn't anyone have horses anymore just because they love horses?
I am never saying that saddlebred people have clean hands totally, Im saying the training is more punnishing for walkers and abusive at shows, however breeds cannot be better than another, because each breed was bred for something, walkers for flashy smooth spin offs of the saddlebred and saddlebreds as a well working elegant riding horse for the wealthy and a status symbol for those who could buy one. Just like TBs are made for running, warmbloods for jumping, arabs for distance, and QHs for reliability and sprints. So you cant compare breed to breed only training. But no, there is NO breed that I've seen that has the trainers equal to angels and never doing a harmful or illegal thing it happens, I will be the first to say drugs are used on all gaited breeds to calm them but there are differences in walkers and saddlebred's training, besides when it comes down to it the saddlebred tends to prove it's case when you see a foal like Pistolero of Carvelle who bear stunning action like their parents. But walkers it is rare to find a foal moving like a 3 yr old.