This is Duke my best bud for 20 yrs. Taken this past Labor Day, Duke is 23 and insulin resistant. Duke's first ride in a year. Duke is also my avatar, taken when he was 16.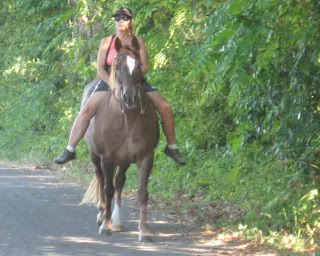 15-1/2 yr old Rusty who's been in my pasture 13 yrs. My toughest "down n dirty" trail horse. Rusty's first ride in a year.
12 yr old Joker who's been with me four years and is also insulin resistant.
This was Joker's first ride over 3 years.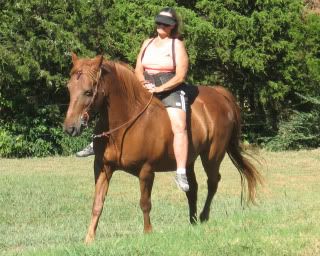 ---
Last edited by walkinthewalk; 10-23-2010 at

10:43 AM

.
Show Us Your Walkers!
---
This is JDs Golden Call Judge (Lilly) I got her when she was two, about three years ago and she is the most awesome trailhorse. This photo was taken at the Knott County Kentucky Fall Trailride.
Lilly has a pretty face and a kind eye....Nice
---
Never Ride Faster than your guardian angel can fly

"UNTIL ONE HAS LOVED AN ANIMAL, PART OF THEIR SOUL REMAINS UNAWAKENED"
so BEAUTIFUL!!! =)
---
A horse can teach a girl courage, if she chooses to grab mane and hang on for dear life.
Yall have have some beautiful walkers.
Appywalker- I saw your name and like it. I used to use the forum name some TWH&AppyRider. &&& Im not that far from you...just north of Houston. Your out just west of college station right?
My favorite breed is of course the TWH. I have had my mare who is almost 8 since she was 2yrs old. My dad bought her when I was in 8th grade bc he always wanted one. She isnt great at her gates and until I can afford training I just volunteer at shows and trailrides for gaited horses( I train and teach on QHs).
Her name is : Pushers Indian "Lady"
If I do enter a show we do costume class and water glass. She loves trails but shes a fast walker. She is very gated but pacey.
Here is her before trailride...not my barn I tought lessons here, excercise a horse here and care for the horses that live there on Sundays.
She is on the left and thats me on my moms QH.
Wow, Lady looks so much like my boy, he is pacey too! lol
Mine is the black one - he is 6 and still a baby - the other is my friends husbands - he is 14 - they are best friends and go everywhere together !
---
Riding a horse is not a gentle hobby, to be picked up and laid down like a game of solitaire...... It is a grand passion !
Nice walkers, here is a pic of mine and my wifes SSH
This is at an Extreme Cowboy Competition
So nice to see these walkers with their feet as nature intended them to be. Such lovely, happy horses seen here.
Mine have been barefoot for 4 yrs and have had no issues with their feet. We ride in sand, hard ground and in the mountains with no issues