Yearling
Join Date: Sep 2012
Location: Central Western NSW, Australia
Posts: 1,120
• Horses:
4
A lot of Standies actually pace so they actually are, in part, gaited horses.

I don't believe they trot any differently to other horses if they have been trained to collect and such... But they can trot darn fast I'd imagine. They really aren't all that different to any other horse when you take away the training they receive for harness racing.
here is my favorite video on You Tube. A standardbred rolling on.


This is my STBD mare, she is awesome. An ex pacer, but now trots like a beauty. I have a video somewhere, I will have to try and find it. She also has a very nice canter, after a lot of very hard work and determination.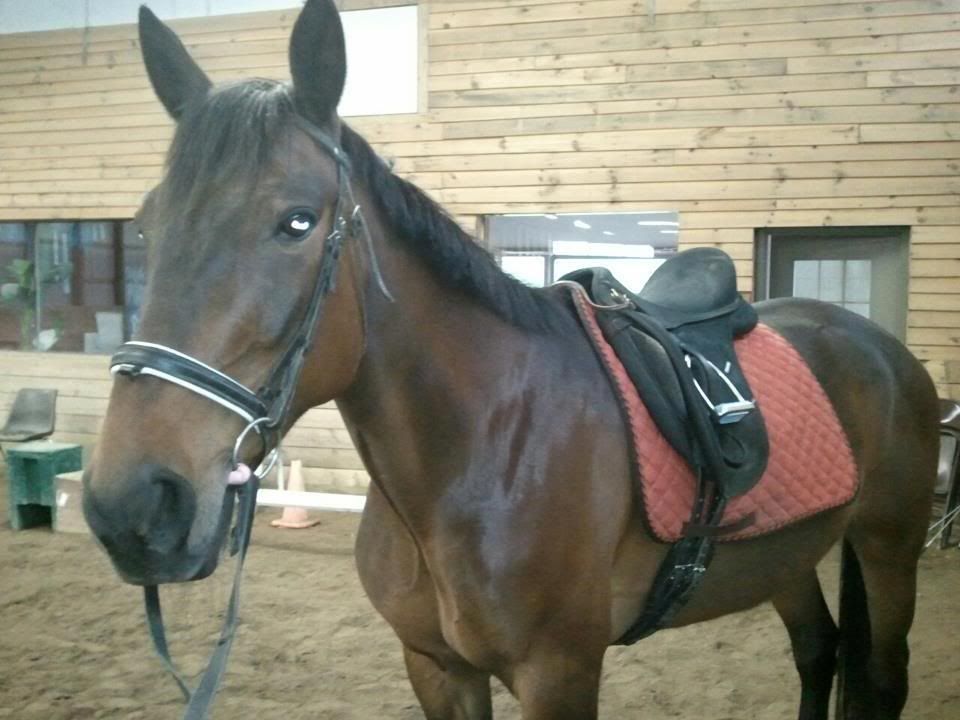 Hi
Welcome to the wonderful breed that is the standardbred! I think they are great. They can be gated. I know a few that rack and some that will singlefoot and of course the pace. They can trot, and its a big one. Dressage people should love their extended trot its got lots of animation and really thats just their racing trot. They canter and tend to have smooth canters.

A lot of people have this idea that they are "course headed". The fact is that looks took a back seat to utility and personality in standardbreds. They are bred to be cart horses and for temperament. When you see where driver sit in a harness race its right about hock level. So, a well placed kick is bad news and not tolerated. In addition, a lot of standardbreds were originally bred by the average jo who wanted a harness horse that could be safe enough for the wife and kids to drive and have some spunk to race the neighbor home from church on Sunday. Even today there are a number of owner/driver/trainer/breeders out there racing harness horses. This is different that thoroughbreds who were bred and raised to go fast. They were bred historically by the socially elite (wealthy), it was a kid or bug boy who was getting on to ride. So, certain behaviors are more tolerated. Its rare or unheard of to see a owner/trainer/jockey/breeder in thoroughbreds.

That said the course headedness is becoming less common. You just have to ignore or educate people about how great the breed is. If you are doing the saddle breaking yourself focus a lot of lateral flexion and turning. A lot of off the track standardbreds are use to wide sweeping turns and being aware of where the cart is. You have to sort of encourage them to turn in ways that a cart would not allow.

Its a great breed. Once you get a bond with them they will watch your back. I have met a number of standardbreds that don't want their rider to fall off. I get off balance on my boy and he is like "okay, we are going to stop until you are secure." They will do just about anything for you for a bit of attention. I groom some of mine out at pasture and I have had the dominant mare in the group herd all the other horses out of the way so that she alone could be brushed.
I had a standardbred mare that rocked. Best trail horse I've had. She was a pacer. She did a running walk and a rack that could put many a TWH to shame.

Look way back in the TWH founding bloodlines and you find standardbreds.

When riding a STB at a trot or pace and approaching racing speeds they do smooth out.

I never discouraged my mare's gaitedness. I loved it.
My standardbred mare, first time under saddle.
And I agree fully with all what was said about them.
My first horse was a Standardbred, he was smaller and a pacer and yes he was smooth to ride, took a little bit to get used to but after a while I rode him bareback at a pretty good pace. He was also a gentle horse and sweet. Standardbreds can have pretty heads, his head wasn't bad and it wasn't big.
Quote:
Originally Posted by
deserthorsewoman
View Post
My standardbred mare, first time under saddle.
And I agree fully with all what was said about them.
She has such a kind eye and really a lovely head, not what most people expect but what I'm used to seeing. I'm sure she will make you a fine partner.
I had her in Italy. Got her from the vet university embryo transfer program. When I left Italy I found her a super home with a family where she's being spoiled rotten
One of her "colleagues " from the breeding herd went to a young couple who took her home and the very next day she carried a bride through town....straight off pasture....that is telling a lot about their temperament, I think.
They are not know for their beauty, they often tend to have big, plain heads. They also take a fair amount of work to retrain. I rode an amazing gelding that was a tribute to the breed, and an all around wonderful horse. Then the last one I rode was aweful. Stubborn streak a mile wide, some one had tried to retrain her (former pacer) and failed, her canter was nice, when she was in it. She tended to randomly switch gaits trot/pace, pace/trot, canter/pace, she also swapped leads constantly. You would be on the trail at a nice trot and suddenly she would switch to a pace. Then she would get mad when you tried to correct her. I honestly think most of her problems stemmed from the person that orriginaly attempted to retrain her.