Trained
Join Date: Sep 2011
Location: Hour and a Half from Town!
Posts: 6,324
• Horses:
2
I went out and grabbed a few sale photos.
These first two are bad examples of what I see around here. Normally wayyyy too thin, big heads, narrow chests, bulging foreheads, wonky legs.
Course any horse can be bred badly but this is the result of skrewing around with something good.
First this mare. Nope.
Then this one, she's thin, but look at that huge head, splayed legs, kind of a mix between the two types.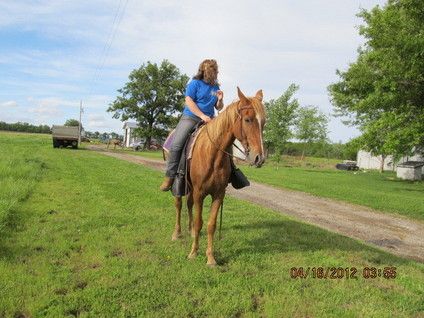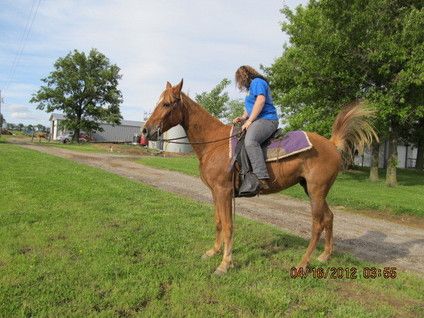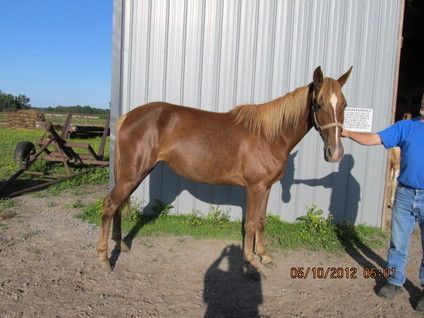 Now here's what I remember!
Love this guy, super handsome. What I think of as TWH, to a T.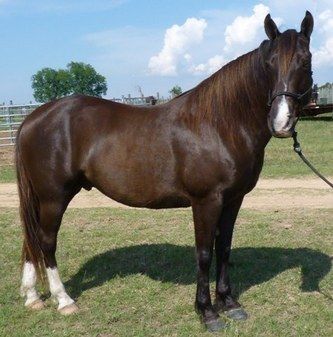 This stud is pretty good looking even parking out in his show photo, this is a great looking colored horse. Maybe a little exotic, but SOLID.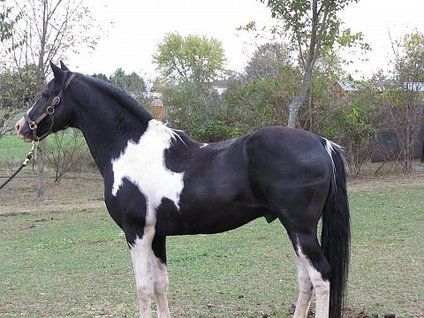 And this guy was pretty good lookin, great color, look at that bone!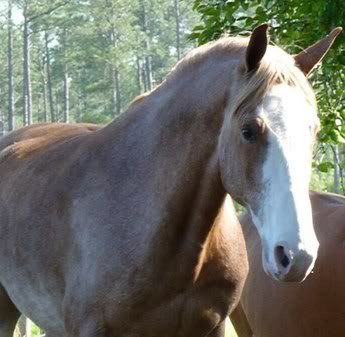 All these were said to be registered. Didn't look too long, sure I could have found better ones.
---
You can get a lot further with a ladder than you can with crutches!!
What do you mean what do I mean?
Miss Emma. 7yo Registered TWH
Quote:
Well if you want old, here is our Tennessee Walker in 1957, which would be 55 years ago. Pay no attention to me on the right, but my little sister is on the TWH on the left. Obviously tall, obviously stout, and rode like a rocking chair...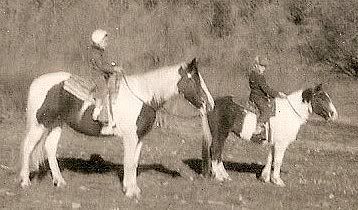 Faceman, Wow! I absolutely love pics like these! That is EXACTLY how I like my walkers to look!!! That I am sure was a stout horse. A fully filled out solid looking mount you guys had there!
I prefer the old type TWH, too. From my research and TWH breeder's word of mouth, I understand that the TWH's have Canadian Percheron in their background, and this accounts for the warmblood height and weight, the big bones, big hooves and heavier head.
Here is a picture of an older type, "Merry Boy's Hart", (died, 2004, RIP) He was 16'2hh and his girth was 7 foot around. I had to oversize everything for him.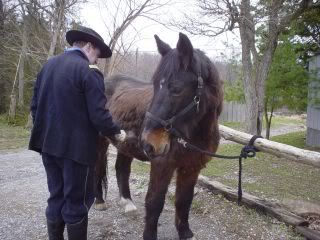 Here is my 6yo KMH, who
I believe
is really a TWH/KMH genetic cross. He ambles like a KMH, but looks (to ME, at least) very much like an old-school TWH.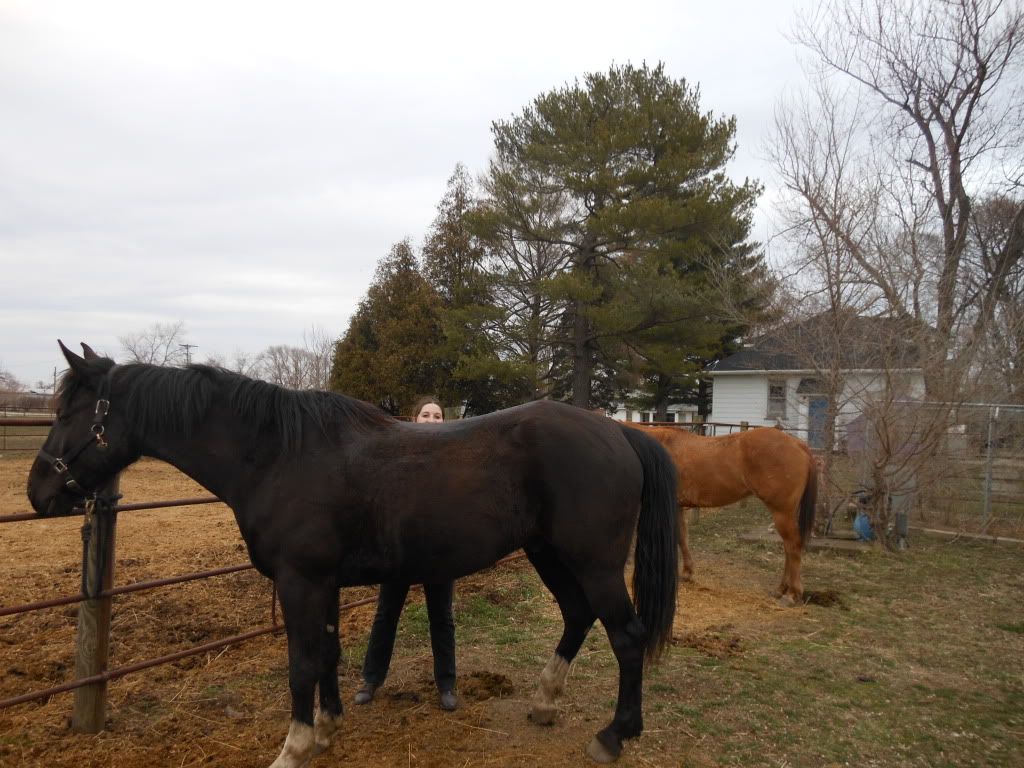 My QH is in the middle of this, flanked (on the left) by my KMHSA mare--she
LOOKS like
a KMH--and by "Long Arm of the Law" on the right.
Truly a shame the way that some breeders think they need to fix something that ISN'T broken.
Joe you have some good looking horses! Yours have a nice chest, and overall look to be solid built horses. They are similar in a lot of ways to the older style walkers! Flygap That black and white one you posted with the normal photo not the fancy one ha ha that horse is beautiful! I would love to own that big fellow!
Corporal your right it is a shame, you have a nice little band of horses there! My girl just turned three and is still growing and such so I dont know how she is going to end up looking, however she is really sick at the moment and I am have a vet come out and see what is going on. I had her at another barn a while back where a person was working with her and to make a long story short I ended up bringing her back just after 3 weeks and she is sick, wasnt fed, or watered properly for 3 weeks and I fear something is wrong now she has discharge coming from her nose and is coughing, anywho ha ha the sire to my mare was a really SOLID looking horse and the mother was as well so I hope mine will be as well. Although she is only 14.3 hands right now.
Here's a video with "the boys."
The sorrel and the dark roan with the blaze are the "bigger" horses. Not just taller, but heavier-built. My SO and I always joke that, when it comes to getting
on
that horse, you're only halfway there. . .you still have to get
over.
And then you need a moment or two to be sure your hips are still firmly in their sockets.
The solid black one is my little guy. You can see the size difference near the beginning of the video, in the photo where he is tied to the hitching rail beside the roan. He's not as stout as the others, but certainly not the lean, narrow build that I've been seeing more and more of among Walkers lately. He's much more nimble than the bigger horses, and he's the one I prefer to ride if I know we're going to be on rougher trail with a lot of roots, boulders, and tight spots to scramble through.
---
"Parelli horsemanship is just like painting by the numbers. You need absolutely no skill. You just put this color here and this color there, and when you're done, you have ... a mess no one wants." mp
This is my 12 year old registered TWH mare. She's very stocky but only 15hh. Sire is Generator's Silver Dollar and out of a Pride's Beam mare: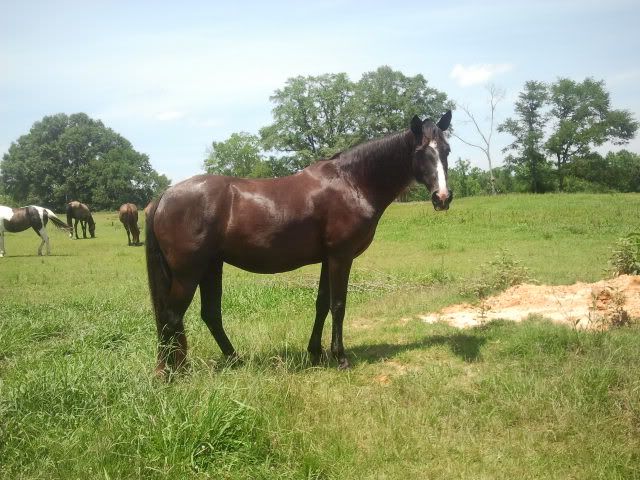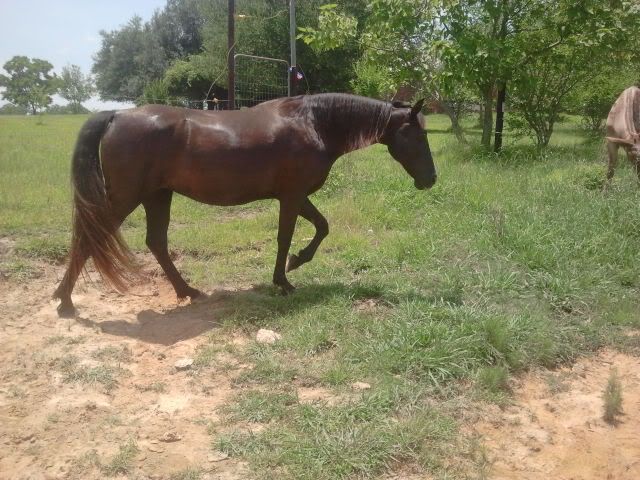 There's many things I blame showing on but the current size of TWH isn't one of them, that's the fault of baby boomers! Boomers are wanting smaller horses to climb up on and they are rather large force in todays market. I've talked to quite a few breeders that say they have a heck of a time selling anything over 15.2 and forget selling ones over 16. So they breed for shorter walkers instead of the monsters.