Yes, that would be why she goes faster. I have the opposite problem. My horses are traditional w/t/c horses and most people around here own gaited horses - TWH or Rocky Mountain - and most of the group rides are geared towards the gaited breeds. I just can't keep up with my boys unless I'm going to totally tire them out at a trot.
---
All I pay my psychiatrist is cost of feed and hay, and he'll listen to me any day!


I ended up with one of each- a w/t/c horse (a Mustang whose walk is very slow) and a gaited horse (a Missouri Fox Trotter who walks very fast), so I could ride comfortably with my friends.
What really annoys me about some gaited horse owners is that they expect you to keep up with them. Why not the other way around? Would it hurt them to slow down once in a while? And then if I DO keep up with them, by trotting to catch up, their horses just get more excited and go faster. Grrr!
But those are complaints about the owners, not the horses. I LOVE gaited horses, as I love horses in general. My Fox Trotter is a lot of fun!
I don't think circling back is all bad. I do that sometimes with my Fox trotter when I am riding with Quarter Horses, and I used to do that all the time when I owned a particular Arabian who always wanted to GO. We were always circling back for people. But I think being on the fast horse and circling back is less work than being on a slow horse and trying to keep up. That is a lot more work in my opinion.
I would say just enjoy your horse, circle back if you need to, and just enjoy her the way she is.
I am. Its not like we have a big riding stable, with pure bred horses that we show. I'm never gonna be some expert rider. We have a farm, with a bunch of misfit discarded horses, that we love to pieces. Their all old, or tempermental or not even able to be ridden, actually most are all three ;). But you know what, who cares? We love them to pieces and all I want is a horse I can love and take trail riding and just have fun with. I guess I really don't care if shes gaited or not :)
That's how I feel too!
You are indeed privileged if you truly have a gaited Morgan.
Here's a link to Jellico Farms gaited Morgans - there are some videos on here that may be of help to you
Jellico Farms Gaited Morgan Horses
Some history on gaited Morgans
Gaited Morgans
PLEASE don't try to get the gait out of her - people have been trying to do that, unsuccessfully for decades. It is her genetic birthright.
Morgans were held in the highest regard by the Old Timers where I come from. The only gaited Morgan I was familiar with was my granddad's Welsh/Morgan mare who did a beautifully smooth singlefoot.
As an adult, when I started looking for a gaited horse in order to keep riding, there weren't any gaited Morgans around, so I bought a Tennessee Walker who is now 23. We are now both "The Old Timers"
Please enjoy your little gaited dollface; when it comes time to train her try to find someone with gaited horse experience to help you so she doesn't lose her birthright
Well, I don't think she's gonna be doing any training, not at her age. She's between 25-30 we've guesstimated. The vets coming out next week to do give check ups on everyone, so we'll know for sure then. I'm happy with her the way she is. Shes got so much zest and fire and I wouldn't change it for the world. Some older horses seem so placid when you ride them that I feel bad for them, like they just wanna stop and eat grass. She truely enjoys being rode, and her little quirks and spunk keep me one my toes... or would it be on my saddle?? She's going to be awesome on the trails this year, I can't wait!

Oh, and she is the softest horse I've ever rode in my life! Lol if thats the right term. You barely brush her neck with the reins and she turns, pull back a little and she stops, keep pulling back a bit and she walks strait backward. Its like she knows what I'm thinking ahead of time! Some sort of training must have gone into her at some point. I really really wish I knew her whole story, but oh well.
walkinthewalk- Would you mind looking at this pic and telling me if she looks like a Morgan to you? It is a bad pic, but the only half decent profile shot I have on my computer. Shes a little chunky right now from being left without riding for so long, and needs to be toned a bit. Plus shes pretty old, but what do you think?
Her head looks big from this angle since its not a true profile, but like I said, its the only pic on my computer. The guy holding her is small by the way, shes not a big horse, but I'm not sure what she measures at exactly.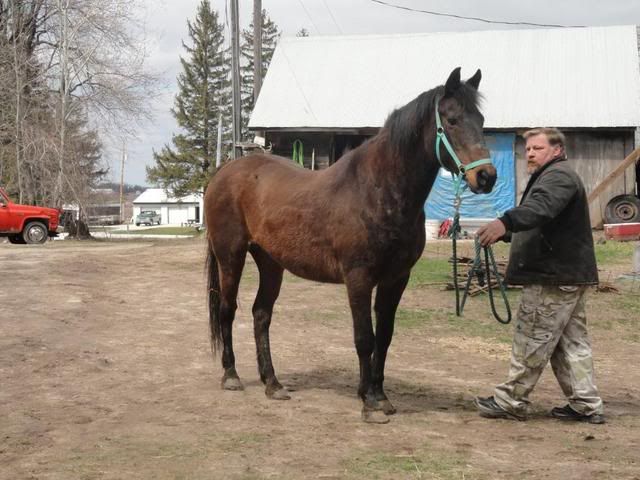 Ah! I didn't realize she is old enough to be broke
It sounds as if she is very well broke and it does not surprise me for her to be so in tune to your thoughts that she is "there" before you cue her.
The TWH in my avatar is like that. We've been buds for over 20 years and he's been that way since the day I brought him home as a coming 3 yr old.
My guess is she is a Lippett Morgan. Here's a couple links of the Lippett Morgans.
This link is to the older Lippetts:
Gallery - Category: Historical Lippitt Photos - Image: Lippitt Alert
Some history on the Lippetts; they speak about preserving the gaited gene.
Ash Royalty Lippitt Morgans
Some photoes of more "modern" Lippetts - there is some difference in the "newer" Lippetts - some of them have a more Arab-type head.
pictures of Lippitt Morgans - Google Search
You really have a true gem in that Gal
Please watch her diet closely - she really shouldn't get much grain, especially sweet feed, as Morgans are at the top of the list for insulin resistance.
She's made it this far but the older she gets and stays on the chunky side, the more at risk she could be. I would not want to see founder in those big gorgeous hooves --- now those are what hooves ought to be on every horse
What a grand gal
Lol thank you! I love her to death, and being my first horse, I think I'm getting spoiled. Her hooves need to be trimmed, the farriers coming out this week to do everybody. I'm not sure what her diet is exactly, the owner of the farm takes care of all that. She was left out in a pasture and hadn't been rode in two YEARS by her former owner. She just needs to get her old butt back into shape. As soon as I get a little bit better at riding I'll post a video of us :) right now we're working on finding a better saddle for her. Being a rescue, unless the horses come in with their own tack, we don't have the money to get them fitted right away. Plus most of the horses can't be rode for various reasons. Since shes my girl now the owner decided just to spend the money and get us a good saddle, I'm so excited! Oh, plus they mentioned that they are going to get her a different bridle, one that doesn't go in the mouth or something? They said she listens so well there's no point in the one she came in with. I'm still learning with all the different types of tack and horse stuff that I'm not exactly sure what they mean lol.
Oh no!!
---
You really don't WANT a gaited Morgan. I'll be happy to take him off your hands!!