why do people stereotype mules so much???
---
i was wondering why people tend to stereotype mules more than any other equine?i mean that yeah they look diffrent and yeah they can be more difficult but there is no sense in people just hating mules and what they do...im wanting to breed my tn walker mare to get a mule outta her and i was wanting to know what is the market like for mules right now and what some of the mules do to get their stereotype.whats the diffrence between a mule and any other equine???and i know their infertile!
Around here mules tend to bring a better price than horses as a matter of fact I plan on eventually getting a mule or raising one myself. My oldest daughter loves mules she likes the way they ride. As far as stereotypes go, that's pretty standard with anything people tend to stereotype anything they either know nothing about, go by what they hear others say or have had a bad experience with at some point. I have seen mules do things I've never seen a horse do like jump up in the back of a pickup truck to go on a hunting trip...that was funny!
---
Courage is being scared to death but saddling up anyway~~John Wayne
There are certain states where mules are really huge.
Actually, if you go to youtube there are some great videos of girls doing show jumping with their mules. And I even see mules Fox Hunting.
They are great all round mounts, and I have been blessed to be involved with them.
Being from British Columbia, Canada - they are rare. My neighbors used to breed them and I priveledged to beable to break and train a few. I even Evented a Mule - he was a huge 17hh Black and White Paint Draft mule named Arnold.
I know what you mean by the stereotype and the ignorance - people can be quite rude where they are involved.
I remember wanting to do a CEF show with my Mule and the Secretary told me that "they smell different and you'll end up upsetting all the other horses, so we will say no to you being able to enter" I agrued the fact and then she said "If you show up on the grounds, we will ask you to leave"
So I contacted the President of CEF in Vancouver and he laughed. He faxed me all the rules of CEF where they stated that Mules are permitted to show amongst horses. He even called the secretary of that show and told her that if they advertise CEF rules then they have to obide by them, and that if they did not allow my mule to show, then they will either close the show down, or they can no longer advertise CEF rules.
So then the next day the secretary called and told me they would be happy to have me show.
We did, and we cleaned house.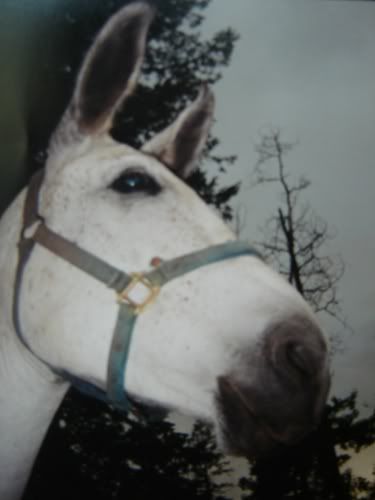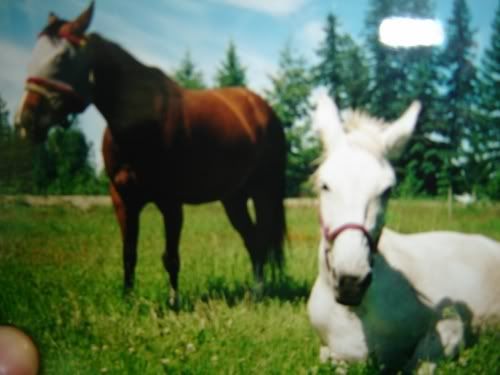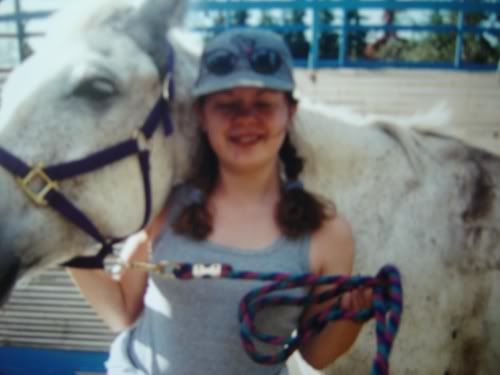 This was Arnold - I was teaching him to ground drive before I started to ride him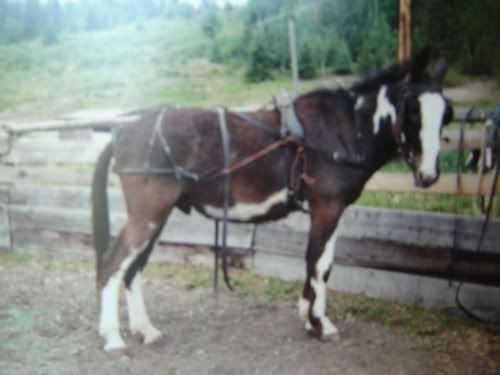 around here people love mules....
---
"Be a best friend, tell the truth, and overuse I love you
Go to work, do your best, don't outsmart your common sense
Never let your prayin knees get lazy
And love like crazy"
omg mieventer!!! the white mule is adorable!!!im looking forward to breeding my mare to get the biggest possible gaited mule.i like really big long legged horses,and gaited too.im just afraid of what they say being true that mules are the hardest to break...my family said that they will kill me before i get a chance to get on 'em.well dow here they are all just judgemental rednecks who sticks to what other people say.was your mule hard to break?ill probably have to break it myself because people down here charge way to much to break a mule.
Mules are very intelligent, and they have very long memories. People say that they are stubborn, but that's not the case - it is that they are smart and can out think you - you have to let them know WHY you are asking, and show them HOW to do it correctly.

If you think your mule is stubborn - it's just that they are smarter.

You have to learn how to make it so that they think it is their idea, not yours.

No, they are not dangerous - only stupid people make it dangerous.

You have to go slow, you have to be precise.

I highly recommend you looking into Meredith Dodgers. She is a famous mule person, who breaks and trains donkeys and mules - she also does hunter/jumpers with her mules and donkey and fox hunts.

She is the one to turn to for advice and knowledge.
We have a friend who breeds and trains mules for pack and trail. He started several years ago with the gaited mules and has done very well with them. I love mules. I don't own one but I would never think that one is in any way less or more than a horse.
---

"Until one has loved an animal, part of one's soul remains unawakened..."
- Anatole France
Mules are amazing, and I have always wanted one. You just need to know more about them, and not treat them like a horse. They think differently, and things that you wouldnt put a thought to make them tick. And, like other people have said, they dont forget, and are not always forgiviing. Patience, patience, patience is the key.
---
Shaneequah, 1998 gaited Bashkir CurlyxArab mare
Treyue, 1999 3-gaited Icelandic gelding
Loki, 2001-2015 Icelandic gelding
we have alot of people who trailride mules here, and we have one lady who runs her racing mule in barrels...i think they are cute!!!! i have a stup jack that we were thinking about breeding to my mare one day...but dont know if i will or not

i am training him to ride though
---
Carrie D Stover
Rowdy by nature....Cowgirl by heart
Similar Threads
Thread
Thread Starter
Forum
Replies
Last Post
BtB on Mules

Sara

Horse Breeds

9

08-27-2008

02:46 AM

Mules

geewillikers

Horse Breeds

10

08-10-2008

04:57 PM

All About Mules!!

mlkarel2010

Horse Breeds

6

04-11-2008

10:48 PM

Mules....

Jr_lover

Horse Breeds

16

01-23-2008

08:56 PM

Mules...

Jr_lover

Horse Breeds

15

04-24-2007

08:51 PM