find me a foal in the snow
---
Keep your feet on the ground when your head's in the clouds.
Never search 'riding double" unless your safe search is on.
---
Help me horse forum! You're my only hope!
I didn't want to serch double riding... if thats understandable :/
I thought this was cool though :)
FMAPO a paint mule
---
What doesn't kill you makes you stronger.
We're not dead yet.
CJ Duchess: You float like a butterfly...

ok FMAPO
a cross country pony jumping



Find me a picture of Santa hat on a paint horse

FMAPO a horse jumping an amazing jump (absurdly huge, intricately designed, beautiful, unusual, or anything else you think makes it most amazing)
Find me a pic of horse in a car.
the "unofficial" world record jump is 8ft, 3 1/2 inches, jumped by Fred (Freddie) Wettach, Jr. riding his horse King's Own. They jumped in front of 25 people with motion picture photographers capturing the occasion. The record was not considered official because it was not made in front of a public gathering.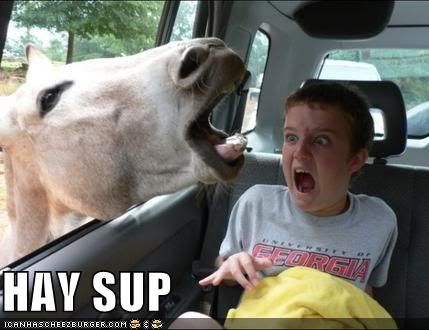 Find me a pic of a baby sloth
---
Help me horse forum! You're my only hope!