Pregnant Or Not
---
There are a ton of threads about whether or not someone's mare is in foal. Since we are always saying we can't tell by pictures...let's just see how many we can guess right. I'll post twelve pictures of twelve mares. Six will be pregnant and past their eighth month, six won't be. If you already know, for some reason, for a fact whether or not the horse posted is pregnant or not you aren't allowed to answer for that particular horse. No googling or image searching (that's cheating, lol). I'll leave this open for a few days and then post the answers.
You can answer in simple number format.
Like:
1. Pregnant
2. Not
and so on....
NUMBER ONE
NUMBER TWO
NUMBER THREE
NUMBER FOUR
NUMBER FIVE
NUMBER SIX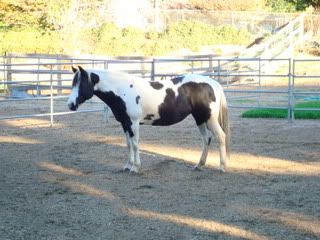 NUMBER SEVEN
NUMBER EIGHT
NUMBER NINE
NUMBER TEN
NUMBER ELEVEN
NUMBER TWELVE
---
100% Anti-Slaughter and PROUD of it!

I'll take a guess!
1. Not pregnant
2. Pregnant
3. Pregnant
4. Not pregnant
5. Pregnant
6. Not pregnant
7. Pregnant
8. Pregnant
9. Not pregnant
10. Pregnant
11. Not pregnant
12. Not Pregnant
Posted via Mobile Device
Eight out of twelve, Not bad.
---
100% Anti-Slaughter and PROUD of it!

Anybody else? If not I'll post the answers.
---
100% Anti-Slaughter and PROUD of it!

Okay here goes, I worked on a huge repro farm, so lets test my knowledge:

1 Not (Belgian)
2 Not (Roan QH eating grass)
3. Pregnant (grey draft)
4. Pregnant (chestnut w/ stripe)
5. Pregnant (sorrel QH 2 hind stockings)
6. Not (Black mare)
7. Pregnant (Haflinger?)
8. Pregnant (Arabian w/ fly mask)
9. Pregnant (Grey draft)
10. Pregnant (Paint)

I only saw 10 pix, not 12
If I got the horses you spoke of right you got one out of twelve.
---
100% Anti-Slaughter and PROUD of it!

Hahah, wow. Those are tricky then. Some I could not tell if they were old broodmares or not...can you post the answers w. description of horse since I can only see 10 pictures? The numbers were messed up as well...so some I could not tell which number was which..
First mare is a Belgian. She's at Frog Pond Draft Rescue currently is due in October. She was pasture bred to a Friesian stallion and then sent to Camelot horse auction.


Second mare is a Bashkir Curly. Sorrel, eating grass. She was at a breeders that I worked with and had a foal soon after this picture was taken.

Third mare delivered her foal at a rescue. I don't know much info for her but they are on my facebook page. I believe under this pic it said she was around the beginning of her tenth month or so.


Gray Percheron mare was confirmed not in foal and is currently waiting a home at Frog Pond.


Sorrel Grade mare with the strip is one of mine. She just has a hay belly. We thought she might be pregnant but after talking with her previous owner found that she's just an easy keeper.


Paint mare is pregnant. She was on another forum.


Sorrel with the two back socks is pregnant. She was on a website for pregnant mares.


Number eight, black mare, was pregnant. She delivered a few months after the pic was taken at a rescue.


Haflinger mare was not pregnant.


Gray Arabian mare with the fly mask on was not pregnant. I adopted her from someone to find out she was blind. She was palpated twice and both times was told she wasn't pregnant. She found a nice home in the Carolinas.


Gray Perch mare was not in foal.


Paint mare was not in foal. She's still awaiting a home at Frog Pond.
---
100% Anti-Slaughter and PROUD of it!