Quote:
haha yes Beautiful British Columbia! Where there's rain, clouds, rain, and sometimes a big yellow ball pops up in the sky but we aren't totally sure what it is, it's quite uncommon in our area. Oh yeah did I mention rain?? lol I grew up there so I don't really appreciate it as much as others do.
I was born in Kamloops and then we moved to Saskatchewan before I picked up and left home on my adventures to Ireland at 19. I love BC, someday I'm going to move back, we visit everytime we make it to Canada as I still have my uncles and aunts there. One of my Uncles lives next to a lake in the Shuswap area... love love love it there
DOn't worry - I don't know what the sun looks like either, during the year we just change our clothes from our light rain jacket and wellies to a heavy rainjacket and extra socks in our wellies
susan crumrine love the original markings :) he looks so lovable :)
heres 8 years old loepord appy Chase <3
IMGP8166.jpg
---
Our Hoofbeats were many, but are Hearts beat as One.
Maple- sounds like quite the adventure! I know a lot of people in Saskatchewan :) and Ireland sounds fun!

Frankiee- aww very cute!! Love the curious eyes like "hey, what'cha doing? Can I do it with you?"

Check my barn for a picture, or my avatar :)
---
Last edited by Cheyennes mom; 01-28-2012 at

08:34 PM

.
Cheys cute :3
Tess, dressage pony
---
Cross Country- The act of hurling yourself and your equine partner at a stationary object with poise and grace while attempting to survive...

I'm a sucker for bays and pintos...combine the two and I'm in heaven. Heaven, in this case, equates to Tess.
This is Aires, my coming-3yo Percheron/paint cross gelding: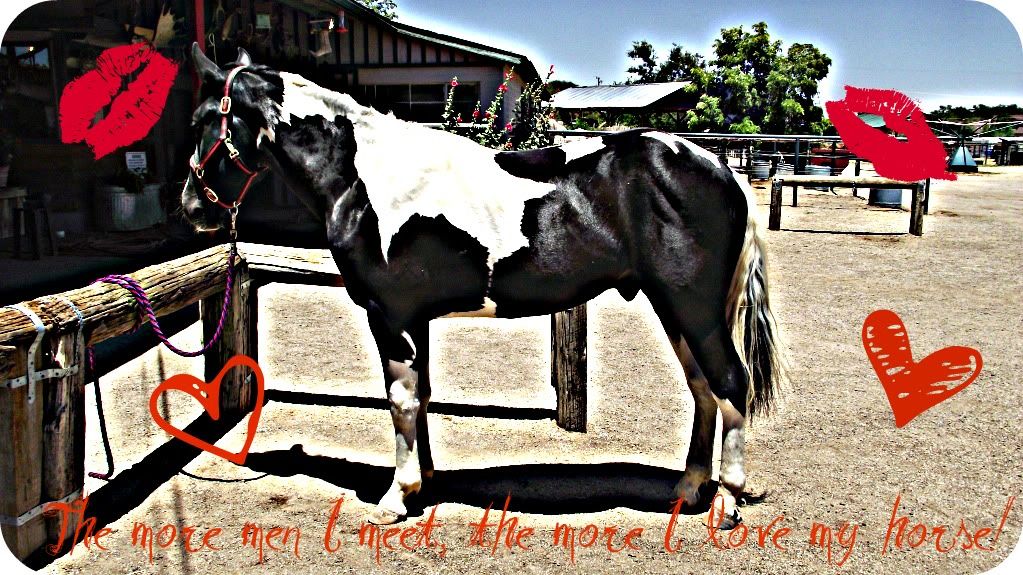 ---
Do not tell me I can't...because I will
show
you that I can.
I love his markings and I loooveee paints!
Here's my boy Jasper
He's beautiful!
---
I love the dark points on his nose and how his forehead is slightly less "pure" as the rest of his face. It looks good on him :P He seems like a sweetie with a gorgeous coat!

My monster:
---
"Strength is the ability to use a muscle without tension"

Adorable! He has always been a favorite horse of mine amongst the forums. I love his coloring!

This is Rusty
---
E v e r y horse is good for something. You dont throw a whole life away just cause he's banged up a little...
Green Broke
Join Date: Oct 2009
Location: Outside of Oklahoma City
Posts: 2,653
• Horses:
6
LOOOVE bays!:)

My 21 year old QH, Rosie:)
---
Be wary of the horse with a sense of humour. - Pam Brown