$500?!?!?!?!
---
So I don't know if any of you recall, but my car got broken into. I've been calling around today to get some quotes on how much it will cost to replace the little tiny window that got busted... and every place I have called have quoted me between $500-$600.
This is not a picture of my car, but it illustrates which window was broken, highlighted by the red box: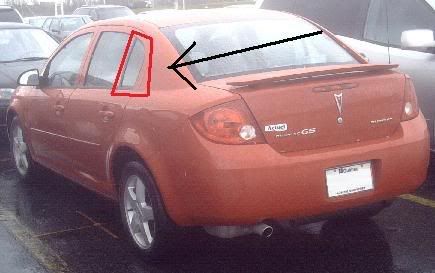 YES, $500 FOR THAT STUPID LITTLE WINDOW! It would have been cheaper for them to break the windshield!! GAH!!!
---
The lovely images above provided by CVLC Photography cvlphotography.com
OH...No! :( You could call around to a couple salvage yards. I know the local ones here will install a used piece of glass for about 1/2 the price of a new one. Good Luck!
can you find one in a salvage yard and have some one put it in?, trust me it's a lot cheaper that way.......buy doing that i have a BRAND NEW 1990 chevy silverado pick up truck
Oh... Bad luck! I know that fixing a car can be very expensive - even the damage were small.
---
"On hyviä vuosia, kauniita muistoja, mutta kuitenkaan, en saata unohtaa,
Että koskaan en ole yksin, varjo seuraa onneain.
Vaikka myrsky hetkeksi tyyntyykin, varjo seuraa onneain.
Ja pian taas uusin hönkäyksin, varjo seuraa onneain.
Hei tuu mun luo, pieneksi hetkeksi. Puhutaan, varjoni, valkoiseksi enkeliksi."
Pelle Miljoona - Varjo seuraa onneain

The local bodyshop I usually use for buying tires and getting tires changed said they could do it for $350.
Stupid insurance is taking forever to come through though....
Of all the windows the vandals could have broken, that was the most expensive.
My dad's in this huge battle now because he complained to Crystal Glass (who quoted me $609 for the job) for scamming me. The representative said something along the lines of "we don't set the prices, the insurance companies do" - um, no. If they did, all bodyshops would have the same price for the work.. or at least slightly similar.
Anyways, most places figure that if they charge over $500, people will go through insurance and won't care how much they spend over the $200-500 deductable.... WRONG!!
So a word of the wise, ALWAYS ALWAYS ALWAYS call around to at least 5 places to get a proper quote.
---
The lovely images above provided by CVLC Photography cvlphotography.com
Aw that sucks...wow, so expensive for such small damage!
I hope the local bodyshop can fix it for you.
---
Ride more, worry less.
That just proves the stupidity of thieves. That little window was probably twice as hard to break out than if they had broken a side window, plus made it easier to get in the car. Glad you got a better price on the replacement.
---

"Until one has loved an animal, part of one's soul remains unawakened..."
- Anatole France
I cant believe that little damaga is going to cost between $500-600 dollars! I would not be happy..stupid people that broke into it
---
3 barrels , 2 hearts & 1 passion
grr.... insurance people.....don't even get me started....... my car insurance agent got fired for breaking the rules somehow, like fraud or something.... and then stupid adjusters w/ tornadoes.... i've had enough!!