View Poll Results

: Do you think this will reach a million replys?

Yeah, it will.
372
49.60%
Nah, of course not!
105
14.00%
273
36.40%
Voters: 750. You may not vote on this poll
ahhhhh yay for babies!! So you can ride while pregnant? sorry, it's a naive question, but everyone I know who has gotten pregnant, doesnt. I was hoping that I could when I reach that point in my life. If it's ok, how far into your term do you ride? sorry being nosey! This has always been a thought of mine anywho.

ps
a friend of mine is 17 weeks pregnant and when she came to visit thunder, he would NOT leave her belly alone! it was the cutest thing ever... it's like he was saying "BABY??? BABY??? ARE YOU IN THERE" LOL He just kept rubbing his nose on her tummy :)
p.s.s

ya for making it page 9!!

geez lol
Quote:
Originally Posted by free_sprtd
ahhhhh yay for babies!! So you can ride while pregnant? sorry, it's a naive question, but everyone I know who has gotten pregnant, doesnt. I was hoping that I could when I reach that point in my life. If it's ok, how far into your term do you ride? sorry being nosey! This has always been a thought of mine anywho.

ps
a friend of mine is 17 weeks pregnant and when she came to visit thunder, he would NOT leave her belly alone! it was the cutest thing ever... it's like he was saying "BABY??? BABY??? ARE YOU IN THERE" LOL He just kept rubbing his nose on her tummy :)
I won world title's at 32 weeks pregnant in 2002. You couldnt tell that i was evan preggers yet!!! The day the world show finishd - my belly exploded...... i kept sayin "God please just let me get through Fort Worth and then i will stop riding"...... it was like he was reminding me of my promise because i couldn't have ridden if i wanted to after that cause i was too fat
:P
---
On the eigth day God created the Quarter Horse..... on the ninth day, he painted the best ones........
oh goodness!!! what a story! that's amazing hehe
so i was just watching dirty jobs, and they were working at a zoo and were feeding the lions and tigers horse meat! i know they need to eat it and such, but i wonder where they get it!? i mean , do they have horse farms or something just for the zoo or does it come from the slaughter house? ugh i dont know, it just seems more weird to me than cow or something...sorry ugh...'quivers'


anyways.........................many apologies for the harshness
HAHAHA
Best story ever. ......well at least I think so.
One of my friends I used to show with was just starting out her 2006 show year with a horse show in Monterey Virginia. I was going with her, and we were both going to qualify for the 4-H state show.
The directions we had gotten from the show staff turned out to be the most heinous, dangerous combination of slim mountain roads plagued by switchbacks, steep grades, and cliff shoulders one could possibly imagine. Of course, we had to bring the
steel, four horse
straight-load
,
living quarters
gooseneck hitched to a '93 Ford F-350. As you can imagine, it was one of those "tell-me-when-it's-over" "JESUS CHRIST! Watch-out-for-that-cliff" journeys you always seem to go on with a foal, I repeat, a foal in the trailer. Yeaa........ :roll:
It was the girl's newborn (as of April. It was July when we went to the show) palomino qh colt. The mother was a speed horse specializing in pole-bending and barrels.
The truck actually broke down once, and on every downhill grade we took, the brakes spewed the thickest cloud of smoke, it was a miracle we could actually see where we were going. Looking through the windshield as we rounded each switchback, you could see the ground disappear in front of the truck and give way to open sky. The cliffs worried me the most. It really did seem as if we were going to go over a few of them. Just remember the trailer we're hauling...
Well, we did make it (as you guessed since I'm writing this) to the show, barely on time. The show staff were initially quite short with us for our late arrival, but the girls father, the blessed man doing all the driving, gave them a piece of his mind. After that they were more than accommodating.
Well, my events went by early on (champion western pleasure, and **** straight after that little jaunt through the mountains
) and soon it was time for the speed events. The girl was all saddled up on the mare, and I was left with the baby. It literally dragged me around the show grounds until we got close enough to its mom. He stood next to her as we waited for the girl's number to come up, and when it did, he dragged me ringside and tried to get inside to his mother. The spectators were giving us "ooh's" and "awwww's" and little kids had made a ring of worship around the foal. It eventually settled in next to the rail to watch it's mother compete.
Well, I was standing there with it's lead in my hand, fending off the kids, and not really paying too much attention to what it was doing. As soon as the girl and her mare made the first turn around the barrel, the foal let out a deafening whinnie for such a little guy. Right then, the barrel pattern turned into a rodeo. The mother went into a bucking hopping combination that would easily unseat the best rider. The girl went sailing over her head and landed right next to the barrel. I'd be lying if I said I didn't laugh at her some. Actually I did a lot of laughing. Next thing you know, the mare is right next to the fence, nosing her foal, and the announcer is trying to announce the "disqualification" through fits of giggles. Well the girl gets up and comes stomping over and takes the mare and foal back to the trailer. For all her effort, they awarded her a free lunch from the lunch counter.
That mare never competed successfully again, but she did make a very good mother.
For the journey back, we took a more tame route, if longer. All the horses got back safely. Miraculously, there was nothing worse than a few minor scratches on their pasterns. It actually took me about 3 months to get my horse back to the level of trailering comfort he had displayed prior to the Monterey show.
Trained
Join Date: Sep 2007
Location: Hatton Vale, QLD, Australia
Posts: 5,227
• Horses:
7
jarred loves his food. he gets right in there...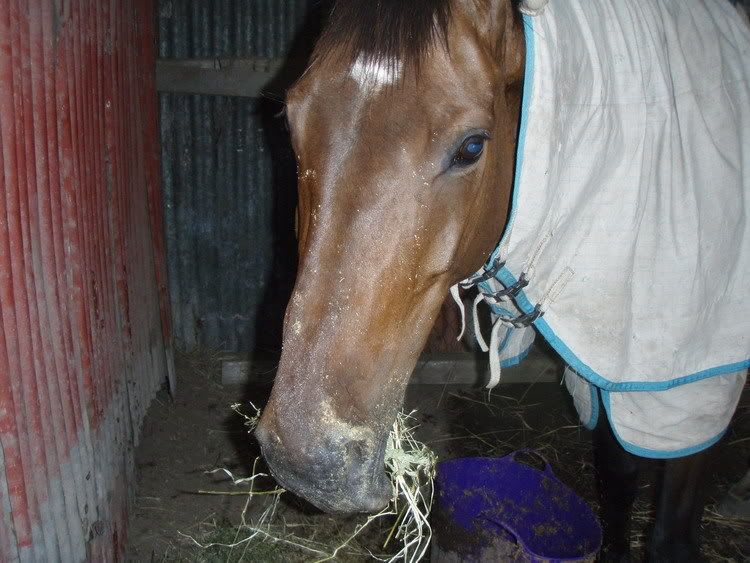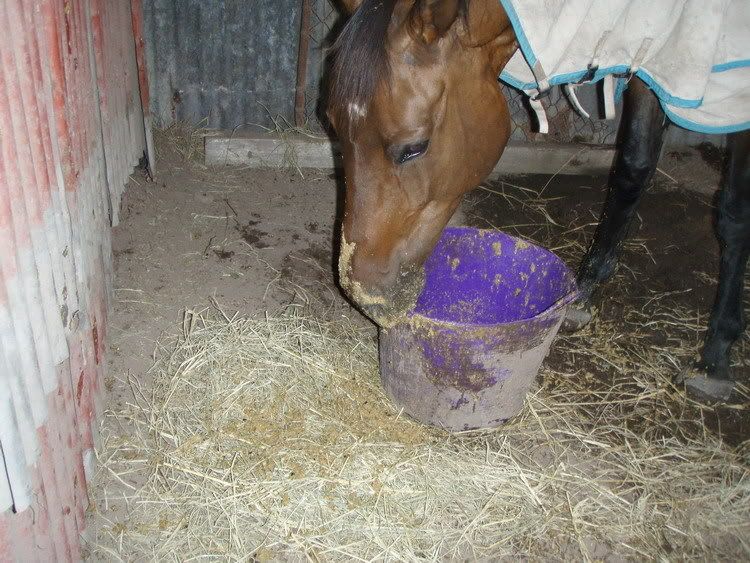 i think theres more food on his face than in the bowl
just some more randomness :)
tim, thats the greatest story
well done.
---

"Until one has loved an animal, part of one's soul remains unawakened..."
- Anatole France
Jazzy, That photo of Jarred is too funny
It reminds me of the one in horse photos of the Clydy with the paprika on its face.
...this thread may make it to 1mil yet :)
---

"Until one has loved an animal, part of one's soul remains unawakened..."
- Anatole France
Jarred is too cute!!! :P
Lil pig, hehehe!