BCI Cage!
---
Besides a nicer hide, water bowl, and maybe a basking light later on (it has undertank heating now), this is my /finally/ finished Boa constrictor cage, that I spent quite a bit making. It's 4x3x2 I believe, with 1/4'' plexiglass. Hope it's not ginormous.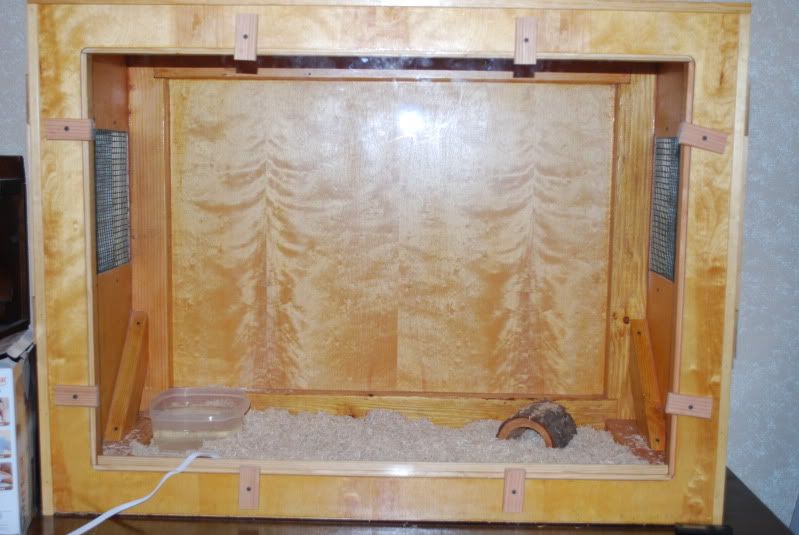 Good job, that looks very steady.
---
"On hyviä vuosia, kauniita muistoja, mutta kuitenkaan, en saata unohtaa,
Että koskaan en ole yksin, varjo seuraa onneain.
Vaikka myrsky hetkeksi tyyntyykin, varjo seuraa onneain.
Ja pian taas uusin hönkäyksin, varjo seuraa onneain.
Hei tuu mun luo, pieneksi hetkeksi. Puhutaan, varjoni, valkoiseksi enkeliksi."
Pelle Miljoona - Varjo seuraa onneain

Thanks! I hope it is--and if I get something that's larger than the boa constrictor I may be able to use it too.
Looks like he likes it! :)
---
Amber.
Opportunity is missed by most people because it is dressed in overalls and looks like work. ~Thomas Edison
He was climbing all around it earlier and all the way up looking at the screens. ^^