BLACK LAB GONE BAD!!!
---
ok i have learn't my lesson!!! never get a puppy before having a baby!!! i've been having potty training issues with shodow so he is out side all the time with our other dog blue, it was really stormy a few nights ago and didn't want them to sleep under the truck so i brought them in a did dishes and went to bed.............when the dog's are invited in i have them locked in the kitchen with a baby gate...........20 mins in to a deep sleep i hear a large crash and then a thump.....crunch...crunch...crunch....switched on the light to find this!!!!
the evedance was right there!!! my garbage thief!!!
LMAO!!!!!!!
Let me introduce you to Tanner. 3yo Yellow Lab. Garbage radier extrodinair!!!!!!!
Tanner is an inside dog but he sleeps in a kennel/crate at night. He is kind and gentle. Supremely trustworthy. He won't pester the chickens. He fully respects the cat and horses. He will NOT have accidents in the house but the minute we are asleep and he is left out he will get into the trash. EVERYTIME!
Must be a lab thing!
LMAOOO that's too funny...wow, he sure looks like he's saying 'umm, yah. what ya lookin @ me for?' haha. My dog isn't like that (he's not a puppy either lol), but he will try to be mischevious sometimes.
For example, he LOVES finding paper towels or something on the floor (like if they dropped from the kitchen table) & tries to eat them. Hahaha he doesn't get too far, after we tell him 'Release!' he throws it right out of his mouth.
---
Ride more, worry less.
I'm not sure it's a lab thing than just a DOG thing! hehe! My Rottie will get into ANYthing with food if it's left out... if I pack my lunch away and take too long in the bathroom, there she is pulling my pack apart trying to get the food.
Oh well... she's cute so we keep her ;)
---
The lovely images above provided by CVLC Photography cvlphotography.com
My parent's lab Dixie LOVES getting into the garbage, as long as there's nothing over the top of it. She will get candy wrappers, tissues, paper plates. You name it, she takes it out.
Toby, our shep mix will knock over any garbage can. And he doesn't eat any of it or anything, he'll just make a nice buffet for Dixie to chose from. :roll:
We've now had to either lock Toby in the bathroom (even though he has destroyed the bathroom before) or put the garbage cans in the bathroom.
grr! i can't seem to upload photos!
HAHA My black lab will RIP EVERYTHING TO SHREDS! Garbage is her favourite thing to snack on though!
Very cute pictures KT! What an adorable little pup!
Here is Haily our dearest garbage ripping black lab!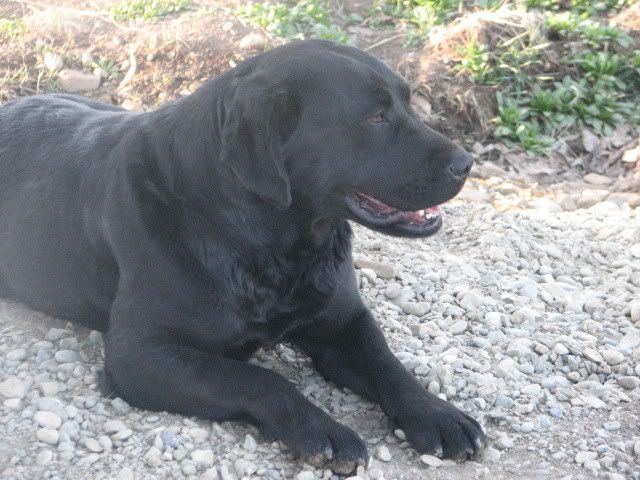 JDI, you have a Rottie too?!!!
Awesome.
She is so cute, I will get some piccies of our guy.
---
Ride more, worry less.
AWw what cute pics!!!
---
3 barrels , 2 hearts & 1 passion
Love the second photo from the top, You've got a gorgeous dog!
lol labs
---
lol labs are the greedist of all the dogs out there. I was watching "its me or the dog" on animal planet and they were having problems with labs getting into the trash and stealing food. Why else do you think labs have the biggest tendency to become over weight (not wanting to offend anyone) but its because their really greedy and will eat anything they can get their hands on, thats why people need to watch labs closer than another dog I believe, although there are a few other breeds that are prone to becoming over weight at times also, beagles also, but labs are of bigger size than beagles.