I have been very confused about age. I read they live for 8 - 10 years. Then I heard they can live for twenty years. Then 30 - 40. Wow
---
WHATS REALITY?
Foal
Join Date: Jun 2008
Location: Brisbane, Queensland, Australia
Posts: 94
• Horses: 0
Wow, I thought Chinchillas were kitty kats.

News to my they come in rodent form, lol.
This thread has totally blown me away!
I didn't even know rabbit jumping and agility existed! That's pretty cool! I know that when my sister and I were younger we would have totally been into that. We had rabbits for years! Pets only...despite what my dad wanted!
I think chinchillas are really really really cute! I would love to be able to pet them all day long... but they are alot of work! I knew some folks that raised them. They eventually got burned out because of all the special requirements that they needed. It was just fun to go there and rub them all! hee hee
Thanks for all the info guys! I think this falls into the " you learn something every day" catagory!
WOW, that jumping video is totally amazing! I had no idea
you could seriously train rabbits to do that sort of thing! O_O
---
It's been awhile, but I'm back & back in the saddle!
Quote:
Originally Posted by TrialRider
Chinchillas live for 30-40 years when I heard that I decided not to get one as a pet for my kids. They are very cute but a little too much work for a 6 year old. So I'm getting him a Cavey instead on his 6th Birthday.
Actually, that is incorrect. Chinchilas can live in captivity for 15-25 years. Maybe even more. I have read one chinchilla from a chin rancher lived to be 23(I think, so do not quote me on that one).
BluMagic, I can get pics of my girls on here a little later :). I didn't mean to scare you, I just want to make sure you know what you're getting into. I can give you information on basic care of the chinchilla if you'd like. Do you have any questions?
Here is a forum that is ABSOLUELY amazing and a place where I learned most of the things I know from. I suggest you sign up and research research research! :)
www.chins-n-quills.com
Cassilyn
A woman who brought a bunch of different animals to my daughters B-day to show the children and to educated them on the animals told me that. But maybe I remembered incorrectly I looked it up on wiki and you are right about the age. Sorry about the confusion, still a long life though.
http://en.wikipedia.org/wiki/Chinchilla
---
Jamie
Cassilynne,
I have been looking into getting a rescue Chin from AZchins. What do you think?
www.azchins.com
---
WHATS REALITY?
TrialRider, no worries! I just want to make sure people aren't getting the wrong information about chinchillas. Yup, still a long life! I definitely love that about them :).


BluMagic, let me just do a little bit of research on them and I'll get back to ya.
Okay, I looked over the website and checked if she was a member of Chins N Quills for a reputation example, but she's not.
She looks okay from the website, I have no experience with her though. I see she feeds Mazuri, I have fed it before and it was okay but after I found out it can give loose stools, I switched. I would recommend switching feeds if you decide to get a chinchilla from her. Oxbow Chinchilla Delux, Pen Pals, Tradition, Purina Advanced Nutrition Rabbit(Show Formula), and Manna Pro Sho are good feeds to look into. I have my girls on Advanced Nutrition right now and after much research on the feeds, I like the fiber and protein content in Oxbow more. Chinchillas have to have a high fiber and low protein diet, so I am very pleased with the contents of the Oxbow. But other than that, whichever of those feeds you can get locally or whichever you choose is fine.
This is Willow, a seven month old Brown Velvet. She has grown alot since these pictures.
This is Willow's cage. I built it with my father (I have much more toys in there for her now!)
This is Hazelnut, she is a 6 year old Hetero Beige that I rescued.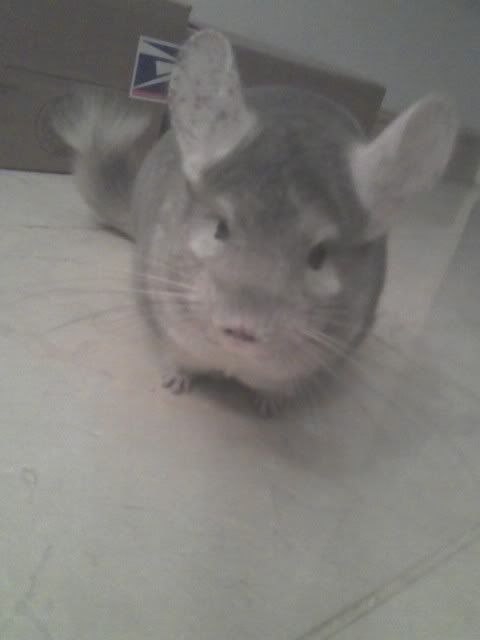 And this is Hazelnut's cage that my father and I remodified with wooden shelves.
I however do not have any pictures of Pecan. She is a recent rescue of mine that I am nursing back to health at this momet. She came to me, skin and bones, chewed fur ( I am assuming from stress, bordom, or genetics) but she has now but on a healthy ammount of weight, and has stopped fur chewing since being in my care.
I hope you enjoy the pictures!