Chore Boy
---
Just thought that I would post some pictures of my son! He's so darn cute! And I'm stuck in the house cause I'm sick! So instead of sitting here being terribly bored here is pictures of my boy!
These were all taken 3 days ago when he was helping me feed the horses!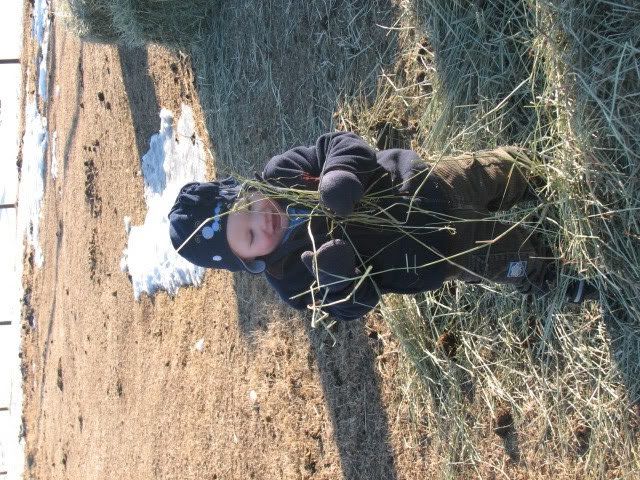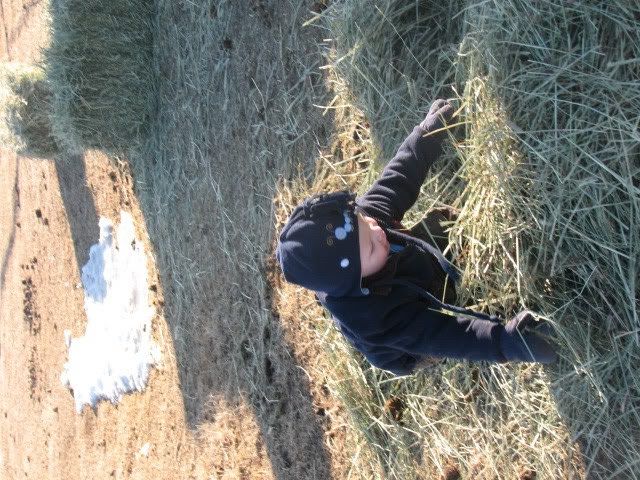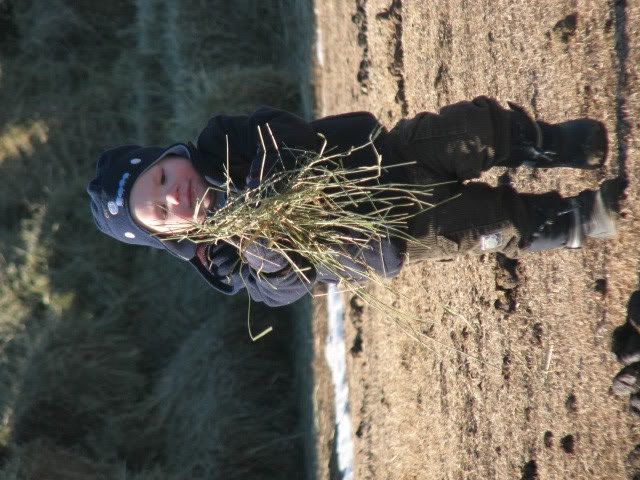 And one of my Husband, son and horse!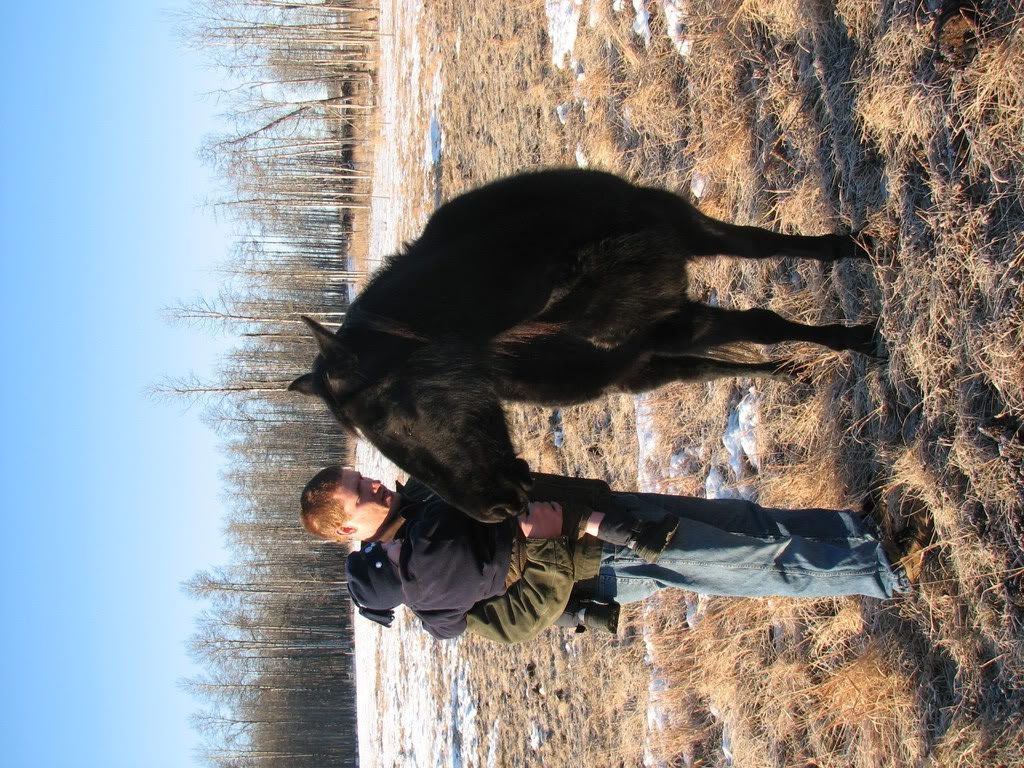 Here are some more of him doing his favorite past time...eating!!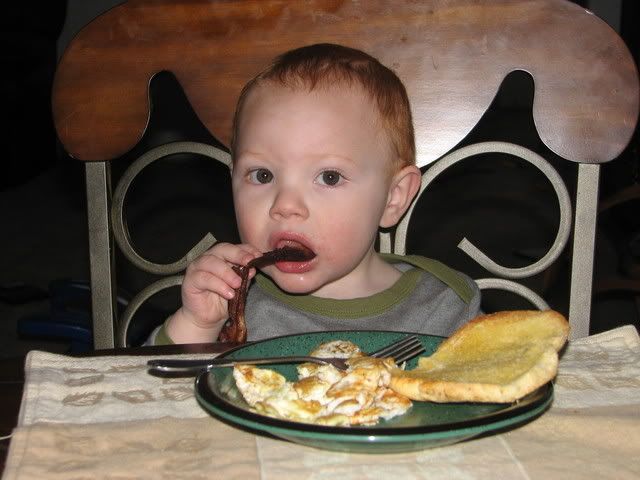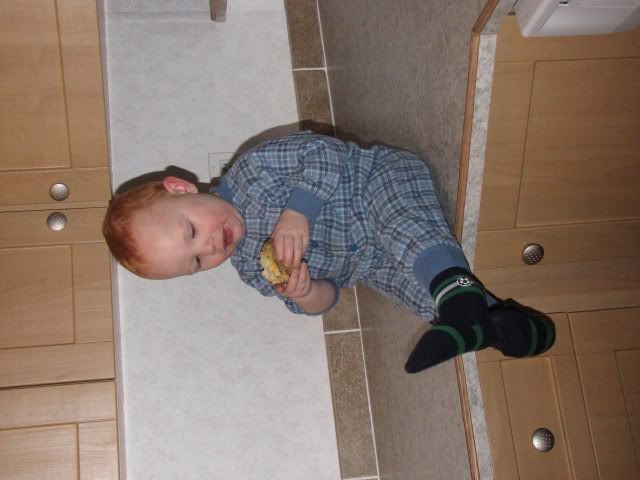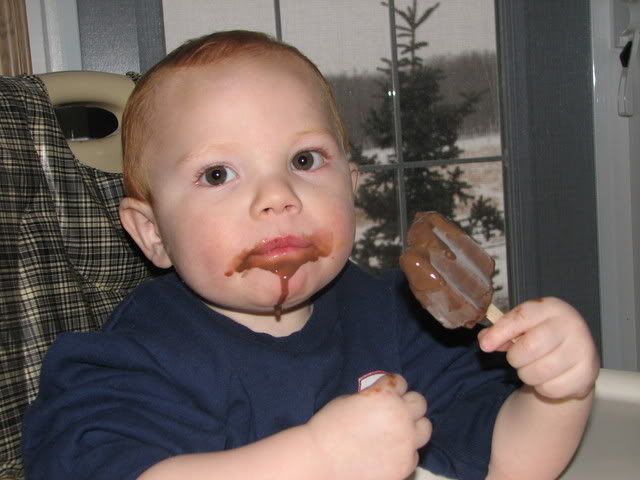 oh man what a sweetie!! very cute little helper :)
he is just adorable! I love the picture of him with a bunch of hay in his hands. That's just too cute. And then the picture of him with the chocolate on his face. You are blessed with such an adorable boy.
He's such a cute little man! I think its great when you can raise kids out in the country. I was a farm kid and I think I turned out ok
Hope you are feeling better soon.
Thanks for the kind words guys!

Vidaloco-I probably would not have had kids if I could not raise them in the country. I was raised on a farm too and it sure taught me alot that I might not have learned had a grown in the city.
The city is a scary place I would hate to try and raise a kid there with all the trouble that goes on there! Besides that I want my kids to know that they have responsibilites and I think it is easier for them to learn that on a farm. Where they have chores and they have to keep themselves entertained.

The sad thing is...the city wasn't that bad (not that long ago) and now I'm scared to even drive thru the larger cities here!
Those pictures are priceless! I can't wait to have one of my own... haha all in due time...
Adorable!!

I live in downtown Calgary, and I just wish I had grown up on a farm... but alas I grew up with non-horsey parents and brother :P
---
The lovely images above provided by CVLC Photography cvlphotography.com
Quote:
Originally Posted by JustDressageIt
I grew up with non-horsey parents and brother :P
Yea, same. Except I don't think I would have taken to the farm life. I love horses but I don't think I'd be occupied enough in the country.
Oh and Fehr, will you make me breakfast sometime, thats looks
so
good.
Aww Thanks Tim! We have bacon and eggs every morning. I hate them now...lol. But my husband and kid depend on it everyday, so there I am slaving over the stove at 6:00 every mornin...lol.

And don't get me wrong, we lived in the city for 3 years during my "Bad teens" and it was so nice to have somthing to do. But I was glad to get back out to the farm..lol.

JDI-You are close enough if you ever decided you wanna babysit..lol!