Creative, Healthy Sack Lunches for the Kiddos?
---
Help.
My kid is starting to show her little independence when it comes to food.
Normally I fix:
Wraps with shredded carrots, cabbage, cheese, and low sodium turkey.
Boiled eggs with crackers.
Homemade soups. (She really loves these)
PB&J (Which she now wants EVERYDAY)
Edamame and Ham
Mini tacos with homemade salsa and chips.
Homemade hummus and crackers, with cheese sticks
Whole wheat/grain sandwiches with meat and or cheese
I always pack in fresh cut fruit, carrots & broccli, all natural no sugar added organic yogurt, and water/juice.
School isn't helping either... She sees the kids with twinkies, lunchables, sodas, cupcakes, doritos (her fave, I add them sometimes), candy bars, just a bunch of junk that we only eat ONCE in a while.
I have to pack extra because her girlfriends are always snagging her fruit, asking to share her yogurt, and even the teachers have some of her edamame and hummus. (small school, her class has 6 kids) I don't mind, at least those kids are getting a little something healthy! I do let her eat lunch at school every friday, it's either pizza or hamburger and fries. Of course those are her fave's!
Got any healthy ideas? She's OVER mine.
---
You can get a lot further with a ladder than you can with crutches!!
What do you mean what do I mean?
Also, do you have any neat ideas for snacks? Here are a couple I've done, mostly healthy. I try and make healthy fun, normally I'm up against boxes of fruit snacks and doughnuts.
I told all the kids we were going to set a watermelon on fire when they asked me what I was bringing that week! Got in trouble with the moms and teachers, LOL! I put long sparking candles in it!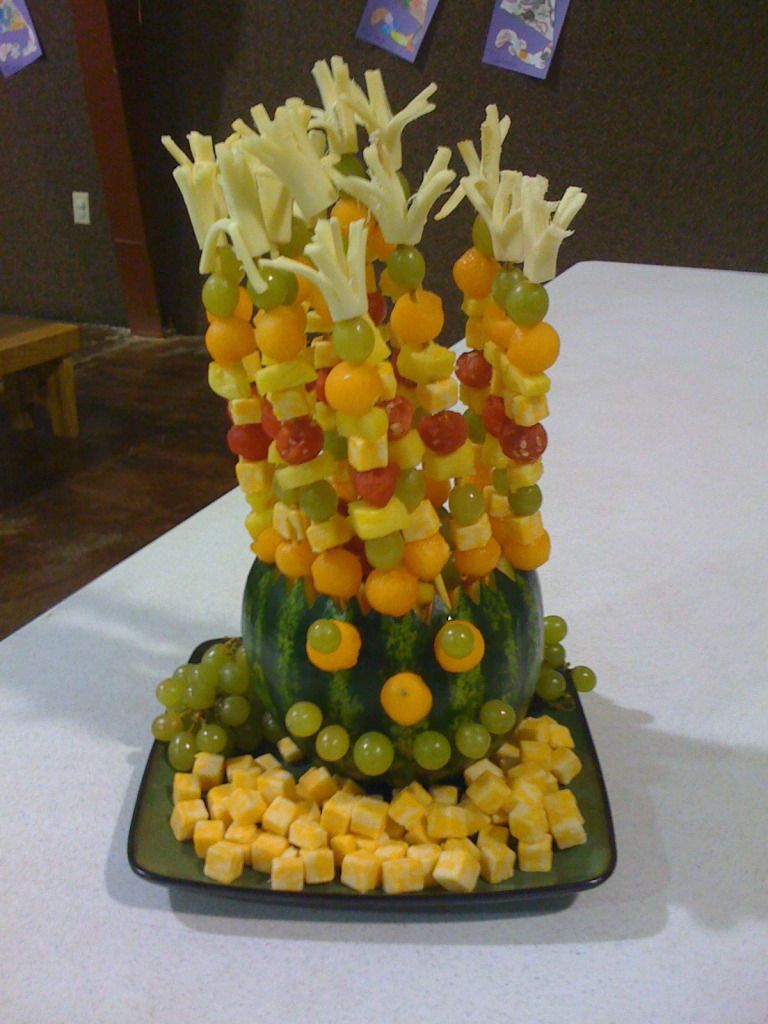 Fall Tree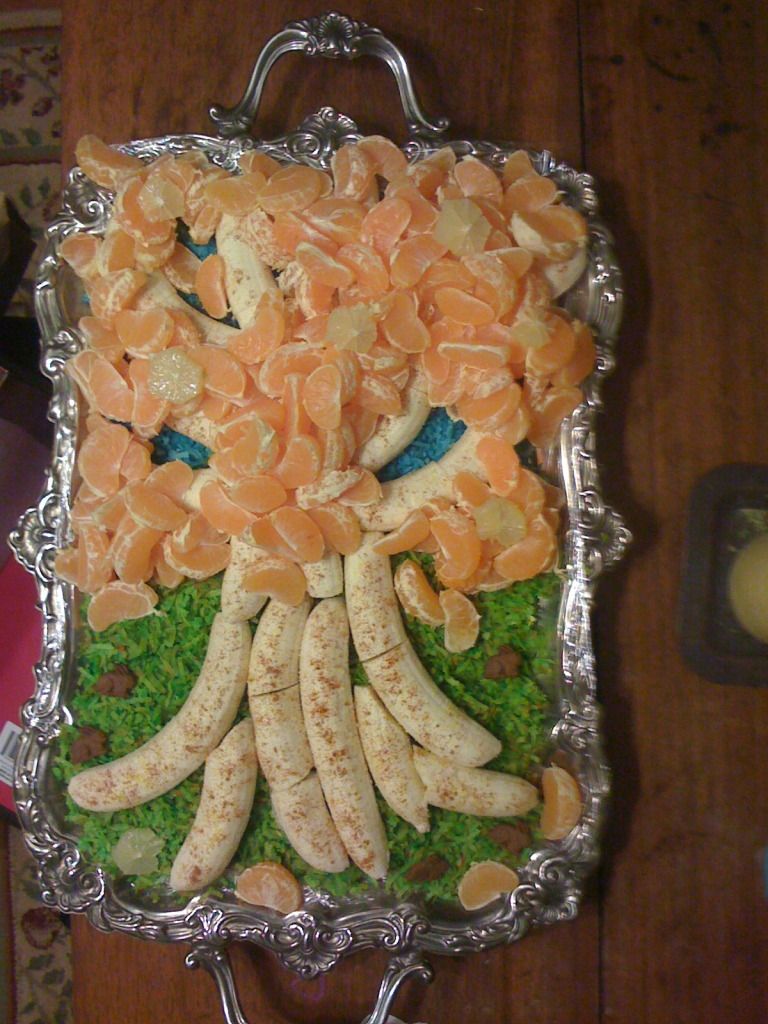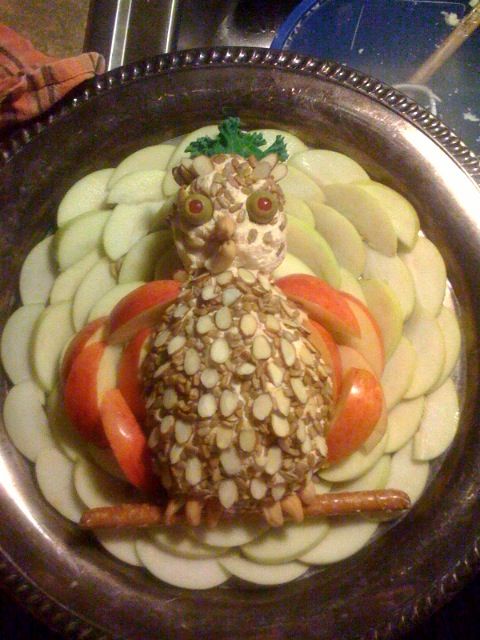 Cemetery Sandwiches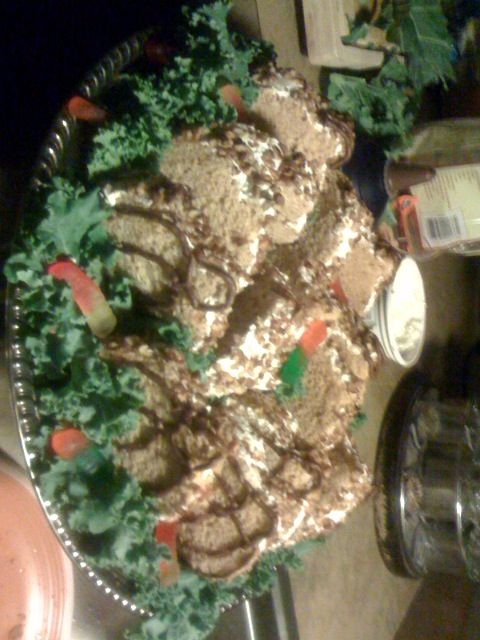 BUG CAKES!! See, I'm not too strict!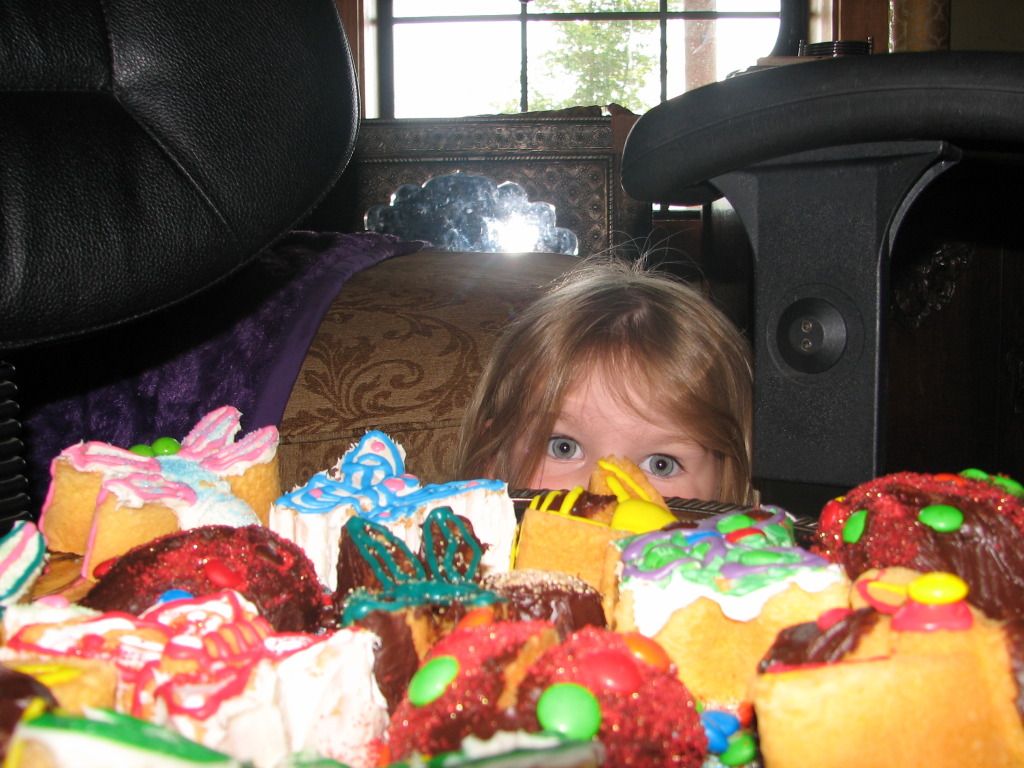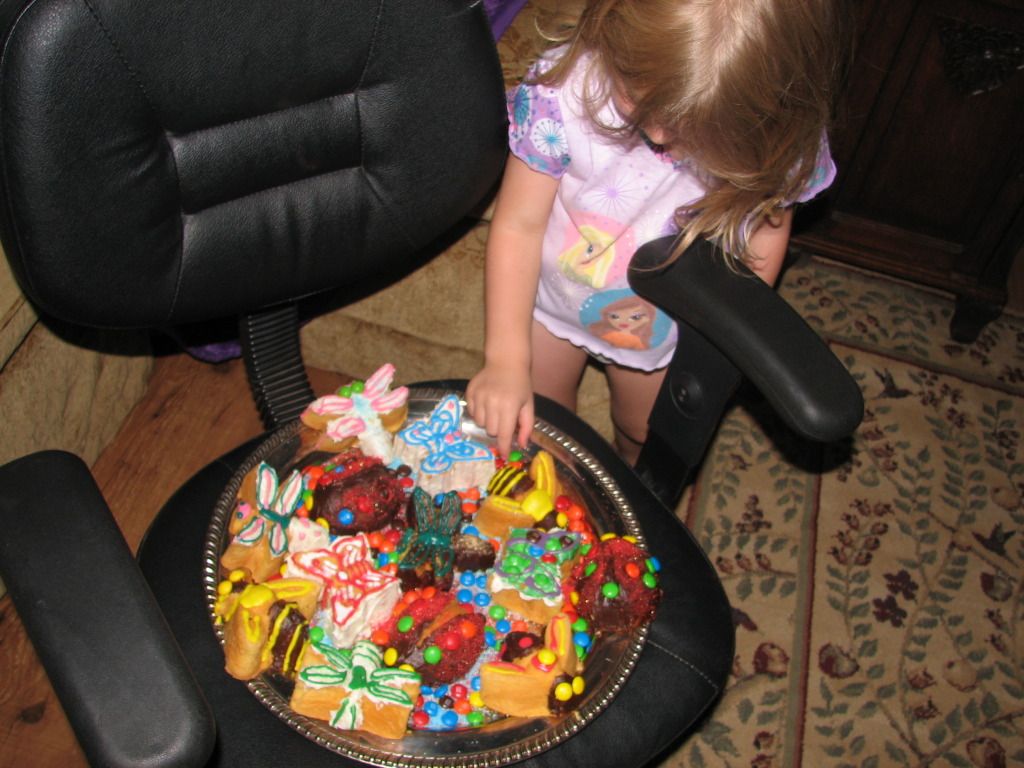 ---
You can get a lot further with a ladder than you can with crutches!!
What do you mean what do I mean?
Wow. Well, it is hard to add anything when you set the bar so high..those are some really impressive snacks!
---
There is just as much horse sense as ever, but the horses have most of it.
you could try smoothies or apple pieces and peanut butter or banana and peanut butter sandwiches, or banana in a plastic baggy with some cereal (depends on what you like that will make that tasty) um... im not sure how healthy it is but strawberries cut up into small peices sprinkled with sugar (they can make your fingers sticky but so yummy)

hope that helped a bit :/ i have more just cant think of any

ps those are some awesome food designs
Oh, I can't believe I couldn't think of our daily "main-stay", I guess it was all those amazing pictures! Banana smoothie! 2 Bananas and a 2 cups of ice w one packet of sweet'nlow set at "icecrush" speed - it makes two good sized servings. Sometimes I add an orange, sometimes strawberries. At least teenagers love them. :)
---
There is just as much horse sense as ever, but the horses have most of it.
Flygap if you put those trays together good job.
If you lived closer I could get you some work catering. No lie.
Shalom
Oh Jeeze...
that's it! I just plain give up... I'm a bad mom.
Ideas... yeah... umm....
My mind went totally blank at the awesome list and pics. Yep, blank... can you hear the crickets?
Course, with my child's weird allergy list I doubt I could have suggested anything remotely interesting anyway.
Showing
Join Date: Jun 2011
Location: Cariboo, British Columbia
Posts: 11,777
• Horses:
3
Well since you mentioned it, you must post the recipe for homemade hummus, my favvy condiment! No ideas, you pack exactly what I take to work minus the tacos, I hate those! And soy cheese, I love that.
Ok, the shock is wearing off…
My son eats soy yogurt, but we like to crush up a granola bar and sprinkle on top, or he can dip his granola bars into the yogurt.
I also make mini ka-bobs with meats and fruits.
Our gluten free homemade breads don't always slice up the best, so I will make GF cornbread and cube it into a little lunch container, then drizzle local honey on top.
Um, anything else I can think of is a variation of what you listed.
I hear you on the twinkies and school food influence. It is the Only time I'm even a little glad for the restriction of allergies. The only time.

Normally I do some books from the library or cruise the internest for lunch ideas, but I haven't quite gotten my mind around the fact that it is August already... let alone thinking about school yet.
AAhhhhhhh! My internet was struck by lightening, I could READ HF on my phone but service would drop off when I tried to reply to anything! Took them almost 3 weeks to get the parts and get them all the way out here multiple times, I went a little crazy.
but.... I'm Baaaccckkkkkkkkk!

Thanks for all the kudos guys! I have to admit these are probably more fun for me than for the kiddos, LOL! I just love playing with food.
I've also done a parfait bar with fruit, granola, and yogurt, cupcakes baked in ice cream cones, and banana dogs with peanut butter and jelly for condiments.
Missy I HAVE to do the smoothies, they are gonna LOVE that, THANKS!

db, if I were closer I'd take you up on that! I love feeding people!
This year I'm managing the local Chamber Banquet, have to really wow those guys. Have you seen anything amazing at some of the functions you've been to?

Lockwood, I feel so bad for your poor kiddo. I can't EVEN imagine how hard it is to protect him from all the crud they put in food these days. YOU ARE A SUPERMOM! The Ka-bobs are a GREAT idea! What is it about food on sticks? Scares me to death she'll poke her eye out.

Last week was back to school. So far I added fried chicken to the "menu"...
Argh.

Wares, I really like this recipe. Trick is getting it REALLY smooth. It's hard, you will probably have to stop and stir a lot unless you have a SUPER processor.
Hummus:
2 cans of chickpeas/garbonzos low sodium (drain, save it to add 1/2 a cup or more when blending)
1/2 a cup of tahini
1 clove of garlic (minced)
1 teaspoon of salt (or to taste)
1/4 cup of fresh lemon juice

Layer ingredients in a good blender/food processor and go to town!
Add reserved pea juice as needed.
I top mine off with good olive oil, roasted bell peppers, or parsley.
---
You can get a lot further with a ladder than you can with crutches!!
What do you mean what do I mean?
---
Last edited by FlyGap; 08-27-2012 at

05:57 PM

.