Yearling
Join Date: Sep 2012
Location: Central Western NSW, Australia
Posts: 1,120
• Horses:
4
I think you almost answered your own question with the 'where to do yoga' thing :P Go for a walk in as remote a place as you can - by a river would probably be good. Do some meditation/yoga, pick some flowers, and just have some time out. Alone time will probably do wonder for your stress levels.
An overachiever that drives herself crazy, Faceman! LOL.

No, we haven't yet checked because we didn't think they'd let us in. My current GI doctor insists that I'm not a 'severe' case so I end up waiting 2+ months between appointments even though I'm having a lot of issues, just because my appendix isn't about to blow up or something. My mom has to fight to get me in for appointments and they're usually double booked!

Currently though I'm going to Texas Childrens, at the campus nearest to us which isn't the main campus. Supposively they have some of the best doctors in the country but I'm not so sure about that. I guess what bothers me most about them is that they refuse to work TOGETHER to look at ALL of my symptoms and try to figure out whats wrong. They instead want to just deal with their part, so they end up treating me symptom by symptom rather than trying to find the underlying cause for all of my issues.

My parents are considering sending me to some research place in Missouri and having me live with my grandparents for a month or two while I'm doing that, but I think that's sort of last resort since I'm about to start classes up again.
---
Everyone in your life is meant to
be in your journey, but not all of
them are meant to stay till the end.
Yearling
Join Date: Sep 2012
Location: Central Western NSW, Australia
Posts: 1,120
• Horses:
4
Just thought I'd give you some fresh information on the scopes front-

I had mine yesterday. Drinking the stuff was pretty terrible (especially if your father is sitting there teasing you about it..), but you get used to it. I was freaking out whilst I was waiting to go in but all the nurses were absolutely lovely. One put some guard thing in my mouth to keep it open whilst the doctor injected something into my IV... and I woke up half an hour later. I was wide awake, looked at the nurse that was standing beside me, and, honest, I said 'Was that it?'. I just felt like I'd had a nap. My throat, nor the other end, was sore, my head wasn't fuzzy (it was only a light anaesthetic), and the only thing that hurt was the IV needle in my hand. They kept me on fluids for 10 minutes, took me to the 2nd reovery room to have something to eat and drink, and 10 minutes later I walked out. That afternoon I got the occasional twinge in my throat, but other than that, I would swear that they knocked me out and just left me until I woke up. I ate like a horse that afternoon, and slept for over 12 hours that night :P

The scariest thing is waiting for the results xD And my hand still hurts from the IV and I have an epic bruise to go with it, but I can handle that.
Don't know much about Crohn's, but I just wanted to tell you I hope your doctors figure out what's wrong and that you are feeling better soon!!
Thank you so much for coming back to update me Tracer. Knowing that you felt alright afterwards is reassuring.
As an update from my side of the computer, I'm having a better week when it comes to being able to keep food down and I've gained 2 pounds, but I have a new symptom in that my mouth ulcers have progessed to becoming
facial
ulcers as well, which is horrifying me to be honest. I'm keeping clear bandages in them as they appear until they don't look so terrible, which I am technically not supposed to do, but I'm a teenager. I get funny looks enough as it is because I have no eyelashes and thin eyebrows, but face sores? Ugh. You can't hide those, they make me look like I don't take care of myself (I do! I wash my hands and face religiously). But no one my age believes that.
This is what they look like if anyone has an idea. I originally thought that I'd somehow gotten staph but the doctor says in the exact same thing as in my mouth and gave my a steroid cream, but that's about it :/ I think they're about as stumped as I am.
They don't start like this, they begin as white blisters. Then they turn into this, dry up, and heal. Its disgusting and I pretty much feel like a freak right now.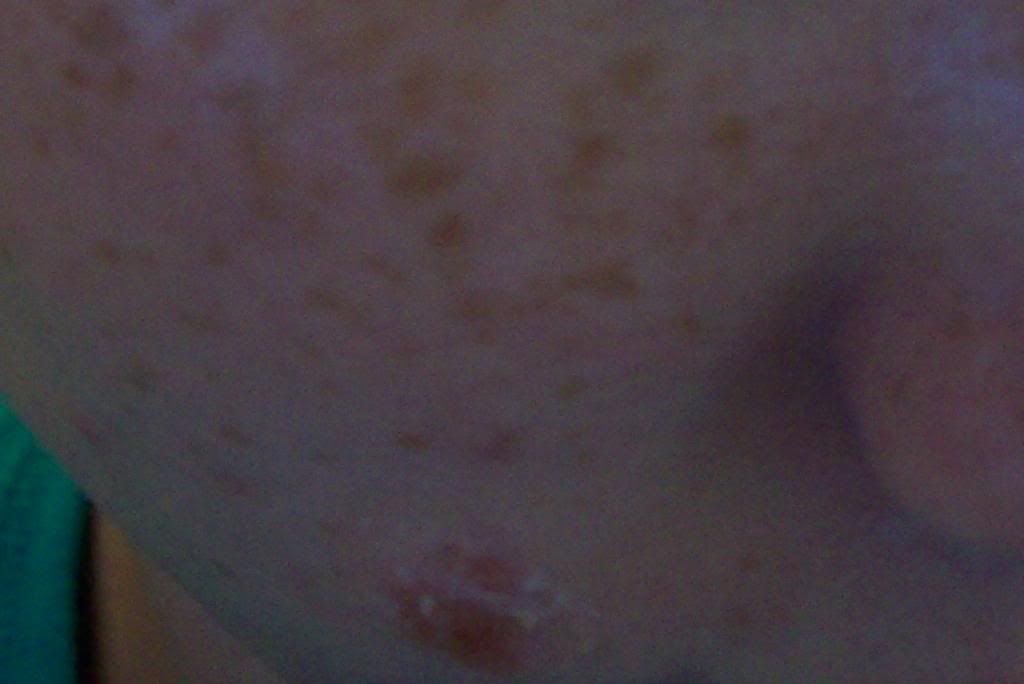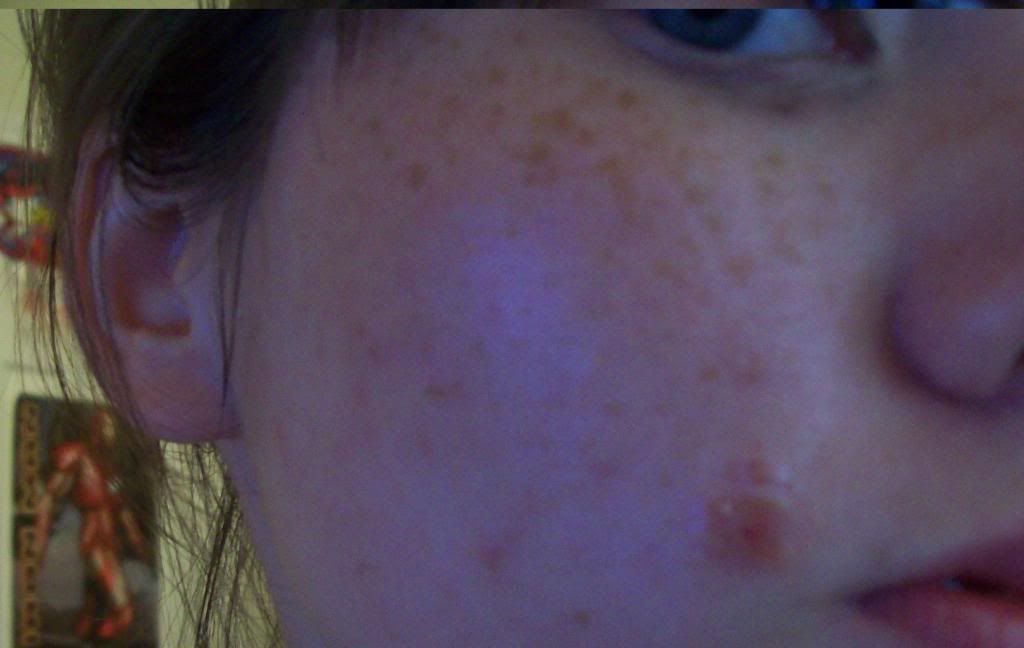 Oh, I think the official date for my colon/endoscopy is August 26th, and they just took a TON of blood yesterday to check me again for thyroid problems. I feel like they're just chasing their tails though.
---
Everyone in your life is meant to
be in your journey, but not all of
them are meant to stay till the end.
---
Last edited by Endiku; 07-16-2013 at

05:45 PM

.
Endiku, I feel so bad for you! There's not a whole lot of advice I can give you, except perhaps reading this book: Nice Girls Can Finish First. Sounds like you love to help everyone, but perhaps sometimes you get suckered into it? It's a great book for any people pleaser. Not to mention books are relaxing!

I think we might end up seeing you on Mystery Diagnosis. No joke.
Oh dear...and the sad part is that I used to LOVE watching shows like that xD The Man With No Face, Medical Mysteries, Monsters Inside of Me...and now maybe I'm a candidate for one of those shows. LOL
---
Everyone in your life is meant to
be in your journey, but not all of
them are meant to stay till the end.
Endiku, I'm sorry that you have so many health problems. I really hope they figure out what's wrong. Have you tried or thought about going to the Mayo Clinic in Minnesota? They have an extremely good reputation.
---
"And somewhere in the northwoods darkness a creature walks upright. And the best advice you may ever get is: Don't go out at night..."
I've thought about it, but I think I'd have to have a referral (which I could probably get) and a way to stay there for a long time. I live on the other side of the country (South Texas) so I'm unsure how that would work.

My family is considering sending me to Missouri for a few weeks to live with my grandfather and go to a few doctors in his area who specialize in hard cases like mine, but I just signed up for the fall semester at college and I'm going into my Senior highschool year. Then of course, I have a job and two horses to support now... so I'm not sure that it would work logistically speaking.

What frustrates me the most though is that my current GI doctor doesn't seem to see all of this as a big deal, and none of the doctors are working together to look at ALL of my symptoms (skin, hair, stomach problems, intestine problems, migraines...) and see if they may all fit together. They want to evaluate and treat each thing symptomatically, which is NOT working.
---
Everyone in your life is meant to
be in your journey, but not all of
them are meant to stay till the end.
---
"And somewhere in the northwoods darkness a creature walks upright. And the best advice you may ever get is: Don't go out at night..."