The deer in NC are TOUGH!!
---
Hunting is in full swing in NC. The deer are in rut and doing all sorts of crazy things like charging their reflections in hotel windows and crashing through.
A hunter is trying to thin the huge herd in our area and has tagged several does. But, the other day, I think I saw the tables turned!!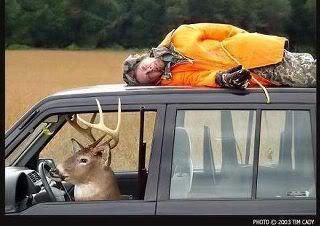 Lol... Don't mess with Buck ;)
Posted via Mobile Device
hahah how funny. Yea, ive been hearing a lot of shooting in my area. I also saw 2 dead on the road this morning. ::knock wood:: havent hit one this year, yet..
I used to go and buy my hunting license and let someone use my tags. Had them drop it directly off at the butcher and he called me when it was ready. I could eat deer over beef all day.
I've only seen one dead one recently and it's on the way to my barn. I did see one a couple months ago dead on the inside shoulder on the interstate. I had to commend that deer for having the determination to try to cross 7 lanes of traffic and jump 3 barriers.
I haven't hit a deer, but I was hit by one in 2009. Deer season happened to open the next day too.. I was driving in the middle of town and it ran out from behind a tree into my passenger door, got up and ran into the park across the street. It was a younger buck. 3 cops were sent after it to kill it so it wouldn't hit/get hit by another vehicle. They never found it. Not impressed that it didn't die.
I happened to be in an auto body class in high school at the time and found replacement parts, painted them, and put them on myself for $250. Not bad.
http://i2.photobucket.com/albums/y50...1106091247.jpg
(That crater at the end of the fender was caused by me sliding into a truck that April, but everything on the door all the way over to the top of the tire was the buck). Got a lot of comments on my lack of a side mirror because I never replaced it (wasn't legally required to and the guy I got the door and fender from wanted a ton for the mirror because it was electric, but my car didn't have the hookups for it).
The deer here are smart. As soon as the hunters come out they come into the lower area of our horse pasture where you can't see them unless you're in there. They have NO FEAR of my husband and I and completely ignore us walking **** bear up to them since they know we are only after the horses lol.
Posted via Mobile Device