Yearling
Join Date: Feb 2007
Location: In the Phantomof the Opera's lair beneath the Opera Garnier
Posts: 1,112
• Horses:
3
Dust storms in Australia
---
Hey if your from oz please share your pics. Heres mine. this is out the backdoor. I wanted to go see Dana and take pics but it was so gross outside.
-shudder- Too much dust! I had to wear sunnies xDD This is in QLD
---
"If you can't see a thoroughbred has talent, you're probably too dumb to ride one anyway."

from our verandah in qld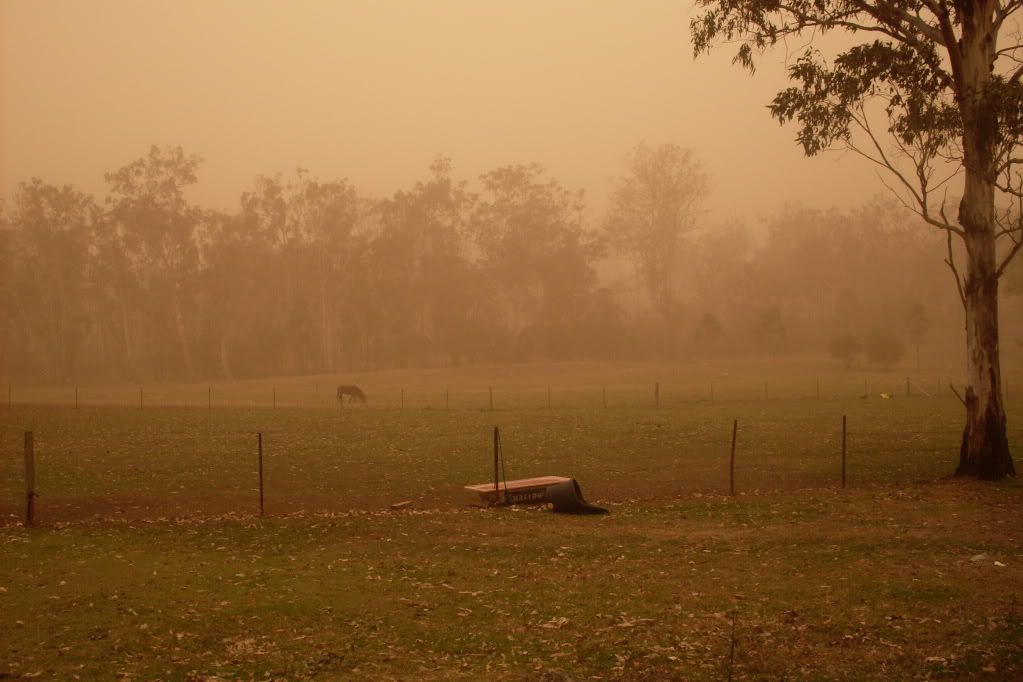 ---
Horses lend us the wings we lack
Beautiful pictures from a truly horrible day, the dust wasnt nearly that bad where I live.
---
"If you don't like dressage it's because you don't understand it."
Green Broke
Join Date: Aug 2009
Location: New South Wales, Australia
Posts: 4,847
• Horses:
1
I heard about it all because my family lives in Sydney. There are some interesting pictures on the SMH site of the bridge and such.

Kind of reminds me of fires, with the red sky. After the Canberra fires I always get freaked out by stuff like that.
We occasionally get dust storms here as well. I've seen dust drifted like snow on the sides of the roads
yucky stuff. We have been fortunate and haven't had drought conditions in a few years.
Thanks for starting this thread. The photos are phenomenal. Does it make the sunsets pretty like it does here?
---

"Until one has loved an animal, part of one's soul remains unawakened..."
- Anatole France
---
Last edited by Vidaloco; 09-24-2009 at

09:54 AM

.
My parents live in Western Sydney and here are the photos they sent me, as you can see the flash highlighted all the dust, whoops but you can see the dark orange sky at 1pm in the afternoon!!!
All the dust had settled in the pool so the bottom was red, sooo gross!
Phew!
. Looks gorgeous even I believe it was gross.
---
"On hyviä vuosia, kauniita muistoja, mutta kuitenkaan, en saata unohtaa,
Että koskaan en ole yksin, varjo seuraa onneain.
Vaikka myrsky hetkeksi tyyntyykin, varjo seuraa onneain.
Ja pian taas uusin hönkäyksin, varjo seuraa onneain.
Hei tuu mun luo, pieneksi hetkeksi. Puhutaan, varjoni, valkoiseksi enkeliksi."
Pelle Miljoona - Varjo seuraa onneain

Yearling
Join Date: Feb 2007
Location: In the Phantomof the Opera's lair beneath the Opera Garnier
Posts: 1,112
• Horses:
3
yuck. and whats worse they might be saying we'll get another one that will last all weekend. heck I hope not
This is from my house on the sunny Coast....er dusty coast?? lol
---
May we all see horses through the eyes of children
Similar Threads
Thread
Thread Starter
Forum
Replies
Last Post
dust

savvylover112

Horse Grooming

5

08-10-2009

02:50 PM

Storms-Everyone ok?

Vidaloco

General Off Topic Discussion

15

06-06-2008

11:38 PM

STORMS ARE MY INTERNET FRIENDS OK

Dave

Horse Talk

6

05-26-2008

06:52 AM

oh no. dust.

Show_Queen

Horse Grooming

11

10-04-2007

12:15 AM

Dust

kitten_Val

Horse Health

6

07-09-2007

08:41 AM