I don't really like it, but I like things natural.

The one punk rocker dog is pretty cute though. I like that idea! :)
Well I guess I'll be the first to say I DO dye some of my dogs. One of my white Poodles can usually be found running around with pink ears and pom poms on her feet. I've also streaked my Chinese Cresteds hair a few times. They love being fussed over. Here's miss Bianca sporting her streaks
---
Last edited by Appy Luvr; 12-20-2009 at

01:23 PM

.
LOVE the punk rocker one!
That horse head one confused me for a long time lol! I didnt cop on that the horse was drawn onto the dog lol!
Looks cool but then people go to far like the 1st one!
---
a silent night,wen friends are few,I close my eyes nd tink of u.A silent night,a silent tear,a silent wish dat u wer here♥ Is maith liom cąca milis:) lol
LMFAO at the Ninja Turtle. I've seen that show too. Someone did a jungle theme with a big flower and a chameleon. Its fairly interesting but pretty ridiculous. Its just hair, they can hack it off and start of scratch just like people.
Its not permanent nor is it hurting the dogs..So why not?
They don't realize your humiliating them, most dogs would love the extra attention.
Ha, some of those are pretty cool! I don't really care either way. To me it's the same as dressing your dog (and not just for warmth). Am I going to do it to my dog? No, but i"m not against it.
i dont really care, i like the natural look way better. and i think the dogs sorta dont look as much like dogs anymore.... lol but i wouldnt protest against it or anything, its something i dont really think looks nice, but im nuetrel about it :)
---
If there are no horses in heaven... im not going.
ROFL now I want a white standard poodle to play with haha! (kidding, but I WOULD if standards were my breed of choice!)

My dogs aren't white, so I couldn't dye mine. But my friends have a pinto mini who's mostly white. They bought him a new red slinky, the kind that covers head/neck. They took it off, he's PINK! I said they need a blue one for the body for a patriotic look (the legs would stay white) haha ;)
I have a white Toy Poodle, Shamus, that I dye different colors using food coloring. It's safe and it only last about 3 or 4 weeks...less if you wash them once a week. He doesn't mind it and is well behaved with all grooming in general. It's just something different and for fun. My son really likes it and so does everyone who sees him!
This was when he was green. It was washing out but was still a nice mint color!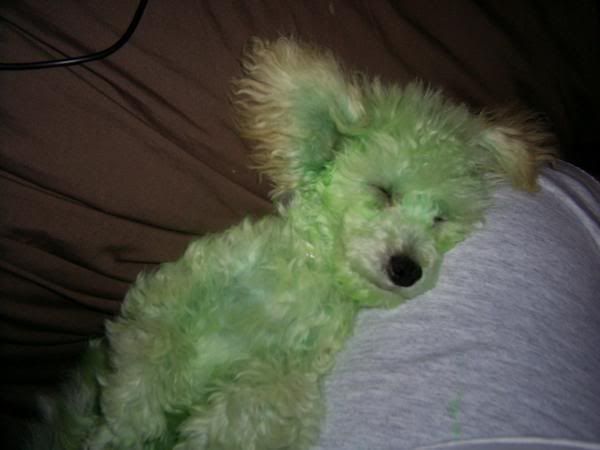 Here he was Hot Pink!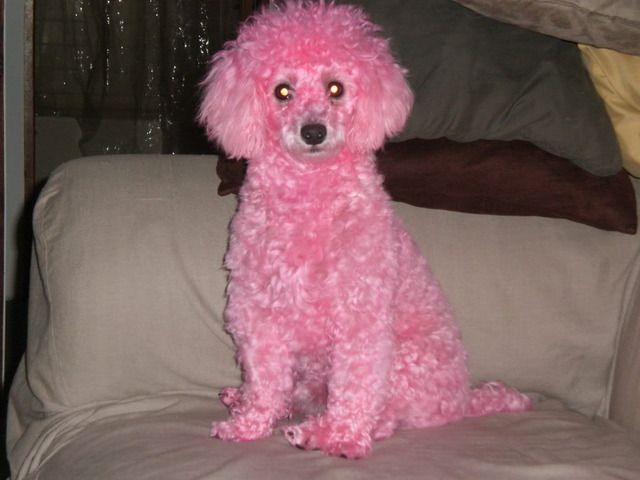 And this was a month ago in yellow...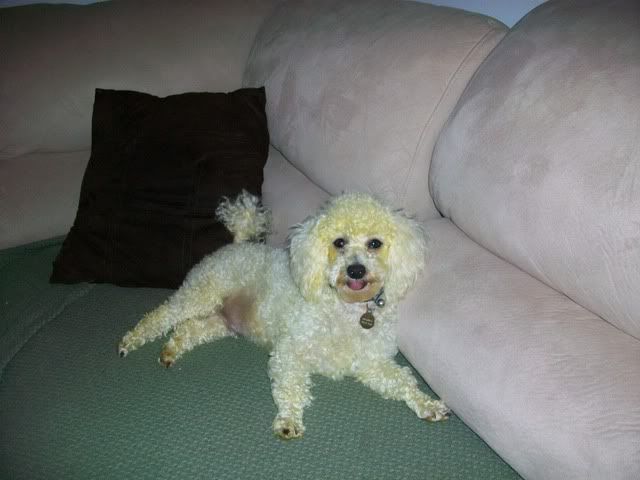 And in white....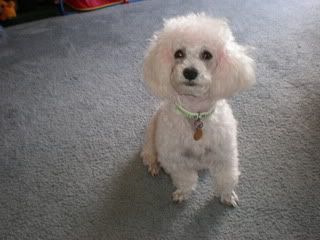 OH! I love the Hot Pink! Adorable!
---
Similar Threads
Thread
Thread Starter
Forum
Replies
Last Post
Our dogs...

RoCru

Other Pets

11

08-20-2009

08:07 PM

Dogs?

firemom1

General Off Topic Discussion

15

07-21-2008

03:20 PM

Has anyone ever dyed leather?

blossom856

Horse Tack and Equipment

4

07-06-2008

12:59 PM

new use for dogs

horseywanderer

General Off Topic Discussion

7

05-19-2007

05:38 AM