fendining for your self.
---
well if the end of the world came i probley would survive.
i know about quite a lot of wild fruits i can grow vegstables.
i can cook well beleave this or not i also can stich as well and if i had to even kill for meat as well and also fish as well.
i also break horses in to and have harnesses so i could put the horses to work and make a safe place to live.
i can also if it came to it i could grasp shoeing horses quite quickley as i can russtle up any thing to get me out of trouble.
i can utaise any thing to produce electric via wind or solar if needed.
in social groops like this i think you have to adopt the starnce of the humble ant or the bee as to live and forage in a colective group and also defend against atack by raders.
i have many moor assets i could turn my hand to keep things going and neather shought of idears as i all ways am thinking on my feet in ways to better a situation.
in a situation like this united we stand togeather we fall.
the guy with the boose and the beard and the guns.
---
Quote:
I feel the same way Delfina, meet my neighbors...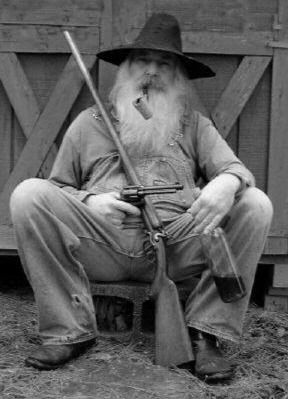 and our wildlife...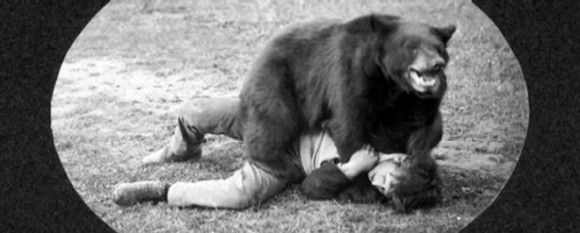 I know many would try, but if there ever
was
a pandemic or collapse, and they did get through the small towns and militias (hillbilly ones to boot), they'd then have to crawl through 45 miles of the thickest, nastiest, poison ivy, snake riddled forest on earth.
I
don't step foot out of my yard in the summer, it's a death trap.
Hopefully most would simply line up begging for rations. But if I were them I'd head out here myself if I needed to feed my family.
I've thought about leaving parcels of food next to a sign saying the next time they pass they won't be so lucky... also wanted to hang goat skulls around the perimeter of our property.
DH wouldn't go for it.
We heat entirely with wood. It would stink having to do it by hand... Hydraulic log splitters and chain saws are one of our "luxuries". I'd miss those!
i had to laugh about the old man siting there i thought of my self lol like that as i some times grow a beard.
but on a lighter note i have reard chickins i have had sheep as well.
i can make fire and build shelters to.
i would say this i would have to build something to keep raiders out like an old wooden falt in a good strteagic place from attack so you can have the upper hand on the invaders.
some one hit the nail on the head about the lazy ones as thoes people can be cunning but in the real sence i think thay would perish as thay have no sence of perpous in a survivle group.
Quote:
You had better hope there is a huge pandemic that kills a huge chuck of humanity if this happens. Otherwise there will be many more predators willing to kill and take what they want than there will be farmers to produce the food. There would be no way to plant, tend and harvest crops and stock with all of the marauders out there. There will be chaos, IMO. The lazy will be the worst of the predators.
It's times like that where living way out in the boonies like I do would come in handy. Because we're almost 100 miles from anything that even remotely resembles a city, it would take a while for marauders to reach us...and by the time they did, the folks in my tiny little town would have already begun working together to store what we could and protect what we got. 90% of the folks that live here hunt and those who hunt normally have more than a dozen guns and enough ammo to use those guns for a year before they run low. Put all those folks together and my one little town could hold their own against an
army
for a decent chunk of time.
Although, I'll be honest. In spite of what we see on the news every day, I try to think that people as a whole are generally good and most would be more willing to join a community and help than they would be to try to steal what others have. Sure, there would be a fair number of the latter, but I like to think that the former outnumber them by at least double. After the initial panic wore off, I think most people would be looking for a place to settle back down and build a new life rather than just pillage and rape for the rest of their lives.
And, hopefully there would be enough of the good folks that were armed to wipe out a good portion of the bad folks within a relatively short period of time. I know in the event that civilization ended,
I
would be armed at all times and I would shoot first and ask questions later with any person acting shady.
Those are all rather romantic notions. The reality would be total chaos and with people going off half cocked in their attempts to survive. Imagine a huge city catching fire, the fumes and destruction to the countryside. Nope, don't want to be around and yet I likely live in one of the safest places in North America.
Quote:
Those are all rather romantic notions. The reality would be total chaos and with people going off half cocked in their attempts to survive. Imagine a huge city catching fire, the fumes and destruction to the countryside. Nope, don't want to be around and yet I likely live in one of the safest places in North America.
Yes, but this thread is also "if" this happened.
I'm learning a lot about what people here know and can do! I love the fact so many contributed to the thread and it's made me reassess my home and what I have.
I think people would instinctively band together. Yes, there would be chaos but it would settle down. Humans have survived a lot worse than simply losing the technology we now have
Someone did mention medical skills. I'm not sure how long I would be able to survive without my diabetic medication (I'm type 2). Or would better living, more activity and more natural eating counteract that for awhile? Hmmm, something to think about.
Looking forward to reading more!
---
Sometimes I wrestle with my demons.
Sometimes we just snuggle.
Trained
Join Date: Sep 2011
Location: Hour and a Half from Town!
Posts: 6,324
• Horses:
2
Actually there would be huge pandemics if anything happened.

I have enough antibiotics and first aid on hand to last for years, for several people...
In our global society a virus or major bacterial infection is actually the greatest threat. I'm isolated enough to consider myself safe.

If any major EMP situation arises there would be no water, or safe water for that matter. I'm pretty immune to most things after years of drinking out of ponds and creeks. I also have the knowledge and means to sterilize it, and my own safe source. I wonder how many people, by today's standards, would fare?
I also think drinking water would be contaminated pretty quickly when sewage seeps into the safe sources without the electricity to "purify" it? Not long for sure.

That would severely hinder any large groups of mass populations from migrating.
---
You can get a lot further with a ladder than you can with crutches!!
What do you mean what do I mean?
Let's see...afraid I would be in the uh oh line. I can cook over an open fire, can grow veggies/herbs etc. Have knowledge of security and safety issues with basic first aid knowledge. I can hand sew, knit, crochet and quilt well enough to help in that line but that is about the extent.

As for medical issues..someone mentioned diabetes? there are natural herbs/plants that have the same type of effect..maybe not as quick or as accurate as our manmade versions but they are definitely out there. Would just need someone experienced in identifying the plants and being able to use them properly...as a tea, chewed leaves, etc. Aspirin (acetylsalicylic acid) for example came originally from willow tress...willow bark specifically. Some natural horse supplements that are herbal NSAIDS have ground willowbark as an ingredient.
---
Last edited by tlkng1; 09-13-2013 at

11:26 AM

.