Farewell old friend, I will miss you.
---
I'm sad to share that my friend Muttley left us a few short days ago. He was at least 15 years old, could of been older, but he had been part of our lives here for 13 years, and it is most strange without him.
I first met Muttley back in 2000, I was in a bad place, my husband had been unfairly dismissed from his job, and we were fighting a court case, our house had been burgled, the house was tied to the job, the land I kept my horses on was tied to the house. I knew that it was only a matter of time before we we had to move, and I wouldn't be able to keep the horses and I was off of work with depression. The break in was the last straw for me, we had lost our elderly Doberman a few months before, and I knew that no one would of got past her, so operation new dog began.
The search was narrowed down to must be a bitch, short haired, larger and an adult. We visited many rescues to see what they had, listed with the Doberman Rescue, but nothing was working. We widened our search a little, but both if us were in our hearts looking to replace our much loved and much missed bitch. Then one day I saw an ad for a Doberman Cross dog at a kennels a couple of hours away, we decided to go and see him, but were majorly disappointed to find that the cross was a perfect Doberman coat, stretched over a Basset Hound body, kind of cute, but not what I wanted. I sadly walked along the line of kennels, and then I saw this badly made hearth rug lying against the bars in a kennel, and when I spoke to it eyes appeared at one end, and Muttley and I looked at each other for the first time, and the rest as they say is history.
We took him for a walk, he made me smile, with his roley poley gait, he made me sad, because of his patchy coat recovering from the skin condition that he had, and then when we came back to the kennels and I say on a bench and he put his nose in my lap, he made me cry, we had chosen each other. Funny how our large smooth coated bitch turned out to be a medium size broken coated dog, but Oh well. We passed the home checks, convinced the rescue that we could deal with difficult dogs, he had been rehomed and returned a couple of times, and a couple of weeks later we got to bring him home.
For the first two days I spent most of the time sat on the floor hugging him, he was so scared and just wanted comfort. It wasn't all easy going, he was scared of so many things, he wasn't properly house trained, had no idea how to play. Time and patience won in the end and he blossomed into a right little character, a clown, with not a nasty bone in his body.
He moved house with us twice in England, and then took the long journey out here to Canada with us, and adapted to all his new places so well, he was a star. We had been worried about him for a long time, ad this winter was hard for him, we kept him on his pain pills, but he mainly ate, slept and toddled outside for his bathroom breaks. I spent a lot of time sat with him looking into those eyes, and he was still with us, behind the grey hair, the cataracts, despite the senility, the real Muttley was still there.
Over the last 2 weeks he was doing really well, I suddenly found him at my heels as I was going around doing chores outside, and he was even trying to play ball with the rest of the guys, before remembering that actually the old bones weren't so good at that anymore. The big storm we had this week though was just to much for him, and he decided that it was time.
While I am sad and I miss the old guy, he lived out a natural span, and I think the last two weeks were his last fling. He came a long way from an unloved city street dog, and he filled our lives and I hope we filled his.
If indeed there is a heaven then Muttley is for sure there, because he was always GOOD BOY Muttley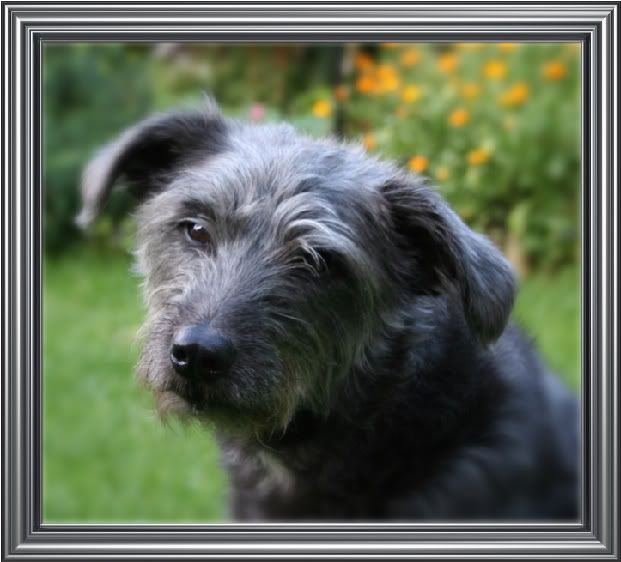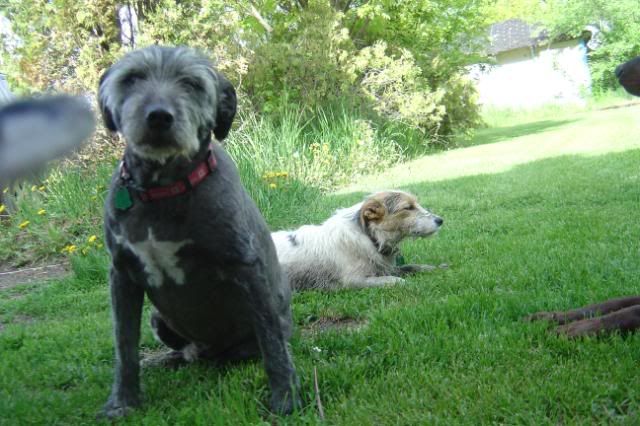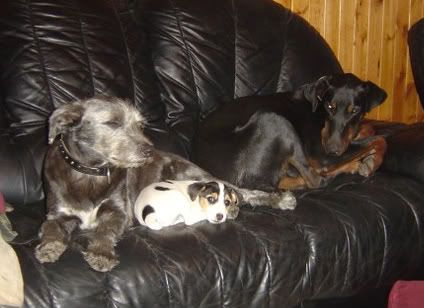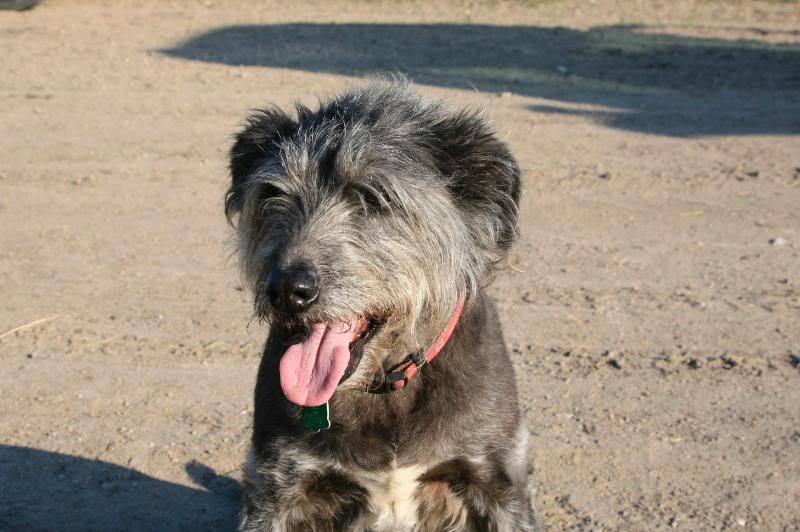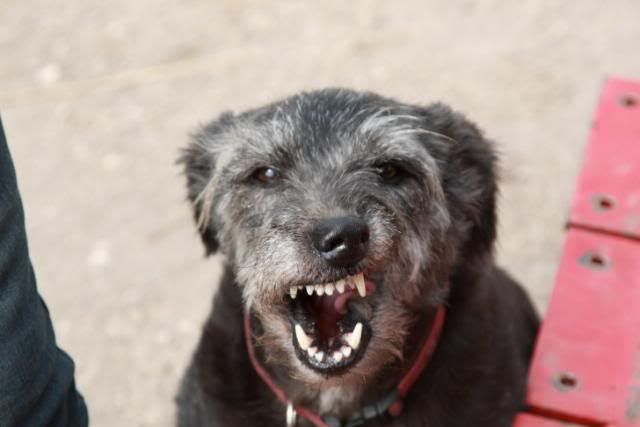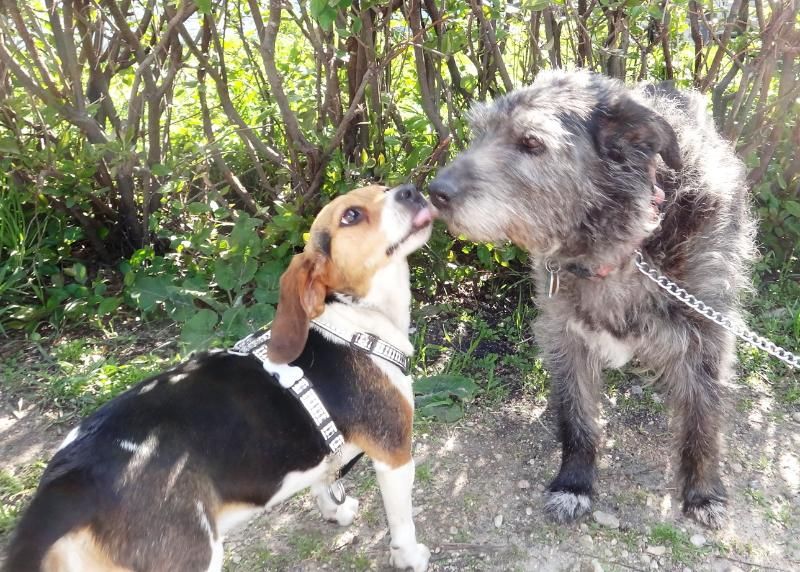 What a beautiful tribute to your friend. So sorry for your loss. It's amazing how we don't really know what we need until we find it, or it finds us.
Posted via Mobile Device
Beautiful story of a connection made and a love lost. I hope there is still room for another one when the time comes.
---
I am Second
Born Once, Die Twice. Born Twice, Die Once.
Sorry to hear about Muttley...
Sorry for your loss Denny. Muttley looks like he really was lovely boy.
Quote:
Beautiful story of a connection made and a love lost. I hope there is still room for another one when the time comes.
Well we have 3 dogs still, JRT, Coon Hound and Beagle, so they still need loving and caring for, so it makes life easier. Muttley, well no one can replace a Muttley, but maybe there will be room here for another dog one day, we will see. I hope there will be one who finds us as Muttley did, as Cakemom says sometimes in life you just have to hang around and the right one will be placed in your path for some reason.
Thanks Face and Alex, I hope it doesn't sound hard, but where I cried buckets over Bailey when we lost her, a young life cut short, for Muttley it is more of a misty eyed smile, that of a life lived long and to the full, you can't ask for much more... you know.
Showing
Join Date: Jun 2011
Location: Cariboo, British Columbia
Posts: 11,951
• Horses:
3
RIP Muttley. Condolences GH.
What a beautiful story. Muttley was a very handsome fellow that looks like he was packed w personality and love. My sympathies for the loss of such a dear freind. RIP Muttley,
---
There is just as much horse sense as ever, but the horses have most of it.
Started
Join Date: Jan 2012
Location: An English Girl living in beautiful Alberta, Canada
Posts: 1,606
• Horses: 0
What a beautiful boy he was. My condolences, and big licks of appreciation for being a great dog-mother from shaggy dog, smoothy dog and fluffy dog here.
---
Get up, get going, seize the day. Enjoy the sunshine, the rain, cloudy days, snowstorms, and thunder. Getting on your horse is always worth the effort.
Thanks guys, it is so strange not having him here, and as always it is the little things, cutting some cheese this morning and I automatically put a chunk aside to hide his pain pill in, well I'm glad that he doesn't need those any more.
LOL, I don't know how the farm will function this year, Muttley has always been the foreman and overseer of all repairs around here, totally oblivious of any danger. He has closely inspected the chain saw at work, all the power tools, laid underneath trucks to make sure that the work was being carried out properly. I hope they can do a good enough job without someone keeping an eye on them